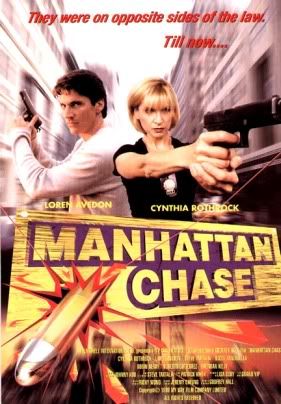 This had three names and three names only that I needed to see. First, DTVC Hall of Famer
Cynthia Rothrock
. That alone will get a movie to the top of my radar. Then there's DTVC favorite
Loren Avedon
. Always up to see him in something. And finally, this was directed by Godfrey Ho (credited as Godfrey Hall). That should be enough to at least see what this is all about, right?
Manhattan Chase
follows Loren Avedon, a drug cartel hitman who is arrested by Cynthia Rothrock and put away for six years. When he gets out all he wants is to get his son and get his life on the straight and narrow. Problem is, even with the best of intentions, one can't plan for a girl running from the same dealers he used to work for because she stole their heroin, and landing on the hood of his car. But she does, so he takes her in and tries to protect her. Is it a moment of redemption, or a mess that'll only prove to derail his chance to go straight?
Though this has its moments, with some especially sweet martial arts scenes, overall it's bogged down by an overloaded and convoluted story that takes away from any great action we could've had. To put it best, this is like an MST3K quality flick, and I don't mean that in a "fire this one up for you and your buddies to enjoy on a bad movie night", I mean it like "if you have a TV show about a guy who's shot into space and forced by an evil scientist to watch bad movies with two robots and make fun of them, you might find this appealing." Some of the dialog was so bad that common words were mispronounced. "Hairo-on" instead of "heroin", or "homo-cide" instead of "homicide". Seriously, "homo-cide"? What, did you park your car in the "gay-rage"? Yes, the star power is good, and when the names can flex their muscles, it's really great, but compared to what you want from a Godfrey Ho directed flick with Rothrock and Avedon in it, this is more a missed opportunity than it is the awesomefest it should've been.
Rothrock is not the star in this, Avedon is, even though she's top billed. That means we don't get much of her, and even less of her fighting. She does have one of my favorites fights of hers ever, when she takes a dude out with a combination of a Reverse Rothrock, a Rothrock, and a Frankensteiner. Another thing I want to point out that we don't often talk about with regard to her is her acting ability. In 2000 (or 1998 when this was filmed), she had been in her share of movies, and many of them not of the highest quality, but you could tell here that she knew her way around a poorly written script, and knew how to make it look like natural dialog. She said in a featurette that came on the
Sworn to Justice
DVD that she did a scene with
Brad Dourif
, and he told her she was great, and I can see here in this why he'd think so.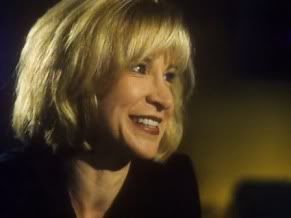 Avedon, unfortunately, didn't have it so easy, but like Rothrock, he was trying. Part of it I think was he had more he had to deal with, his character being the one the story is based around and all. Is this what I want to see from my Avedon though? Less ass kicking and high octane martial arts, and more talking to a child actor about their future as father and son? Of course not, and every high octane ass kicking martial arts scene in this is a reminder of all the ones we could've had and didn't get. The thing is, of all the martial arts leads you could cast, Avedon is one of the ones that'll give you the highest work rate and will be willing to do what it takes to get the scene right, no matter how much it might hurt him at the time. When you have a guy like that, you can't waste him on a sub-par drama with a few action scenes in it, you need to hit this out of the park.
One really fascinating thing about this was the juxtaposition between the late 80s/early 90s quality film stock, and the post-Juliani New York City, because the movie looked like that grittier New York of the past, but we're seeing things in the background like MTV in Times Square and other newer late 90s/new millennium hallmarks of Manhattan. It was an odd thing, where I had to remind myself that this wasn't 1988 or 1991.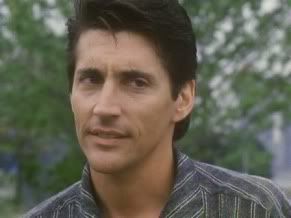 Finally, I want to end with the movie's ending, which I'll try not to give away too much, but if you don't want to know, just in case, you may want to skip this. The ending was the kind of thing that can barely be pulled of when a movie has built up mass amounts of goodwill, let alone here when the film wasn't that good and had no goodwill whatsoever. On some levels I'd call it lazy screenwriting, but more than that, it was just mean-spirited and kind of a punch in the gut to us who actually did spend our time watching the film. All film makers should on some levels understand that the movies they make are a contract with us the viewer. Sure, you can say you're making a movie for yourself and if people like it great, but I'm not sure that's what's going on here, this was not some self-indulgent French New Wave flick. In that sense, all film makers should take a step back when they write and film their endings, and ask themselves "will our audience think the movie was worth it after this?"
And I certainly didn't. If you're a completist, especially of Rothrock, Ho, or Avedon, and you see this, if it's cheap I'd pick it up. If you're considering actively seeking it out, I'd bury it down your must list, because this definitely isn't a must. And if you run a show where a guy and two robots make fun of movies from a satellite orbiting the planet, this might be the kind of thing you want for an episode.
For more info:
http://www.imdb.com/title/tt0199748/