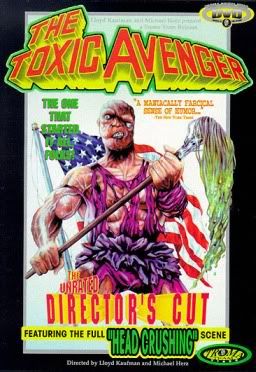 I don't remember when I first saw
The Toxic Avenger
. I couldn't have been that old though, late middle school maybe. This is one I've been meaning to do for sometime, and I considered doing it as a milestone post, but figured why wait, we got it now, let's fire it up and make it happen.
The Toxic Avenger
takes place in Tromaville, NJ, a New York suburb that has the distinction of being the toxic waste capital of the world. It's there that our hero Melvin works at the Tromaville gym, and after a practical joke gone bad, he finds himself diving head first into a drum of toxic waste. He's then transformed into a hideous monster with superhuman strength and an ability to sense when evil is being done. Unfortunately for the town's mayor, the idea of a monster cleaning up the town's crime problem is a problem for him, because he's Tromaville's most prolific criminal. Can our hero prevail when even the national guard has been called in to stop him?
You don't need me to tell you how great this is. As a send up of the action and superhero genres it's excellent, plus you have all the gore you expect and want from
Troma
. I loved the love story between Toxie and the blind girl, especially when she's remodeling his toxic waste dump shack. The brutality is so over the top that I couldn't help but laugh at that too, like the
Clockwork Orange
homage when a thug beats an old lady with her cane while humming "Singin' in the Rain"; or the twelve-year-old kid that's run over by some kids playing a game where objects are worth points, a la
Death Race
. This is a true classic, and has only gotten better over time.
I wish I had seen this right before I watched
Sgt. Kabukiman
with Lloyd Kaufman's commentary, because it would've given me a better perspective on what Kaufman was going for with Kabukiman versus what other people involved with that project wanted him to do. When Toxie takes out baddies, he's pretty brutal, and they come up with all kinds of creative ways to off people. It's a little different from
The Exterminator
though, because this brutality is meant to be funny-- or funni
er
. When I see things in
Sgt. Kabukiman
like the hooker and pimp turned into bloody sushi, in the context of
The Toxic Avenger
, it's a much milder version of a guy getting his hands stuffed in a deep fryer or having his eyes poked out. There's something about the way Troma does this kind of thing that works though.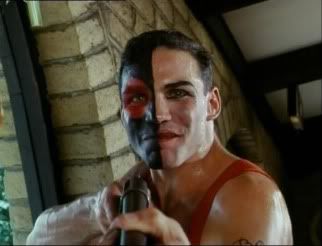 Long time readers and action fans will recognize this fellow right here dressed like an extra from the Frank Gorshin episode of
Star Trek
. That's right, it's Patrick Kilpatrick. He's only in this one scene as part of a trio of men robbing a taco restaurant. This is his first listed role on imdb, so it's great that we get to see where it all started from for him. The film's other highly recognizable face is that of late character actor Pat Ryan. He plays the evil mayor. It's too bad he passed away in 1991, because he had so many sleazebag roles in low-budget films left in him.
One scene I got a kick out of was when the poor man's Corey Feldman they had as one of the workout thugs put a garter snake in an aerobics instructor's shirt. Growing up in Maine, the garter snake was a regular part of the summer, and we used to catch them and act like the snake wranglers we saw on TV. I remember one of our cats brought one in the house, and before I had a chance to stop it, the thing had coiled itself inside the electric baseboard heater. It was a baby one, but still, it was a pain to get it out. It was only later in life that I learned that not all people grew up with these snake experiences, and most find the idea of any snakes, even garter snakes, to be abhorrent. I still hate spiders though, so I guess I'm not a total dude.
Finally, anyone who's been rockin' with us for sometime would know about my love of McDonald's, so it should come as no surprised that I'd be stoked to see what looks like a Quarter Pounder with Cheese vintage Styrofoam container. I think the Styrofoam container had another ten years in it for McDonald's before they went the cardboard route, which is too bad. Remember the bright blue one for the Fillet-o-Fish? It was like a greenish-blue. What was the McD.L.T? A white one, right? Remember the McD.L.T.? "Hot on the hot side, cold on the cold side."
Okay, enough reminiscing about McDonald's-- especially since I don't get any ad revenue from them. This movie is currently on Watch Instantly here in the States, and while that's a great way to check it out, you should eventually consider purchasing the director's cut, because it's in widescreen and has all kinds of goodies. This is one of those ones that's well deserving of its classic status.
For more info:
http://www.imdb.com/title/tt0090190/