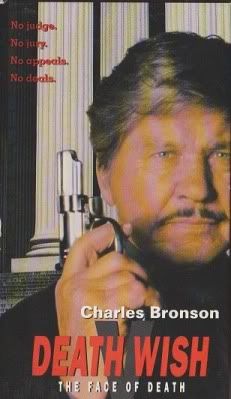 So here we are at the end of the
Death Wish series
. Like part four before it, this one was given to us on VHS from our friend Kenner at
Movies in the Attic
, and you can go there to see what he thinks of all the
Death Wish
movies. Let's see how things wrapped up.
Death Wish V
is the only one in the series to use a Roman numeral in the title, and stars our man
Charles Bronson
as Paul Kersey, this time living in a New York suburb as an architect professor under an assumed name. He seems to have given up his old Death Wishing ways, until his girlfriend's ex-boyfriend (Michael Parks) decides he doesn't want her testifying against him, so he sends someone to cut up her face, and when that isn't enough, he just kills her. Why he doesn't just do that to start with is beyond us, but whatever, now Kersey is finally pissed and finally taking his gun back out of the safe (he like took it out earlier, then put it away for whatever reason). He's coming for Parks and his gang, one by one, and he won't stop until they're all dead.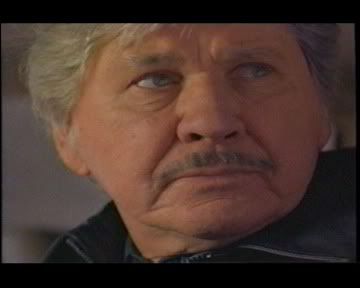 This is a tale of two movies. The opening is atrocious. First off, it's really depraved, almost like a mild torture porn flick or something. People get all kinds of carved up and have hands and faces put into steam presses and whatnot. Who is the weirdo that made this movie? Second, even worse, Bronson is just driving around watching people, doing absolutely nothing. He pulls his gun out, so we think he's ready to get down to it, but apparently he puts it away, because when the baddies come by to kill off his girlfriend, the best he can do is fend them off with a potted plant, before he does a swan dive off a ledge, twenty feet into a pile of garbage. Yes, that's what we want from a Bronson flick, good work out of you movie. Finally, even better work, the whole deal with the girlfriend. Either you cut her face up, or you kill her, but you can't do both. Once you've spent that nickel, you're done, after that it's bad writing. So here we are, almost an hour in, and the movie has utterly sucked so far. Then, Bronson finally starts kicking ass, and it's pretty cool, but for me, it's not only too little too late, but a reminder of how much this movie was sautéed in wrong sauce to begin with. For me, the last was by far the worst.
The hardest part about this one was how much I wanted Bronson to kick some ass. Seriously, I'm not paying to watch Bronson drive around in a Jeep Cherokee and spy on people, much less to watch him run around his apartment scared because for some reason or another he put his damn gun away when he knew the bad guys would be coming for his woman at some point. I know they were trying to flesh out some idea that he wanted to let the law handle things, but we don't watch Bronson flicks in 1994 to see him conflicted about whether or not he wants to go Death Wishing again. Jesus Christ, we're watching a movie called
Death Wish V: The Face of Death
, not
Death Wish V: Conflicted About Whether or Not He Wants to Death Wish
. Just get the frickin' gun out and start mowing the suckers down!
And even worse about this is how great a baddie Michael Parks was. Because this takes so long to get going, his crew has this weird vibe where we're told how powerful he is, but he barely has any men, and it doesn't take long for Bronson to take them out-- because, after the first near hour of blah, he doesn't have a lot of time left. One of the interesting things about this one is that, not only does it have a Roman numeral in the title, but it's the first one with a true main baddie. While Parks definitely hits it out of the park, the film itself leaves a little to be desired, which is too bad.
This had a bunch of other people in it. Lesley-Anne Dawn played his girlfriend. She's done a lot of Soap and TV work, but she had a small part each in the
Seagal
flicks
Mercenary of Justice
and
Today You Die
. That might be because her husband, Donald E. FontLeRoy directed them. Robert Joy, who was in the
Lambert
flick
Resurrection
, plays Parks's crazy hit man. Great character actor Saul Rubinek plays the local DA, and another great character actor, Miguel Sandoval, plays his buddy. Finally, this was directed by Allan Goldstein, whom you may know from
2001: A Space Travesty
, the
Bosworth
flick
Virus
, and one I remember from the mid-90s called
Synapse
with MTV VJ Karen Duffy. His direction was pretty solid-- it was his turn as co-writer that left a lot to be desired.
Erica Fairfield played Bronson's future step-daughter, and I was thinking, since this was made in 1994, if she had been in my high school I would've thought she was pretty hot because she's always in a skirt, and back then, girls only wore skirts-- at least in my high school-- on a special occasion. I wasn't sure, though, if she was my age or not, because she looked a little younger than 14 or 15, which is what I would've been around the time period this was shot. So I looked her up, and it turns out she's much younger than me. I was born on April 1st of '79, and she was born on April 4th.
All right, before this gets weird, let's wrap it up (though it's a weird concept anyway, watching movies from when you were younger with girls in them who are younger but are really your age too). For me, this is by far my least favorite of the
Death Wish
films, and a big part of that is the lack of any positive action on Bronson's end early on. The cover shouldn't be an image of him holding a gun, it should be him peering through the window of a Jeep Cherokee while other people do things, because that's the whole first hour or so. Despite a decent ending, this ultimately too sautéed in wrong sauce.
For more info:
http://www.imdb.com/title/tt0109578/