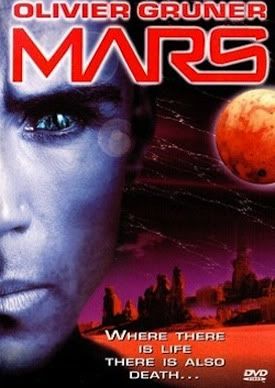 I noticed it had been about six months since I'd done an
Olivier Gruner
flick, and this is one I'd actually seen almost ten years ago, so I figured I'd go with it. As luck would have it, only a few days before, our buddy Simon from Down Under at
Explosive Action
hit this one too, so you can go over there and check out his take-- also, I hotlinked your cover photo, so hopefully that's okay.
Mars
takes place on the red planet, where Olivier Gruner plays Caution Templer (probably a take on
Alphaville
's Lemmy Caution), a highly trained security officer of the planet's mining company. He's investigating his brother's murder, and finds that everywhere he goes he has to beat the crap out of people to get answers. At the same time, Shari Belafonte is the company doctor, and she's figured out the source of a planet-wide plague. If she reveals her findings, it could blow the top off everything. Will she survive to get her message out in time? And how does her story dovetail with Gruner's?
I didn't mind this. It was something of a
Total Recall
knock off, but it was definitely smaller in scale, more self-contained, and tried to play up some more Noir-ish aspects-- though the extent to which they really follow through with those Noir-ish aspects leaves a lot to be desired, with Gruner just beating the crap out of people, almost Walker, Texas Ranger style, the way
Chuck Norris
drove around in a pick-up truck and beat the crap out of people. I gotta say, though, I really dig that kind of thing. The one thing I didn't like was the grafted in local sleezeball character, because, unlike the way he was done in
Total Recall
, here he was just annoying. Annoying sidekicks always take away from a film's enjoyment. Kickass action stars doing their thing do not.
One very odd thing to note about Gruner's performance here: most of his lines were dubbed with someone else's voice. I'm not kidding. Whose idea was that? Gruner's English isn't that bad. What, was there some concern that it wouldn't be believable that he'd have a French accent? Dude,
Schwarzenegger
had a thicker accent than Gruner has, and we had no problem with him as a US government agent in
Total Recall
. As far as the action goes, Gruner's fights were really solid. The gunfights were a little schlocky, but this is 1990s DTV action, how good do we expect them to be? We've seen a lot worse with Gruner, and we've seen a lot of Gruner bait-and-switches, and this is neither, so in that sense it's not bad.
One thing I liked about both this and
Total Recall
was the Old West/Film Noir aspect to Mars. Of course, both take it to that next level and make it an all out action film--
Total Recall
on a much bigger scale. It'd be nice to see a movie take this concept to the next level. A real Martian mystery. Maybe even a TV show about a Mike Hammer-style character on Mars. Imagine the voice-overs "Georgie was a dancer at the Mount Olympus. She had three boobs and a whole lotta joie de vive. I figured if anyone could give me the 411 on this Perkins fella, it'd be her."
This has a pretty decent cast of supporting characters too. I mentioned Shari Belafonte above. She was really cool as the fast talking, hard-nosed doctor, which made it all the weirder that she ended up being the damsel in distress, but I guess that's what happens when you sign on for a DTV action flick and you're a woman. I liked Lindsey Ginter as the main baddie. He was also in another Gruner flick,
Mercenary
, which I'm sure you all remember. Lee De Broux plays the head Keeper in the sector Gruner enters to investigate his brother's murder. You may remember him from
RoboCop
. Director Jon Hess will probably be familiar to readers as the dude who directed
Excessive Force
, the Thomas Ian Griffith/
Lance Henriksen
actioner-- don't ask, I'm planning to do it soon. Finally, this had classic That Guy Nils Allen Stewart, as, what else, a thug. It's interesting that, for as big a dude as he is, he's always getting his ass kicked in movies, and it's no different here.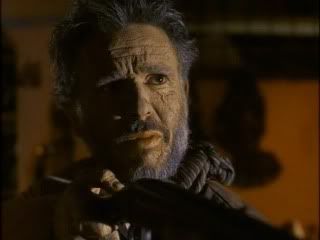 Okay, maybe Nils Allen Stewart wasn't finally, because a heavily made-up Nick from
Family Ties
plays Pete the Hermit, a dude with a thick Irish brogue. "Ay, yo Alex, you seen Mallory?" I remember seeing the name Scott Valentine in the opening credits, and I was like "Nick!", but then I forgot about it. When I saw this dude, I thought "man, he looks familiar. Who is that? Oh lord,
Scott Valentine
, it's Nick!" The guy's actually been in quite a bit of stuff. Who'd a thunk it? He'll always be Nick to me.
This is available both new and used on DVD and VHS, and can be found pretty cheap. I'm not sure you need to go out of your way to get it, but if you see it for a few bucks why not, or if you've seen a lot of Gruner's better stuff already, and are looking for more, this is a good next choice. It's the kind of thing that, ten years ago when this stuff was on TV more, would be perfect for that 3AM paper procrastination.
For more info:
http://www.imdb.com/title/tt0137094/