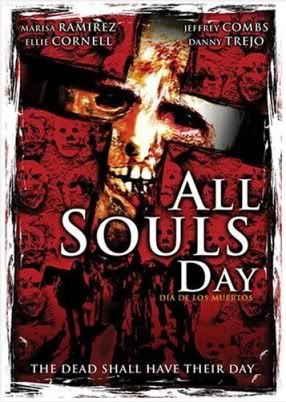 This is another of the
Stars Play 11
, so chosen because it listed
Jeffrey Combs
and
Danny Trejo
among its stars. Those two make anything worth checking out. Of course, it's not beyond me that they probably weren't in this much either, but I figured I'd give it the benefit of the doubt.
All Souls Day
is about a suspicious town in Mexico, where, on the day of the dead, zombies take it over unless a young woman of Mexican descent is sacrificed. A young couple just happen to be strolling through, a gringo and a Latina, on their way so the gringo can meet his girlfriend's parents. They get into an accident as the sacrificial procession moves through the town square, and then they stop the girl from being sacrificed. Bad move, because the zombies are coming, and unless these kids can figure out why they're coming, or sacrifice another Mexican girl-- say our lovely Latina-- everyone will be dead.
First off, let's get this out of the way: Jeffrey Combs is barely in it at the beginning, as the father of a family from the 50s that tries to stay at the local hotel and is overtaken by the zombies; and Danny Trejo is in it a little more, but is still only ancillary as a kind of de facto baddie. The main characters are Marisa Ramirez and Travis Wester, who play the couple, and Laura Harring as the woman who runs the local hotel. I'm not going to say they're bad, but they aren't Trejo and Combs-- okay, Harring might be, though not in the capacity with which they had her here-- and without Trejo and Combs, we're left with a run of the mill zombie flick with a Latin twist. There were some kills, but not a lot, and some good zombie killing action, but again, not a lot. For me, this is one of those deals where you could do a lot worse at 3AM, but I wouldn't go out of my way to track it down.
Unfortunately the best part is Jeffrey Combs, who, again, has only a very small part in the beginning. He plays this cheapskate father in the 50s who's taking his family (wife, daughter, son) on vacation in Mexico because it's less expensive. They run out of gas because, again, he's trying to save money, and then they end up in the bad town. He was so fantastic as the 50s suburban dad, I could watch a TV show that was just him in that role, say, like a throwback to the golden age of television. With zombies too. Gotta have the zombies.
Danny Trejo was solid as the baddie. His parts take place much further in the past, in the 19th century, after his gang sacrifices the townsfolk by dynamiting them in the town hall. This movie would've been so much better had it been Trejo's character and Combs's character fighting zombies. Alas, it wasn't it, and it suffered for that. What I think we need is a Combs Trejo cop buddy picture, like maybe some DTV
Lethal Weapon
sequels. Throw in
Gary Busey
, and you've got yourself pure cinematic gold.
Some other people that you might be familiar with include David Keith-- not to be confused with Keith David-- who plays Combs's son all grown up in the town, and he's who welcomes our young couple when they get there 50 years later. Even he doesn't last though, which is too bad. You gotta imagine David Keith could sort out some zombies. I already mentioned Laura Harring. For the most part her character is a one-note, until she shows some personality near the end. I think she was supposed to be creepy and mysterious, which is fine, but the film was kind of flat and could've used more from her than her character was allowed. Imagine her, David Keith, Combs, and Trejo all fighting zombies? Now that sounds awesome. The other name was Marisa Ramirez, whom I remember from Jordan Knight's video "Give It to You", but she's also done some TV and soap opera work. She wasn't bad, it's just the film would've been better if she and Wester had been supporting characters as opposed to the leads, especially with the great supporting cast we had.
Speaking of Travis Wester from
Eurotrip
. I absolutely love that movie, so seeing him was a bright spot-- though I would've preferred Michelle Trachtenberg if you know what I mean. I remember right before that came out on DVD, I went to my buddy's place and noticed he had a bunch of Matt Damon movies in his collection, so I was giving him a hard time, calling him a Matt Damon completist. A few days later, I got a phone call on my cell while I was at work, and he was like "dude, you have to watch
Eurotrip
. You'll know what I'm talking about right near the beginning." And there he was, Matt Damon, singing "Scotty Doesn't Know". Matt Damon.
But enough
Eurotrip
, let's wrap up
All Souls Day
. Not enough Trejo, not enough Harring, and definitely not enough Combs. This is your classic 3AM paper procrastination if you find it on cable kind of deal, but I wouldn't spend any money or go out of your way. There's not enough to make it worth it.
For more info:
http://www.imdb.com/title/tt0428212/