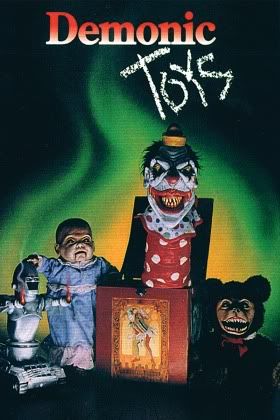 This is one I've wanted to get up here for some time, especially after doing the sequel,
Dollman vs. Demonic Toys
, a few weeks ago. Then Netflix put it on its dump list on Watch Instantly, not as a part of the Stars Play Purge, but the day after as a part of their usual dumping situation, meaning this isn't a Stars Play 11, but it's close, and I still had to get it in if I didn't want to miss out.
Demonic Toys
follows vice detective Tracy Scoggins as she and her boyfriend/partner go undercover to buy some illegal firearms. She's just told her dude that she's preggers with his kid, which makes him a little overprotective, and that overprotectiveness makes the bust go south. Now he's dead, and the two dealers are in an old warehouse that stores old toys, which is where Scoggins has them cornered. Problem: there are some demonic toys in there, and they want Scoggins and her baby so their demonic master can be born again. I think she's having a bad day.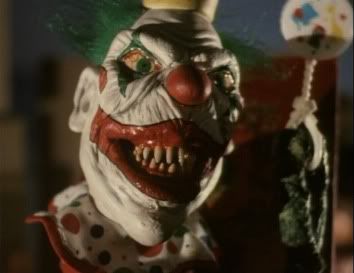 This is a good one. Some really nice gore, some fun villains, and and a great cast. This is the quintessential early 90s video store rental nostalgia piece, and it really brought me back. I know
Puppetmaster
is more the film that people first think of when they think
Full Moon
, but it's what we get in
Demonic Toys
that captures what I think Full Moon is about more. A great mixture of comedy and kills; random stuff like a guy in a Big Foot suit attacking Bentley Mitchum, or Bentley Mitchum driving a chicken mobile; and memorable, iconic characters that we look forward to seeing in the sequels. Load up your junk food and booze, and make this thing happen.
Tracy Scoggins was great here as the heroine. I was wondering why we haven't done more of her stuff, but when I looked at imdb, I noticed she has a lot more TV credits than she does DTV flicks-- in fact, after
Dollman vs. Demonic Toys
, it's almost exclusively TV. I'll have to go back though and check out some of those late 80s/early 90s flicks they list of her. One I do remember that I saw back in high school was
Alien Intruder
with
Billy Dee Williams
. That might be one to put on the radar.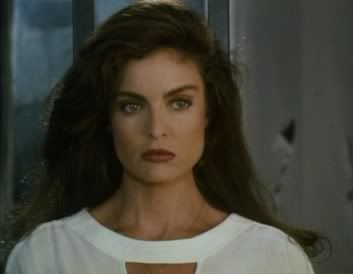 One difference between the Demonic Toys in this as opposed to
Dollman vs. Demonic Toys
, is that here they do a lot more killing. And when they kill, it's pretty nasty. Lots of chunks bitten out of people, that kind of thing. Compared to a lot of Full Moon flicks I've seen, that type of gore was a bit of a departure, but I loved it. A big gross jack-in-the-box popping out and biting a dudes neck works every time-- in fact, the more the better.
Bentley Mitchum was something of a revelation. Maybe he'd just been miscast before, but I didn't know he had this much personality or this much craziness. He has some sweet freakouts, plus, he's really awesome early on smoking a cigarette while putting together a batch of fried chicken for delivery. He has to bring it to the security guard at the warehouse, and that's how he ends up fighting the toys. He just made the film that much more entertaining, and it's too bad he's so often cast in these one-note parts that don't allow him to get after it like he did here.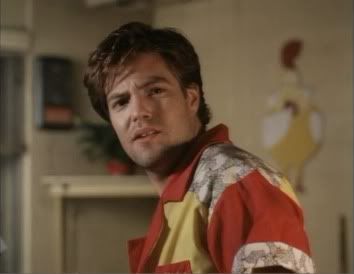 In some of Scoggins' dream sequences, there was this clock (a pic of which I stuck on the
image page
) that had a seven with a massive tail on it. It looked like a "Z" for God's sake. There's just a lot of flamboyance in that, a lot of aplomb, almost dandy-ish. It's like the Anthony Newley of sevens. Like, I think that seven drinks a lot of Beaujolais-- or maybe a lot of Claret. Right now, that seven is getting a suit made on Savile Row.
All right, enough of that, let's wrap this up. However you can get this, I say go for it, it's worth it. A solid Full Moon effort, and one that really brings you back to those video store days. I don't want to say they don't make 'em like this anymore, it's more like even when they do, they're still of the 2000s or the 2010s, which tempers some of that nostalgia for me. Sometimes I just feel like watching a good 90s flick, and this is it.
For more info:
http://www.imdb.com/title/tt0104083/