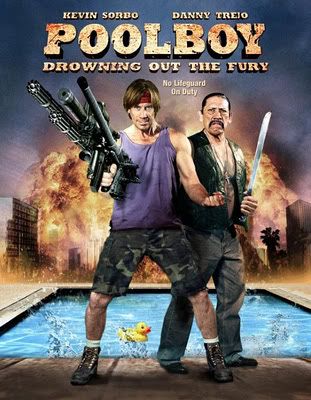 I first caught wind of this one over at our buddy Mr. Gable's site,
Mr. Gable's Reality
. As far as he was concerned this was 90 minutes of pure awesome, and after I saw the trailer, which he had embedded in the post, I figured there was a good chance he was right.
Kevin Sorbo
and
Danny Trejo
in a massive grindhouse/exploitation spoof? Sign me up.
Poolboy: Drowning Out the Fury
, is about a long lost film of the same name, shot by the infamous Saint James St. James (Ross Patterson) when he was ten years old. Unfortunately, the MPAA kept it from being released for 21 years, and he's finally getting a chance to air it for us, with his own commentary and production notes sprinkled in. The movie itself follows Bando (Sorbo), a Vietnam Vet who returns home to find his wife and son murdered by a Mexican pool boy. He swears revenge and vows to remove all Mexican pool boys from Van Nuys. In his way is Danny Trejo, the violent leader of the area's Mexican pool boys, and he's not ready to give up their racket. Can Bando defeat these murderous Latinos?
Mr. Gable is spot on, this is amazing. On one score, it's a fantastic send-up of 70s explotation and late 80s/early 90s bad action and Namsploitation. The dubbed voices, the music, the dialog, the attempts to cover up production mishaps, all things we've seen before and all hilarious. On the other, this is like a reverse
Machete
, where, instead of having Mexican-Americans fighting bigotry, we have the bigotry coming from the mouths of the heroes in the white people like Sorbo, which I think exposes it for its hate and hypocrisy all the more. Then you have excellent comedic performances, anchored by Sorbo, Trejo, and Patterson, but also other fantastic names like Bryan Callen, Mark Curry, Jennifer Elise Cox, Jason Mewes, Matt Winston, and Gary Valentine, among many others. Stick this in there with
Black Dynamite
as a genre spoof done right.
When I started the DTVC in 2007, Kevin Sorbo was pegged to be a potential Hall of Famer. After
Walking Tall 2
, which wasn't bad, we had
Walking Tall 3
, which, the less said of the better; then
Bitch Slap
, which should've been what this was but wasn't even close. I think here we finally have the realization of the potential we saw during Sorbo's great
Hercules
run. This is the movie I've wanted for almost five years of writing the DTVC, and now that it's here, I'm loving it. Also, if you look at his imdb bio, he's not stopping anytime soon. He's playing Abe Lincoln in
FDR: American Badass!
(from the same production company that gave us this), plus is listed in
Albert Pyun's
Cyborg: Rise of the Slingers
and
Sorority Party Massacre
. The thing with Sorbo is, he's one of the few actors that can do comedy and action--
Michael Jai White
is another that comes to mind-- and we need to exploit that as much as possible. This one does that.
Ross Patterson plays Saint James St. James, the man who directed
Poolboy
, and he's absolutely hilarious. The eye patch, the smoking jacket, the voice, it all works. When I went back to capture images for the blog, I was laughing out loud as I'd catch various lines, lines that if I tried to describe you'd probably think weren't that funny, but in context work. I can't wait to check out some of the other films he's done. If he's half as funny they'll be great. Another thing I wanted to point out is that image of Saint James St. James, sitting
Masterpiece Theater
style in a study discussing his movie with us. That's what I was going for when I named this site The Direct to Video Connoisseur, me as Alistair Cooke watching Dolph Lundgren flicks. A few things I didn't anticipate happened as a result though. First, people had trouble spelling "connoisseur", which made it difficult to tell people about it, plus "dtvconnoisseur.blogspot.com" doesn't roll off the tongue, so I had to get the current domain name that I have now. The other thing I think is even funnier: people don't always realize that the title is meant to be tongue-in-cheek, they think I really liken myself as a connoisseur of Direct to Video movies, like I'm some kind of snob. I never know what to do with those people.
This movie, in dealing with issues of race, treads on sensitive territory, but I think does so well. In part it's exposing and mocking racism in American society, but it's also making fun of the more embedded racism that's prevalent in many action and exploitation films. We get African Americans whose dialog is often dubbed over by someone else to make them sound more like a caricature, or Latinos that are only depicted as violent thugs or servants. It's different from
Machete
, where Danny Trejo was fighting against racist forces. Here he's now playing the stereotype, getting the same message across, but doing it in a different way.
There is a lot of stock footage in this, and I guess included in public use are PSAs, of which they used this classic drunk driving one from the late 80s/early 90s. I always loved this, watching how the "U" on one of the mugs would almost break off on its own. Had this sweet piece of nostalgia not dropped into my lap, I would've instead devoted this paragraph to the film's mention of Del Taco, which I haven't had since I was out in San Diego in 2001. My buddy and I gorged ourselves on burritos and fries one morning, just because we could-- out here in New England, Taco Bell doesn't open until 11, so burritos at 8AM is a novelty. Del Taco and anti-drunk driving PSAs, it doesn't get much better than that.
And it doesn't get much better than
Poolboy
either. This is the action/exploitation spoof you came for, the Kevin Sorbo flick you came for-- really just the 90-minute awesomefest you came for. Right now it's on Watch Instantly. I suggest you instantly watch it, you won't be disappointed.
For more info:
http://www.imdb.com/title/tt1693843/