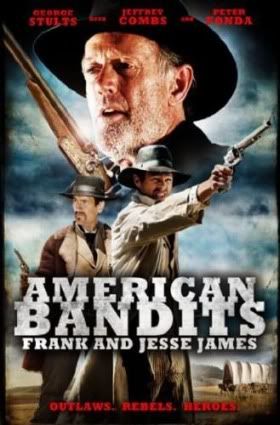 Here we have another member of the
Stars Play 11
. What made this one a must-see before it was dumped?
Fred Olen Ray
directed, starring Peter Fonda and
Jeffrey Combs
. Is that not a must-see for you too? (A little warning: I'm about to kill this movie. My review is in no way intended to be an indictment of the entire Southern United States, merely the misguided notion that the South was wronged in the Civil War and post-War reconstruction, while not once mentioning the evil practice of slavery.)
American Bandits: Frank and Jesse James
takes place in the South after the Civil War. Upset that the North told them they couldn't own other human beings, and bitter about the fact that all their "honor and glory" in defending such an abhorrent practice couldn't save them when the North came down on their asses with a vengeance (including Mainer Joshua Chamberlain), a few have decided that guerrilla attacks on American governmental convoys is the honorable way to accept the war's outcome. Foremost among them: two real American heroes in Frank and Jesse James (Frank played by Tim Abell and Jesse played by a mix of a Poor Man's Brad Pitt, a Poor Man's Karl Urban, and the mysterious guest star on a CW teen drama-type). The dishonorable Northerner marshal (Peter Fonda) wants these two honorable bandits brought in at any cost, but the man chasing them is a Southerner too, and kind of likes the James brothers. Will they escape alive?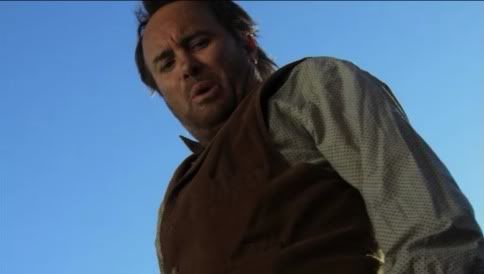 Wow, I didn't know people still made movies like this. It's one thing to get something like
Gone With the Wind
in the 1930s, when people still wore black face-- not that that was okay then, but we like to think we've come a long way since then, that that kind of thing is no longer acceptable; and at least in
Gone With the Wind
, one could make the argument that it was their inability to cut loose the more abhorrent aspects of their way of life, like slavery, that overshadowed their more admirable traits. We don't get any of that here though, all we get is "the South is great, and they were so wronged in the Civil War". On top of that, we're now rooting for two villains that want to preserve the Southern way of life, including slavery. Why not just go full DW Griffith and have the Klan race in on horseback and save Frank and Jesse as Jeffrey Combs has them at gunpoint. This movie is a disgrace. Oh yeah, and it's also a Peter Fonda bait-and-switch. Don't wanna forget that.
Jeffrey Combs is only in this at the beginning and the end, and is something of a baddie because he tries to double cross Frank and Jesse-- though they tried to double cross him first by walking off with his portion of the money and making him meet them later on at a ghost town. Did Combs not read the script in advance? Did his agent suggest this one without letting him know what he was in for? Maybe he thought by being a bad guy, the racially insensitive element staining the film wouldn't rub off on him. Well, he's right, because I'm giving him the benefit of the doubt here.
According to his imdb bio, Fred Olen Ray was born in Wellston, Ohio, which is in the southern part of the state, east of Cincinnati. With that knowledge, it's not inconceivable that he'd have grown up with a "South will rise again" mentality, and people like Frank and Jesse James depicted as heroes. Is this his true belief, that the US would be a much better place if the South had won? Man, I hope not. Besides, if you know anything about American history, you'd know that a depression hit not long after the Civil War, forcing the North to abandon its reconstruction efforts, which allowed the South to go about their business, only replacing slavery with de facto slavery in the form of an apartheid that lasted unchallenged until the 50s and 60s.
As a straight male, when I see a beautiful woman, there's very little that she can do that will make her unattractive. Defending a way of life that included the dehumanizing practice of owning other human beings though is a major turn off. In this case, Lauren Eckstrom plays Jesse James's love interest, and she's a very stunning woman; but the moment she starts talking about how much better the South was before the North came down and sorted them out, she might as well be Cpl. Klinger in drag. Racism is never a good look.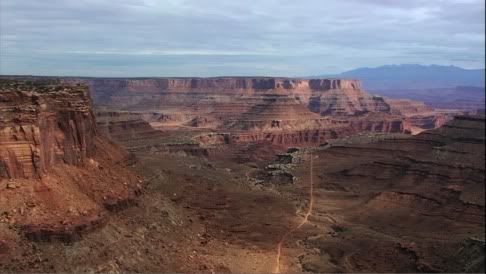 The imdb page said this movie was filmed in Canyon Country, CA, but that picture looks like the Grand Canyon in Arizona. Either way, that's not the point, the point is, if the South had had their way, the only African Americans visiting the Grand Canyon would be slaves carrying their master's bags in lieu of donkeys. There's your "honor and glory", defended by a horde in white sheets, burning crosses and stringing up human beings off of trees. Every time this movie sanctimoniously brought up the South's "honor and glory" it made me sick to my stomach. It's actually ironic that this film would choose an image of the US National Parks system though, because one of the best representatives of freedom and equality in this country are our parks and monuments, whether it's the Buffalo Soldiers administering Yosemite, or Martin Luther King Jr.'s "I Have a Dream" speech on the steps of the Lincoln Memorial. That's true honor and glory, something worth defending.
I'm still stunned that this movie exists, and that Fred Olen Ray of all people would make something like this. Maybe he just didn't know what he was doing, or what his film was saying. I don't know, I heard a lot of mentions of the South's "honor and glory", and no mention of the dehumanizing practice of slavery that they were so honorable in defending. It's bad enough in 1939, but in 2010, it's unacceptable. I understand that there was a bunker mentality after the war that made the North villains to Southerners, whether they agreed with slavery or not, but none of that nuance was on display here; I also know the North was far from perfect, but this movie isn't about the North, it's about the South and some myth of "honor and glory" that's total BS in this context. Oh yeah, and did I mention it's a Peter Fonda bait-and-switch to boot?
For more info:
http://www.imdb.com/title/tt1446675/