About a month ago I reviewed a film called
Locked Down
. In the comments section of that post, two things happened. First, our friend Ty at
comeuppance reviews
, gave us the term "punchfighting movie" when describing this UFC/TapOut sub-genre of low-budget martial arts films, complete with the tatted bruisers, songs performed by Disturbed derivatives, and sea-sickness inducing MTV film edits. Second, our friend Jason over at
elementarybeatboxoperator,storylike
made the joke that he might handle these films better while under the influence of Mountain Dew. And thus the Punchfighting Movie Mountain Dew Doritos Experiment was born.
I decided to go back to my movie watching roots for this one. On a recent free day, after my morning walk and a quick shower, I planted myself on the couch and had Mountain Dew and Doritos for lunch-- that's it-- while I watched two recent Punchfighting movie efforts,
Circle of Pain
and
Beatdown
. Below is a picture of what I put into my system: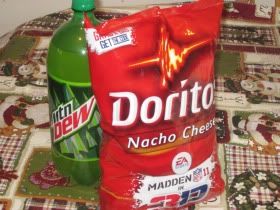 And no, Mr. Anonymous from
Unrivaled
, it wasn't this: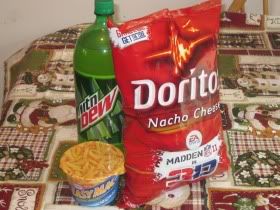 Before I get into the review, let me just say that I was ill equipped physically to deal with the ramifications of what a lunch of Mountain Dew and Doritos meant. I was lightheaded, felt some tingling in my left arm, and thought on numerous occasions that I might have what the competitive eaters call a "reversal of fortune". As late as midnight-- twelve hours later!-- I was still feeling these effects. I know as a blogger the idea is that junk food is considered an average meal for us in our parents' basements; but in the real world, as an actual person, I'm too far removed from my college days when I used to pull this kind of shit and get away with it. My body just doesn't find it funny anymore.
Anyway, so here we are, onto
Circle of Pain
. It stars rising Punchfighting guy Tony Schiena (
Locked Down
) as a former fighter who broke his buddy
Dean Cain's
back with a spin kick (believe me, it was hilarious). Five years later,
Bai Ling
, who runs the MMA outfit Schiena used to fight for, decides that he needs to fight again against her champ, Heath Herring. She twists his arm by evicting Schiena's baby mama and daughter out of the house Ling provided for them, somehow circumventing any landlord/tenant laws in the process. Now Schiena must overcome his regrets for what he did to his buddy and climb back into that ring triumphant.
I don't know if it was the Mountain Dew or what, but this wasn't too bad. Yes, the scene where Schiena breaks Cain's back is hilarious, and the flashbacks after are even better-- "I play that moment back in my mind, just thinking 'why didn't I kick him a little higher!'" The fight scenes outside of the ring were pretty clunky, like the one with Kimbo Slice, pretty much just wait, punch punch, wait, punch punch, wait, kick, block, throw, repeat; but the final fight inside the ring was great, one of the best MMA dramatizations we've seen in this sub-genre. Also, it was refreshingly light on the MTV gimmicky camera effects. Schiena in the featurette called it the "
Rocky
of MMA", which is what
Unrivaled
technically was too, but this was much better. The plot didn't stray too far and get weird on us, and Bai Ling as the MMA organization president was too perfect for words in my opinion. I would say it's more
Rocky V
than
Rocky
, but it was a good
Rocky V
.
Tony Schiena worked better here as the hero than he did in
Locked Down
, though I have to say he didn't work in the latter more because of the convoluted plot that made him act in awkward scenes than it was him. I do love that he always speaks in these breathy tones, like he's an obscene caller or something. "Hey Dean Cain, do you know who this is? What're you wearing? Are you wearing corduroy? Ooh, I can hear you swish swishing around the house as we speak..." He's a great fighter though, so hopefully he'll get more and better work.
Speaking of the devil, Dean Cain plays a paraplegic. In the featurette, he said he wanted this role because he knew people who were paralyzed, and he saw how they lived very full lives in spite of their disabilities. That brings in an interesting question: is that good enough for you Dean Cain fans out there? What I mean is, is not seeing him fight that much enough for you, if you find out after the fact why he took the role he did? It's one of those things about the featurette, because it explains a lot, but do you except the explanations if you were looking for something else? I was fine with it, even before finding out about why, but that's just me.
One of my favorite MMAers, Frank Mir, has a small, clunky cameo where he gets his ass kicked by Heath Herring. Again, in the featurette, we find out he was just doing it to get his feet wet in the acting world. I'm good with him doing that, but by putting his name on the cover, it's a bait-and-switch. Also, his fight scene wasn't very good at all. Wait, punch punch, wait, knee knee, throw. If he's going to go the next level and get a bigger part, I'd say make him a cyborg or something that throws people a lot and breaks their arms with nasty jiu-jitsu holds. That would rule. As an aside, the background of his one scene is a sick Shelby Cobra-- at least I think it is, I don't know cars that well.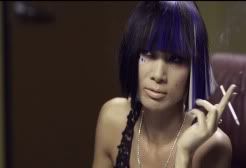 Bai Ling was awesome, and if you see her in the featurette, she's even more awesome. The first thing she says is "this movie is better than drugs, alcohol, or anything else you're taking." Umm, Bai, what exactly do you think I'm taking? Oh wait, that's right, Mountain Dew. Then she says the director was a genius for casting her, because she was playing a part made for a white man. Simply beautiful. I could have done with her in a better haircut, and the leopard print nail polish was a little bit much, but otherwise, she totally sold it. It was one of the elements that elevated this from the run-of-the-mill Punchfighting film.
All right, so final verdict, clunky fights, but a really amazing last one; a pretty funny storyline, especially when you see the actual kick to the back; a script that uses the word "fucking" as its go-to verb; yet also a great Bai Ling; and a hero who speaks in breathy tones but is a solid fighter and a guy worth rooting for. It's the
Rocky V
of MMA films, which isn't so bad a deal. Again, maybe it was the Mountain Dew that made me lighten up, but I didn't hate this.
For more info:
http://www.imdb.com/title/tt1541664/