This is a bit of a rarity of a
Michael Dudikoff
flick, so when I came across it, I was pretty stoked. I mean, even if it sucked, it was one film closer to having all of Dudikoff's films up here, which is something we really want. It didn't hurt either that it also starred
Lee Majors
.
Musketeers Forever
is about three older dudes, Majors among them, who used to work in the CIA and in military special forces, along with a fourth man, Dudikoff's dad. They called themselves the Musketeers. They became a threesome sometime back when Dudikoff's dad took a bullet to save Majors's life. Fast forward, and Majors gains a huge windfall in a poker game, and he buys a club in upstate New York for him, his two buddies, and their fallen buddy's son, Dudikoff (aptly named D'Artagnan), to run as a group. The town they picked has its own issues, as some rich criminal businessman owns the town and the police, and he wants to own the local Indian reservation as well, so he can put a casino on it. Our heroes don't like this dude and his goons, and they don't back down when he comes along pushing his weight around. Now it's up to the Musketeers to save this town from this businessman's tyranny.
I had fun with this one, but can I recommend it, I'm not so sure. It's not the most action packed, and a lot of the action is done in bar brawl style, though there is some solid martial arts by a few characters. I liked it because, despite not having tons of action, things moved rather quickly, and before I knew it we were closing in on the finale. It is a rather self-contained plot-- think a smaller-scale
Road House
-- so I don't know if it would have enough for everyone, but it had enough for me. Probably it's best attribute was how much it made the good guys likable, and the bad guys really suckey people. Sometimes that's all it takes in a film like this to keep one interested, but it's surprising how seldom something as simple as that is done in other movies.
This is tag 24 for Michael Dudikoff, putting him ahead of Lorenzo Lamas for second all time among actors here at the DTVC, behind, who else, Dolph Lundgren. I have to say,
Musketeers Forever
does that quintessential Dudikoff as well as I've seen it in any of his other pictures. You know the kind I mean-- kind of the ordinary guy that gets out of things as much with his wits as he does with his fists. His character does come off as a very accomplished martial artist, though, so I don't want to give the impression that he can't fight. I think if you look at some of the ones in the past, like
Midnight Ride
, that did this kind of thing ten kinds of wrong,
Musketeers Forever
is at least a refreshingly solid Dudikoff-ian effort.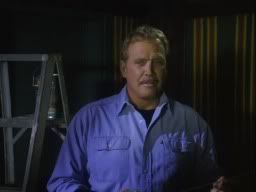 Wow, can you believe that we're somewhere near 570 posts, and this is the first film I've done with Lee Majors in it?
The Fall Guy
?
The Six Million Dollar Man
? Total icon, and a huge influence on the films we look at at the DTVC. At least for me, it was
The Fall Guy
and shows like it that first spawned my love of the action genre (and Erin Gray's guest spot as a Navy officer probably spawned my attraction for women in uniforms as well, but I digress). On top of that, Lee Majors has some great DTV work of his own that I should probably get to, among those
The Protector
, where he plays a baddie, and tells the heroine as he's abducting her "Tough Bitch? I looove that." How amazing is that?
Do you recognize this woman, Sabine Karsenti? You probably recognize her, right, but just can't place it. I'll help you out,
Battlefield Earth
. I wonder, resume-wise, which is the better item,
Musketeers Forever
or
Battlefield Earth
. I mean, on the surface, you say, with Travolta and all, it's gotta be the latter, but I don't know. At the very least, she was better here than she was in
Battlefield Earth
. The whole idea of putting
Battlefield Earth
on one's resume reminds me of a conversation a buddy and I had in Wendy's about ten years ago. They had a sign saying how you should apply there for a job to build your work history, and my buddy says, before taking a bite of his Triple Cheese Burger (my personal fast food fave) "of course, you can't put Wendy's on your resume, unless you want to look like an aaasshooole..." and as he said "aaasshoooole" he realized one of the employees was behind us cleaning a table off.
This film makes a statement about building casinos on Native American land, not from the angry residents who live in the surrounding towns, but rather from the residents who live on the reservation. In Maine we just voted to build a casino up north, about 2-3 hours away, and even though it's not on a reservation, a similar issue is there that they examined in
Musketeers Forever
, that being is it a quick fix for an area where jobs are sparse, but a quick fix with little potential for long term development? Of course, in action movies, the answers are always much easier to parse out, because there's usually a baddie behind the casino, and someone like Dudikoff can come in and kick his ass. That's why we love action films so much.
This is a tough find, but if you manage it, I think you might like it. If you live outside of Region 1, you'll probably have an easier time finding a copy of it than us in the States and Canada will (do I have any Canadian readers?). It's not as much a straight-ahead actioner as it is about a group of really good guys taking down a group of really bad guys, but in its own way it works.
For more info:
http://www.imdb.com/title/tt0190577/