There was a post a while back where someone hit me with a comment saying something to the effect of "dude, you gotta get
Shootfighter
up here.
Bolo Yeung
,
William Zabka
, it's all good." I can't remember when, or what post, or even the actual comment, I just know it was a long time ago. Anyway, I finally tracked it down after a long time of searching, so here it is.
Shootfighter
has Bolo Yeung as a former underground shootfighting great, who retires as a champ after seeing his buddy's throat ripped out in another fight by
Martin Kove
. In LA, he trains William Zabka in the world of legitimate fighting, while Zabka runs a dojo teaching kids martial arts to make ends meet. He gets into some trouble with a loan shark, and at the same time, his best friend and girlfriend's brother comes back into town. The best friend is more of a streetfighter, and he reminds Zabka that Zabka only knows how to fight for sport. These money issues and pride issues come to a head when Kove's men come calling, roping Zabka into fighting in their dangerous shootfighting circuit in Tijuana. Can Bolo Yeung get down there in time to save the day?
Hell, if he can swim to Hong Kong to escape communist China, he can get down to TJ, and when he does, it's pure awesome. Everything here is pure awesome. It is a little brutal, in a zombie movie kind of sense, with people having hearts ripped out, throats ripped out, and the skin on forearms bitten off. But it's done in that B-zombie movie kind of way that's more funny than sick-- it's just important to note that it's also R rated. Beyond that, the film really sets itself up as the film
The Karate Kid
should have been, i.e. totally awesome. Sure,
Pat Morita
is great, but he's no Bolo Yeung. Kove is still stellar as the head baddie, but then they cut out the Macchio role, allowing us to root for Zabka, which just works out so much better. Then you have all the great martial arts, the blood and gore, and a cameo from
John Barrett
. This is one of the best of the decade, and that's saying a lot considering it's a 90s movie.
And a huge part of that is Bolo Yeung. Whether he's putting mustard on French fries in
Tiger Claws II
, dressing like a woman in
Breathing Fire
, or throwing a crushed Alka Seltzer tablet in Jean-Claude Van Damme's face in
Bloodsport
, he's always great to watch. It's funny, because of his size and fierce scowl, he's usually cast as the baddie, when he actually makes a great good guy, as evidenced by his role here in
Shootfighter
.
Anyone who grew up in the 80s has to love William Zabka, right? On some levels, though he is on the side of the good guys here, he does channel that heel element that marked the early part of his career. This will be his third tag, the first two being
Gale Force
and
Interceptor Force
, but it won't be his last, because he does have some other DTV films to his credit, including the sequel to
Shootfighter
. As an aside, he has a cameo in
Hot Tub Time Machine
, a surprisingly great movie.
John Barrett is in this with a short cameo. I've never gotten why they don't use him in films like this for more than the cameo. I think he's great, a great actor, a great fighter. His one scene is kind of brutal, and it doesn't end well, but I loved the pants he had on. This was one of those early 90s "did he have to wear
those
pants?" kind of films, but Barrett's worked. I might be out on a limb on that one though.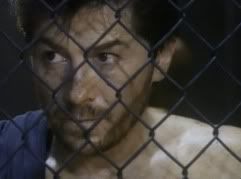 I had two places I wanted to go with this paragraph. First, I wanted to lament the fact that I'd been to San Diego before, and didn't make it down to Tijuana, and this film reminded me of that regret. The other was a personal story based on Zabka's character's name, Ruben. I knew a kid named Ruben back in college. He was an interesting cat, he could tightrope walk, hitchhiked home from school-- which was over an hour away-- all sorts of crazy shit. Anyway, he told us this story about how he met this girl at a party, went back to her place, and hoped to hook up, but she wasn't ready to move that fast, so he slept on her couch. He's kind of disappointed, but thinking he has an in with this chick, only to be woken up by her gay male roommate trying to do him! He freaked and split from there in only his boxers. About three days after he tells us the story, a girl remarks to his roommate that she saw flowers in his room, and asked who his secret admirer was. "How do you know they weren't Ruben's?" he says, to which she replies "I don't think Ruben would get anything like that..." and one of my buddies jumps in and says "Oh, you'd be surprised what Ruben gets!" I told that story to some friends when I got home for the summer, and that became our catch all phrase, "you'd be surprised what Ruben gets!"
This can be tough to get at, but it's so worth it. In my mind, one of the best of the 1990s, and it's to bad it's taken me this long to get at it, but here we are now, better late than never. Also, have you noticed I write less on the ones that are really awesome than I do on the ones that I didn't like? Maybe I need to fix that in future posts.
For more info:
http://www.imdb.com/title/tt0105395/