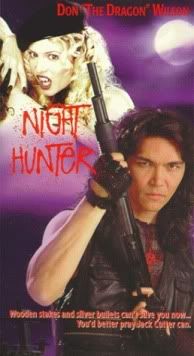 I've always loved the idea of
Don "The Dragon" Wilson
as a vampire hunter. Sure, I like the idea better of Sarah Michelle Gellar as one, but I digress (and can digress even more by mentioning her
Buffy
co-star
Charisma Carpenter
-- that's two mentions of her in a little over seven days). Anyway, it's just the idea of Wilson as some dark, brooding, duster-wearing anti-hero, I mean, don't get me wrong, he's plenty good at kicking ass in his movies, but there's always been an aw-shucks element in his style, and I was curious to see what a movie would look like without that, see if he could carry it off.
Night Hunter
has Wilson as the son of James Lew, one in a long line of vampire hunters. He sees his father killed by Vince Murdocco and the rest of a gang of vampires. He grows up and exacts his revenge on them, only to find out they aren't the last of their kind. There's
Vincent Klyn
, Ron Yuan, Maria Ford, and the head honcho, Nicholas Guest. At the same time, he's wanted for murder for the killings of Murdocco and his clan; and in his escape from them, he bumps into hottie Melanie Smith, who plays a reporter investigating his case. Wilson needs to defeat these vamps before the solar eclipse, otherwise they'll breed or something, and if they do that, it could be bad.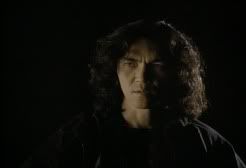 This could have been awesome, except for one enormous bad decision on the part of the film makers: in every fight scene, they shook the camera. You know, like how they do on
Star Trek
to simulate the bridge being attacked. I mean, you have great talent like Wilson, Yuan, Lew, and Klyn, not to mention Art Camacho choreographing the scenes, and you gotta do a camera effect that makes me sea sick? This could have been tons of fun, and instead it was pretty much ruined. Good work out of you guys, whoever decided on that one.
We're cruising right along on our Don "The Dragon" Wilson completion project. After this we'll be down to ten more. Also, one more after this will get him to that rarefied air of 20 tags. As far as
Night Hunter
goes, there was something inorganic about him in this role. It's like they were trying too hard to do
The Crow
and other anti-heroes of the time, so they crammed him into it. The duster and hair were actually more
Lorenzo Lamas
as Reno Raines in
Renegade
. I think too, his natural tendency is to be a pretty stand-up guy, and no matter how much the role calls for being dirty and gritty, that decent guy will always rise to the top-- and to be honest, I'm good with that. He kicks plenty of ass as a decent guy, doesn't he?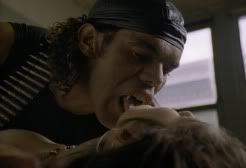 DTVC favorite Vincent Klyn is one of many in a great supporting cast. We also had Ron Yuan and James Lew, two guys we're used to seeing as hatchetmen in Asian gangs in DTV films. All of these guys brought it in one way or another, which made it more of a shame that every great fight was ruined by that shaky camera trick. Ugh! Speaking of Klyn,
Point Break
was on Versus of all channels last week. "Back off Warchild, seriously."
Nicholas Guest played the head baddie. You may remember him as the head master in
USA High
, among other roles. He usually plays the stuffed shirt style English man, which suits him better than the slick evil vampire. I don't know, maybe the people making the film thought one Limey was as good as another, that they didn't need
Julian Sands
or
Bruce Payne
. I was also of the understanding that all Englishmen make good baddies, but upon seeing this, I realize that that was a stereotype. Maybe it's the half Mick half Frog in me, but to all my readers from England, I wholeheartedly apologize. Go Gunners!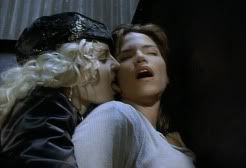 Over and over I hear all about some latent eroticism inherent in the whole vampire thing, and I never get it. Other than the fact that you're talking about men with tons of experience but none of the side effects of aging, there's nothing about biting people's necks and lots of blood that's hot. This film takes a different track for a moment. The two female leads are played by Maria Ford and Melanie Smith, and they have something of a Russ Meyer inspired scene in an elevator where, after some silly punches to Ford's face by Smith, Ford throws Smith against the wall, then pins her arms behind her back, holding her helpless. Total girl-on-girl action. I get that I'm not the target demographic for
Twilight
, and I get that there's a level of teenage angst that drives those stories; but for my money,
Twilight
would be a whole lot hotter with some serious girl-on-girl action. That's hot, vampires are not.
This would have been a real winner if not for the shaky camera affect. All right, maybe not a real winner, but pretty fun. Sometimes, less is more, and that's especially true here. If you're daring, though, this is actually available on Netflix-- though who knows for how much longer, because Wilson's films are fading out of print, and when they're out of print, Netflix doesn't make them available anymore.
For more info:
http://www.imdb.com/title/tt0113981/