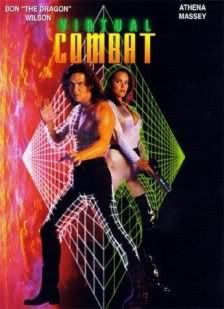 This is one of seven acting credits
Don "The Dragon" Wilson
had in 1995, one of which was a bit part in
Batman Forever
, but the rest of which were all starring roles, including two
Bloodfist
films,
VI
and
VII
, the the third
Ring of Fire
film,
Cyber-Tracker 2
, and
Terminal Rush
-- co-starring fellow Hall of Famer
"Rowdy" Roddy Piper
. That's a lot of premiers to go to. I wonder if he had to buy a second tux. You probably rock the Canadian Tux to premiers like that.
Virtual Combat
takes place at an undefined point in the future. In it, virtual reality is the name of the game, until a scientist figures out how to take the computer generated characters, and make them into real people. He first creates a sex slave and a dominatrix, but somehow, unintended, Dante, the level ten fighter in the martial arts simulator, is made real too. Now it's a big old mess, because the virtual reality company wants to sell their new inventions, Dante wants to make a bunch of his friends, and then Dante also kills Wilson's partner-- I forgot to mention Wilson was a special cop, called a Grid Runner-- and Wilson wants revenge.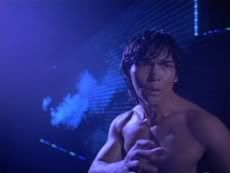 This one is hilarious. I don't know where to start. The helicopter hovering well above Wilson that he blows up with revolver fire? Yeah, that was great. What about the total devolution of the story at the end, where we just had no idea what the hell was happening? Even better. What about the cloned virtual reality people that turn into a pile of spilled Alka Seltzer after they die? Your guess is as good as mine. By the time you get to Wilson's end battle with Dante, played by Michael Bernardo, and Bernardo is able to make swords appear out of nowhere in his hands, it really doesn't matter. This is good for the pure silliness factor-- round up your buddies and see who can make the best jokes.
Film number 21 for Mr. Wilson is quite a doozey, and it makes me wonder what he thought while making it. I mean, a helicopter is above him, shooting laser beams at him and his girl, and he picks up a revolver, points, fires off a few rounds, and then we see an explosion. What is he thinking when he sees that in the script? The point is, no matter he's thinking, he completely sells it to us, which is all that counts. He does have some solid fights, choreographed by
Art Camacho
, but he also has a lot of "let's see how many roundhouse kick we can trade off on each other's faces" kind of fights. You know: wait, roundhouse, now your turn, wait, roundhouse, now my turn, uh oh, you ducked it! Between his fights with Bernardo and DTVC favorite
Loren Avedon
, I'd say the latter was the better-- is it any surprise? Also, we have 8 more Wilson movies after this one. Almost complete.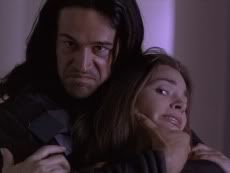 Bernardo never actually speaks his lines,
Michael Dorn
does it for him. Yes, that Michael Dorn. No offense to Michael Bernardo, but why didn't they just cast Dorn as the baddie anyway? Maybe he was busy doing
Star Trek: The Next Generation
. The voice is kind of distorted, so it's not as awesome as you'd want from seeing his name pop up in the opening credits, but it does in a pinch. As an aside, my nephew had this bear that recites
The Night Before Christmas
, and the voice is very Dorn-esque. Can you imagine if it was actually him? Like in his PJs and slippers, sitting in a rocking chair, maybe with a pair of spectacles, reading us
The Night Before Christmas
? How awesome would that be?
As I mentioned above, DTVC favorite Loren Avedon is in this. He plays the virtual reality corporation's hachetman, making him another baddie, but one that was also at odds with Bernardo. One thing you can tell right away is that his style of martial arts translates much better on-screen. I think Wilson could have managed with him, but they never really gave him that scene, it was more just Avedon going for it , and Wilson dodging and waiting and punching or kicking-- which looked clunky when combined with Avedon's quick style. I'm not that mad about it, because any Avedon is great Avedon, just don't go into this, seeing Avedon's name in the credits, and expecting
The King of the Kickboxers
.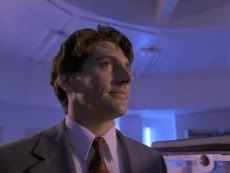 I was trying to figure out where to go with this seventh paragraph. You have the Rip Taylor cameo, where a faint image of his head appears above some tourists in Las Vegas, which is pretty funny. It made me think of a line from a Bloodhound Gang song: "Rip Taylor, Rip Taylor, your girlfriend, we nailed her!" There's also Las Vegas itself, which is supposed to be futuristic, but looks suspiciously like Vegas circa 1995. Then there's the smartphone technology, which was good on some things, and notsomuch on some others. They don't look as stylish-- think cross between Tri-corder and Zack Morris Phone-- and they don't have great GPS; but they have tons of sweet apps, including a talking woman home screen, the ability to scramble neck-shocking collars, something that mimics FBI announcements, something that can replicate someone else's hand to get by security scans, and best of all, a self-destruct app. I have to think someone's working on that one right now for the iPhone.
The DVD of this is out of print, meaning the VHS is the most affordable option. This is one of those it's so bad it's funny kind of deals, and I had a lot of fun with it. Definitely worth keeping your eye out for in bargain bins and whatnot, but I wouldn't go too far out of my way or spend too much money.
For more info:
http://www.imdb.com/title/tt0113220/