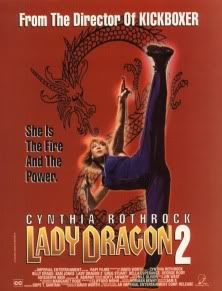 I guess I got the UK VHS of this, because one, it's titled
Angel of Fury
, and two, it's rated 18 by the British rating system. Not a bad deal for this post to be a symbol of UK/US solidarity, after both of our countries were jobbed by FIFA and the World Cup decisions-- though losing out to Russia isn't even a fraction as ridiculous as losing out to Qatar (not pronounced "cutter", buy the way).
Lady Dragon 2
is not an actual sequel to the
original
, it's just named like one. Here we have DTVC Hall of Famer
Cynthia Rothrock
as a karate champion married to an Indonesian soccer star. Billy Drago and his two buddies have stolen some diamonds, and need a way to get them out of the country, and happen upon a bellhop taking Rothrock and her husband's luggage out of the hotel they're all in. Drago stashes the diamonds in one of the hubby's suitcases, and when they make it back to Jakarta, the Dragonator and his buds pay Rothrock and her beau a visit. They carve up the husband's leg and rape Rothrock, but can't get the diamonds because the maid storms in with a shotgun to save the day. Anyway, turns out the hubby kept the diamonds, Drago kills him, and Rothrock swears revenge, taking Drago and his two buddies out one-by-one.
This is a weird one, because the description I'm about to give you will make it sound awesome. It's like a Rothrock Lifetime movie. I know, the idea of Rothrock in a Lifetime movies sounds awesome, huh? Well, this ain't that awesome. It's like it's Lifetime in the wrong areas, and action in the wrong areas, if that makes sense. I mean, the plot hits all the spots of the Lifetime movie: woman attacked by a criminal, husband turns out not to be the man she thought he was, the authorities are no help (but to be fair, Rothrock never gives them a chance to be), so this one woman takes things into her own hands, against the system, against all odds, and wins her vengeance. The problem was, this is Rothrock, and that kind of thing doesn't work with her. She's the one training Meredith Baxter-Birney or Joanna Kerns, not the Baxter-Birney or Kerns character herself. Plus, the areas without action were kind of weird, especially the conversations during her husband's funeral. There were a few bright spots, like the end fights (though the ending itself carried on a little long), and this really cool tribute to
A Clockwork Orange
in the scene where Drago's gang finishes off Rothrock's husband. Overall though, a total miss for me.
I don't think this film did Rothrock any favors either. She did get to show off her martial arts eventually, but being the damsel in distress first diminished it all for me. I was always under the impression that Rothrock's selling point was that she was a hot chick, but she could hold her own with the big boys, and by that I mean can play parts usually written for men, and play them as a woman without losing any toughness. Sure, we've seen guys like
Dolph
,
Van Damme
, and
Lorenzo Lamas
captured by the enemy and held captive, but this was different. This was a straight up Lifetime movie victim, damsel in distress kind of deal, which might work with a lot of other actresses, but it just goes against what I think Rothrock is about. No matter how much ass she kicked after, it wasn't enough to make up for making her into Meredith Baxter-Birney.
A couple weeks ago I watched
The Expendables
with some friends, and my buddy's wife, who was already complaining that we weren't watching a movie she wanted to watch, made a comment to the effect of "why do they always have to capture the girl?" I had never really thought about it, I guess in part because they don't always have to capture the girl. Sometimes she's killed off. Sometimes there isn't any girl period. Sometimes she's captured, but we find out she's in on it. But yes, I guess when you get down to brass tacks, more often than not, the girl is captured by the baddie and menaced in some way, and it's up to our hero to save her. This is the stereotype Cynthia Rothrock was supposed to be challenging through her success as an action leading lady, and seeing her bound and gagged and helpless as Billy Drago fondled her in front of her husband, made her the cliché she was constantly challenging in all of her other films.
It was funny though just how much this film followed the classic Lifetime movie paradigm. It was clunky in a lot of cases, because all the characters behaved in ways that made no sense. First, if Rothrock's character was as with it as she ends up being, why did she not insist on filing charges aganst Drago's gang when they first attacked her and her husband? We find out
he
didn't want to file charges, because he had the diamonds, but what about her? Second, they know full well Drago's gang wants these diamonds, and have already attacked them at their home once, yet they continue to live there, easy prey for future attacks. Why would you do that? Why not get the hell out of their and hide out some place else? Finally, why would Drago's gang try to smuggle diamonds in someone else's luggage in the first place? Diamonds have to be the easiest things ever to get through security. I mean, are there some kind of diamond sniffing dogs I'm unaware of?
I mentioned in the synopsis that Rothrock's husband was an Indonesians soccer star. I didn't mean an international soccer star who was born in Indonesia, I mean someone who played in the Indonesian soccer league. He plays for Jakarta, who played a game against Kuala Lumpur-- I guess it's some kind of Indonesian-Malaysian soccer league. I went to Wikipedia to see if this league really exists, and it doesn't, but there is an Indonesia Premier League that is starting in 2011. Should be exciting. I can't wait to see FC 1928 Jakarta battle FC Tashkent in the Asian Champions League.
That was totally digress city, so I'll wrap things up here. This was sautéed in wrong sauce, a bad mix of action and Lifetime movie, unfortunately marrying more of the poorer elements of both cinematic genres, instead of the best parts. Also, Rothrock as a damsel in distress, even if for only one scene, was a bad look for her, and made the film even weirder. Also, as far as I know, this is only available on VHS. I wouldn't go out of your way to get it though.
For more info:
http://www.imdb.com/title/tt0107356/