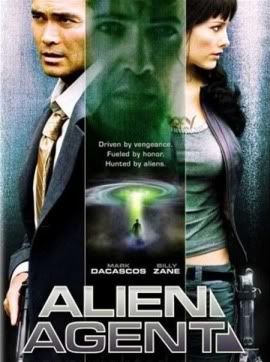 I've had this one in my queue for a little while, kind of on the back-burner, but when the movies above it weren't available, this jumped up the list and into my mailbox-- outta my dreams and into my car. This was also reviewed by
Cool Target Action Reviews
, which you can check out if you want to compare notes.
Alien Agent
is about a race of aliens far away whose planet is dying. Some bad elements have decided that Earth wouldn't make a bad substitute, and they want us off of it.
Mark Dacascos
is a good guy alien sent by his people to stop them. The pocket he's currently fighting involve a hot TV commercial actress and Billy Zane, looking to use the expertise of Renfro-esque Earthling
Kim Coates
to create a portal in rural Oregon that will beam all their buddies over here for the invasion. In the process of stopping them, Dacascos befriends a young girl who wants to know him Biblically, and while Dacascos thinks that's inappropriate, he likes her company.
This felt like it should've been a syndicated sci-fi action series from the late 90s/early 2000s, and there is some basis for that, because it was meant to be a film in 2001 starring
Dolph Lundgren
(check out
Dolph-Ultimate
for a blow-by-blow of what happened), but some aspects of it were deemed off-color in the wake of 9/11, and from there the project sat, until 2007. It starts off really sweet with great action, but then it becomes run-of-the-mill when it really had no business doing so. Billy Zane was a great baddie, but he's barely used. Dacascos has a few great fights, but they're so few and far between that it's a miss too-- a really great one with Darren Shahlavi to start with was not exactly a sign of things to come. I don't know, it wasn't horrible, but it could've been so much better. It's almost as if, with the project sitting for so long, they forced it out there more than they made it.
Dacascos turns in a solid performance, and his great fight with Shahlavi, plus another one with
Pit Fighter
's Dominiquie Vandenberg, reminded us of his great skills. On the other hand, he spent more time in a car or in a hotel room talking to the young girl. That's an area where syndicated TV show would've been better than 90 minute movie, because too much time is devoted to cramming in all this alien backstory that weighs things down. Problem is, by the times this was made, 2007, the syndicated TV market had dried up, with only the brave
Legend of the Seeker
making an attempt to buck the trend.
But while Dacascos was great though slightly underutilized, Billy Zane was great and totally underutilized. It was almost like what's the point of casting him? He was such an amazing baddie, really nonchalant and sarcastic-- very Billy Zane in
Titanic
actually (and don't fill up this comment sheet with how much you hated
Titanic
, I wasn't a fan either). There were a lot of scenes with the TV commercial actress and either Kim Coates, or no one, that could've been great scenes with Zane and either Kim Coates or the TV commercial actress. As much as a great hero makes a movie, so does a great baddie, and while this had one, they didn't use him enough.
The TV commercial actress is named Amelia Cooke, and she played Zane's second in command. Seriously, she's been in like 30 different ad campaigns here in the States, though she doesn't have the black hair she does here. She was really good, it was just odd that there was more of her than Billy Zane. The other female part, the young girl traveling with Dacascos, was played by Kiwi Emma Lahana. She's much older than the character she played, so it's okay to think she's hot. Usually her type of character-- the tag-along to the main hero-- is very annoying, but she was pretty good too, which is a rarity in a movie like this. According to imdb, she's on a TV show on ABC Family, plus I remember her from an episode of
Psych
.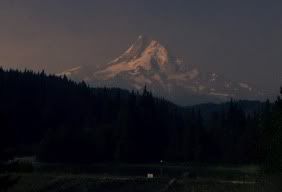 That looks like Mt. Hood, though this was shot in British Columbia, so they must've used a file photo. This marks an official entry for Oregon in our 50 States of DTV page. I have been to Oregon before, visiting Portland for the day while I was seeing my sister in Seattle. I've heard that the Black Velvet Painting Museum has closed, which sucks, because that would be my vote for coolest thing to do in Portland. Voodoo Doughnuts would be next in line, so if you're ever there, I'd go check it out and grab a frosted dipped in Fruit Loops, or a maple frosted with bacon on it.
As far as
Alien Agent
goes, nothing special, more like a syndicated TV show ten years too late. Usually nothing special wouldn't be too bad, but here, with missed opportunities like Billy Zane as the baddie, nothing special becomes a waste of something that could've been really fun. It's available on DVD from Netflix, but is probably only for Dacascos completists.
For more info:
http://www.imdb.com/title/tt0820466/