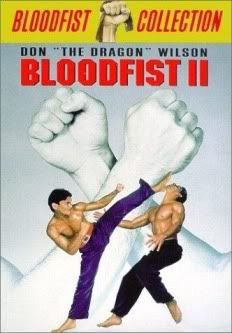 I've seen this one a few times, including on Spike in 2007, around the time I was starting the DTVC. They played all 8 over the course of a week or so. Somehow, this fell under the radar and I forgot to review it then, which I didn't realize until only a few months ago when I went to look for the post and it wasn't there. Oops. No one I knew had it, and Netflix doesn't carry it anymore, so I finally had to break down and buy it. This does mark the completion of the
Don "The Dragon" Wilson
Bloodfist
Series for us here. Friends of the DTVC who have hit this one before us:
Movies in the Attic
,
Cool Target Action Reviews
, and most recently, Ty at
Comeuppance Reviews
.
Bloodfist II
is the only actual sequel, so to speak, in that Wilson plays the same character he did in part 1. Long story short, we have an
Enter the Dragon
paradigm, with Wilson thinking he's going to save a friend in Manilla from a gambler he owes money to, only to find he's drugged, shackled, and on a boat to an island to fight. "Mr. Lu, I think I'd like to leave your island." After a scuffle, he escapes into the water, comes back to the gambler's compound to get his fighter friends, and ends up captured again and fighting the gambler's 'roid heads. Will he prevail?
This is something of a transitional picture in the
Bloodfist
series, because, on the one hand it has the
Enter the Dragon
paradigm, which makes it something of a tournament film like its predecessor, but really it's more like
Bloodfists
IV-VIII, in that it has that whole anywhere Wilson goes there's a potential ambush he needs to fight his way out of. Yes,
Enter the Dragon
is a classic, and as something of a remake,
Bloodfist II
doesn't do it justice; but as a low-budget Wilson martial arts actioner, it really delivers. This is a great time, something you and your friends can get a kick out of, and there aren't any dead spots or any plot to get in the way of your action.
This is one of Wilson's best. No training montages like the first one, nothing to get in the way of just a series of scenes of Wilson getting ambushed and having to kickass his way out of it. I don't know that there's another action star who plays more innocent guys that get ambushed by gangs so often. When you look at, say, Dolph or Seagal, they're usually cops or secret servicemen who go into dangerous places and fight their way out; but Wilson can't go to the corner store for a six-pack without someone trying to kick his ass. And every movie is like that too, it's just expected that the old man with the walker lurking in the background while Wilson is paying his mortgage at the bank knows karate and is waiting to try and kill him.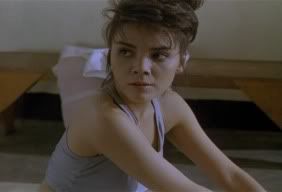 Rina Reyes played Wilson's love interest/woman on the inside helping him out. She looks like a mix of Kim Cattrall and Lisa Bonet, which means she's really hot. She even rocks silver spandex, which can be very dangerous and unflattering on the wrong figure, but looks great on her. As far as I can tell on imdb, she still works, but mostly in the Philippines. Perhaps the best scene came when she and Wilson had their "moment". It was very 6th grade, how their hands brushed up against each other's, then they looked, asked with their eyes if the other meant that touch, and kissed with smooth jazz playing in the background. I guess they cut out the scene later on when Wilson passed her a note with the question "Be my girlfriend?" and two boxes labeled "Yes" and "No" underneath.
I always try to get my hands on a movie to watch it before I review it, even if I've seen it before, because I almost always forget great moments-- not that I don't forget them when I'm writing the review after having just seen it too! In this one, I had totally forgotten about a scene with Tim Baker at a gym, where Baker tells Wilson "I only talk to fighters when I train", which leads Wilson to jumpkick his punching ball off it's chain and into a sparring ring, hitting one of the fighters in the back. That's a gem that if I don't watch the film again I miss out on, and I'm glad I didn't.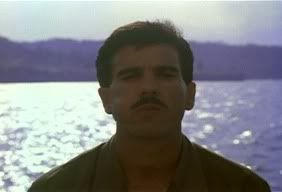 Baker was one of a few great members of the supporting cast, which also included Joe Mari Avellana-- not reprising his role as Kwong from part 1. One of the ones that was interesting was Richard Hill, pictured above, or Rick Hill for short. See where I'm going with this, Rick Hill same name as
Deathstalker
Rick Hill. In the biography section of the DVD, they actually make this mistake, showing the picture of the guy above-- the guy who was actually in the film-- but then running off the list of accomplishments that the other Rick Hill had had in the industry. How does that happen? Whose job is it to make sure they have the right
Rick Hill
? And does it really matter? Probably not, right? It kind of gives the DVD character.
For some reason Netflix doesn't have this, but you can buy it new or used on DVD from Amazon, so it doesn't really make any sense. Anyway, if you're into good ol' late 80s/early 90s bad action, this is right in your wheelhouse-- and if you're not, are you sure you have the right blog?
For more info:
http://www.imdb.com/title/tt0099155/