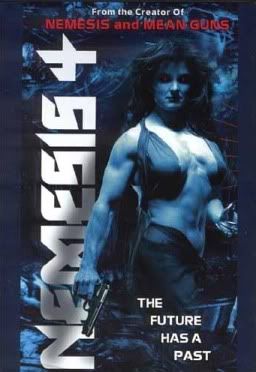 This is the fourth and final film in
Albert Pyun's
Nemesis series
. I've had it for a little while now, but a few other Pyun films took precedence, so we're finally making it happen today. Let's see how it all shakes out.
Nemesis 4
moves us back to the future, in 2080, when the war between cyborgs and humans is at an uneasy peace, and the warriors from that conflict are now selling out their services to the burgeoning crime syndicates. Enter our hero, Sue Price as Alex, working as an assassin. She's becoming disillusioned with it, and her boss thinks she should retire, but she decides against it, despite a strange visitor who looks like the angel of death. Then things go pear shaped when she mistakenly kills the son of a major crime boss, and he puts a $100 million bounty on her head.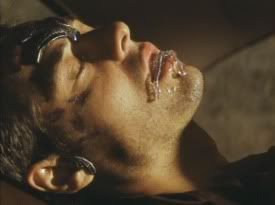 This entry brings the series full circle. We're back to the future, we're back to the intrigue and the cat and mouse games of the first film. I liked the mix of 50s-60s exploitation with some cool Noir-ish and sci-fi themes. It wasn't really an action flick like the previous ones, so that might turn some people off, but I was okay with that. What I had trouble with was the dialog. In some instances it meandered and became repetitive; others it contradicted itself. Price asks Pyun mainstay
Norbert Weisser
why the crime boss' son didn't have body guards. "His reputation is his protection. He knows if anyone even looks at his son the wrong way he's dead." Okay, good point, only Weisser continues: "But he did have guards, and he gave them the slip. That's why they knew to call [
Nicholas Guest's
character] so fast to warn him that you might kill him." Okay, so which is it, he doesn't need bodyguards, or he has them but he gave them the slip? This happened enough that it affected the overall quality of the film for me.
Despite the dialog issues, the actual story and style really worked for me. Again, as I mentioned in my reviews of the previous two films, if you have issues with low-budget special effects, this might not work for you, but that's not something I have a problem with. There were a lot of really cool images, like the vintage cars, or the cyborgs in 50s style clothing; plus, the sets were great, with the abandoned, burned out buildings. There were also some images that will test your sensibilities, like the scene where Nicholas Guest's character has cyborg sex with Sue Price. I don't know, I kind of like that Pyun just went for it there, but that's the kind of thing you need to see and decide for yourself.
This is a different Sue Price from parts 2 and 3. In those two, she was portrayed as more like a masculine type hero. Here, though, she's very feminine, wearing dresses and heels-- or often nothing at all-- and having sex with guys. It was one of those areas where Pyun inserts depth into what is an otherwise low-budget sci-fi flick, because he took Price's Alex character, who was essentially a tool created by humans to combat cyborgs, and inserted her into a world where cyborgs and humans were no longer at war with one another. Now she's trying to find her identity-- and her femininity, which is much more difficult when she was created to be a cyborg killing machine of a woman. It worked really well to tie the film together.
I didn't see in the credits where this was shot, and the imdb page doesn't list it. It seems like Eastern Europe somewhere, but I'm not sure. As I mentioned above, it's a pretty cool setting, with the abandoned and burned out buildings. I mentioned in the
Game of Death
post that Detroit is starting to take on some of that feel, that some of the people making that one said it was like one big studio lot with the mass amount of abandoned buildings. It'll be interesting to see if more films like this one are made in Detroit in the future, as opposed to Bulgaria or Romania. I'm not doing the rah rah American thing, I'm just saying anything to help that area recover the better.
A post on a Pyun flick wouldn't be complete without a look at all the Pyun mainstays that made their way into it. We already mentioned Norbert Weisser and Nicholas Guest, both playing cyborgs. Andrew Divoff plays Price's boss-- I didn't even recognize him; and then Simon Poland, who I thought I recognized as an 80s New Wave singer, but was totally wrong about-- I must've just recognized him from other Pyun films. This has nowhere near that epic cast that the first flick had, and based on how short the run time was, I don't know how you could've fit any of them in it anyway. This cast was good enough.
I'd say this one was my second favorite of the four, after part 1, but that was a hard act to follow anyway. These are all available on Amazon, and though I've seen part 4 listed on DVD, I'm not sure if there's a Region 1 release of it here in America. When in doubt, there's always used VHS.
For more info:
http://www.imdb.com/title/tt0113949/