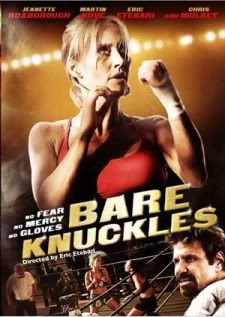 This is one that's been on my radar for sometime, usually something I see after doing a
Martin Kove
flick when I do a search on imdb of him. If you're keeping score, the last flick we did of his was that one with the
300-pound pork roast
that Kove was barely in, and yes,
Bare Knuckles
crossed my radar again, and I decided to finally bump it up in the queue and make it happen.
Bare Knuckles
has Kove as Sonny Cool, a down-on-his-luck fight promoter who discovers potential prospect Samantha working in a bar. Though she needs a lot of training, she also has a lot of heart, and a special needs daughter that she can't afford schooling for. She needs the money, he needs the money, this sounds like a great idea, so he gets her into the underground ladies fight game, leading eventually to a big pay off at a Frenchman's mansion.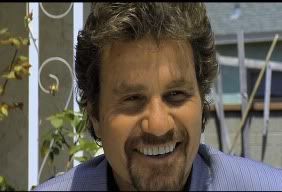 There was something about this one that was a bit off for me. It was like it didn't know if it wanted to be a dramatic human interest piece, a punchfighting movie, or an indie flick. What am I supposed to think about an attempt to portray women in fighting films as more than just window dressing, but also as more than just women playing male roles, when the attempt is undermined by stereotypical punchfighting scenes of derivative music and close-ups or girls' butts? What am I supposed to think of Martin Kove and Jeanette Roxborough turning in earnest, solid performances, when the camera is all over the place in the classic punchfighting ADD style? And the fights themselves were pretty "punch-duck-punch-punch-knockdown-get-back-up-repeat", which left a lot to be desired, and wasn't helped by the annoying ref yelling "she's ooooooouuuuut!" every time a lady was on the carpet. Who's idea was that? I can't dump on this entirely, because the concept was great, and I think everyone involved really wanted this to work; I don't know, something was off in the execution, which was too bad.
Nothing was off in Kove's execution though. So often we see him as a baddie, and almost as often he's barely in the film, so this was a great change of pace, both a good guy and a large part. He is so likable as a good guy, but I guess post
Karate Kid
, baddie was the best chance he had for work, which was why we seldom see it. For me, he was a big reason why this was entertaining in spite of its shortcomings. The equation is simple: the more Kove, the better, and that's one area
Bare Knuckles
had down.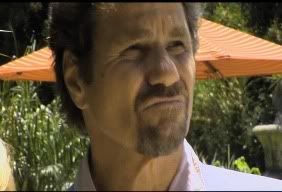 I want to stay on Kove for a bit to discuss something else: the goatee. There are very few men who can legitimately pull off a goatee without looking like they're emulating the lite beer commercial jackass. I know I can't do it. Billy Ocean, Bill Russell, and one of my buddies are the only three off the top of my head; and then there's Martin Kove. He's totally pulling it off. He's not Ben Affleck circa
Reindeer Games
, he's still Martin Fucking Kove and lovin' it. You rock that goatee.
Really liked Jeanette Roxborough as the lead. There was a great mix of tough, nurturing, and vulnerable that we seldom see in female action leads. She's also very pretty. After this film she's gotten more acting roles, so it'll be cool to see what she does next. The cover makes it out like this is simply a female version of the punchfighting movie, and that's certainly not the case; and I'm not sure she'd have managed as well in that type of film-- not that many stars really manage well in that type of film, considering how bad it usually is-- but I do think she'd fare well in a
Cynthia Rothrock
style more traditional action flick, so we'll see what happens.
Louis Mandylor, brother of Costas, played the baddie, and he was great. He had this thick, cornball New York gangster accent, combined with the cornball suits and lines. You could tell he relished the opportunity to play this part, which always makes for a great baddie. Just have fun with it, but at the same time, don't sell the evil, menacing aspect short, and Mandylor did that.
This is available on DVD from Netflix, but I'd say it's more of a Watch Instantly deal, and unfortunately they don't have it on that right now. It's also more for Martin Kove completists-- if you're out there-- than it is for anything else. I liked the idea, and I liked some aspects of it, but others didn't quite work, and overall the execution undermined what could've been a solid human interest peace.
For more info:
http://www.imdb.com/title/tt1063327/