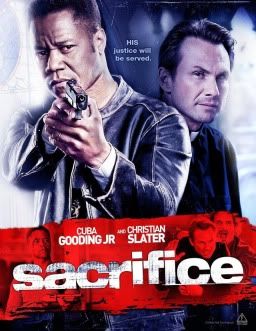 This DTV bad boy starring
Cuba Gooding Jr.
,
Christian Slater
, and
Kim Coates
came out recently and went straight to Netflix Watch Instantly, so it was high on my radar. We've seen recent DTV flicks starring various combinations of this trio not quite do it, so I was hoping all three would be enough to get us to the church on time. Let's see.
Sacrifice
takes place in Toronto, and centers around a narcotics cop, Gooding, whose wife and daughter were murdered by men hired by a dude whom he put away; a priest, Slater, looking for meaning in his life after he was the lone survivor of a special forces unit in Afghanistan that was hit by a bomb; a kid looking to get out of the drug cartel he's been working for; and Kim Coates as the head of that cartel. All these people are brought together when the kid steals a statue of the Virgin Mary made out of heroin, which he's hidden in plain sight in Slater's church. He's killed by Coates's men, leaving behind a 5-year-old sister who is taken in by Gooding, only to be kidnapped by Coates's men in order to find his statue. Now Slater and Gooding have to work together to get the girl back and bring Coates to justice.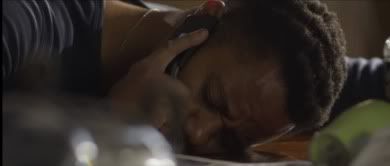 This was one of those that 15-20 minutes in, I was like "wow, I'm only 15-20 minutes in? It feels like an hour!" I was actually feeling bad for Gooding and Slater, because this looked and felt so bad. It was like one of those low-budget Lifetime movies made on the cheap in Canada with a bunch of Soap stars from here in the States combined with character actors from British Columbia. But then it shifted. The story took on depth and nuance. Slater, Gooding, and Coates were turning in great performances, and the material was keeping up with them. Overall, this film really worked for me, and was a pleasant surprise after the slow opening.
There's a scene where the 5-year-old asks Cuba Gooding Jr. to tell her a story. "Once upon a time, there was a big Hollywood star who won an Oscar and everything. Then he did a movie called
Snow Dogs
and a movie called
Daddy Day Camp
, and suddenly, no one was returning his agent's phone calls and no one was sending him scripts, other than people pitching DTV projects." We kid because we love Mr. Gooding Jr., and it can't be that bad at the DTV Hotel when you have neighbors like Val Kilmer and Christian Slater. Even though this movie did end up being really good, the quality of the film stock and whatnot really gave it that low-rent Lifetime movie look that made me feel bad for him. This guy won an Oscar, he really should be making big budget Hollywood flicks or high-quality independent movies-- but while he's here at the DTV Hotel, we're going to do our best to make his stay as nice as possible.
Speaking of Christian Slater, this is now our third of his DTV movies to make it to the DTVC. Like Cuba Gooding Jr., seeing him in these movies is odd, but it's a different kind of odd. With Slater, his voice is so classic, and so recognizable that I can't divorce it from all his great roles I remember growing up. If anyone could be a priest who was a former special forces soldier in Afghanistan, it's him.
The director of
Sacrifice
was Damian Lee. He's responsible for four other films we've reviewed at the DTVC:
Ski School
,
Moving Target
(
Dudikoff
, not
Wilson
),
Terminal Rush
, and
Agent Red
; plus he has a few others that are in need of reviews eventually, like
Abraxas
and a Don "The Dragon" Wilson flick called
Paper Trail
. I wonder how he felt to be working with Gooding and Slater after
Dolph Lundgren
.
DTVC favorite Kim Coates is back, and he's pretty good as the dude running the drug cartel-- but do you expect anything less from Kim Coates? Also, should we be surprised he's an acting machine, considering he hails from Saskatoon, Saskatchewan?
Rowdy Roddy Piper
is also from that great city. I've personally never been-- in fact never been to Canada period-- but I'd love to check it out. Hey, if it's good enough for Kim Coates and Roddy Piper, it's good enough for me.
I say go for it with this one. Yes, the beginning is a bit of a drag, but this is a pretty solid and entertaining film overall. I'm not sure what its availability is outside of the US at this moment, but here in the States it was just released on DVD, plus it's available on Netflix Watch Instantly, which makes it less of a risk. It's worth checking out.
For more info:
http://www.imdb.com/title/tt1630564/