It took me a little time to track this down, otherwise I'd have done it by now. Just look at that cast. It's huge, robust, dare I say prodigious. I don't remember when I first saw it, probably on TNT or a buddy rented it. It's definitely the kind of film that I made the DTVC for, so it's good to finally be getting after it.
TC 2000
takes place in the future, after the environment has deteriorated, and any humans with means have moved underground, leaving the topside an impoverished wasteland.
Billy Blanks
and Bobbie Phillips are police officers who keep surface dwellers from getting underground, but after they're ambushed by a gang of them, led by
Jalal Merhi
, and Phillips ends up dead, Blanks is wrongly accused of her death, and he flees to the surface, where
Bolo Yeung
teaches him the power of the Chi; while Phillips is turned into a cyborg, and she's sent to the surface to do something for her old boss, who it turns out is a bad guy, with a bad guy right-hand man played by
Matthias Hues
.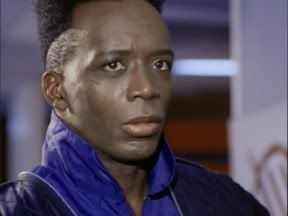 This is fantastic. This is the kind of movie the blog was made for, and the kind of movie you come here to check out. Great martial arts, great stars, and a futuristic plot set in the boiler room of a factory. Does it get any better than that? This is early 90s DTV action at its best, tons of fun, tons of action, and nothing to take too seriously: the perfect combination. Get the crew together and fire it up for your bad movie night.
How do you not love Billy Blanks? He's had better martial arts in some of his other films, but this one gives him more screen time than a lot of those. And he and Bolo Yeung had great chemistry (more on that later). The one drawback might be that he only wears the shades from the cover a couple times, but I'm not so sure that's a bad thing, because he has tons of close-ups with funny looks on his face, which for me is much better. Would I have liked some better martial scenes-- not that these ones were that bad, just that we've seen better, especially in
The King of the Kickboxers
-- probably, but overall, Blanks was so great, I didn't mind.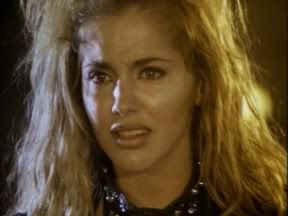 In this picture Bobbie Phillips looks pretty hot, right? And as the cyborg, from the forehead down she really does look hot, it was just her hairdo that didn't work. It was one of those middle of the head ponytails where the hair comes out and flows down over the head. It was the kind of hairdo that the girls with bad dye jobs who wore Adidas track suits to the mall and always got into fights used to have when I was growing up. I don't know, I was half expecting her to talk in wannabe Ebonics and come through the screen to try and steal my Da' Brat CD.
"Sooo, sooo, Funktafiiiied..."
(Was I the only one whose environment was Suburban Ghetto enough for these girls to exist?)
Matthias Hues is a beast. He even makes Bolo Yeung look small. I know how silly it sounds to do the whole "in real life he could take so and so", but other than Dolph Lundgren, who has similar size and speed, Matthias Hues is someone none of the guys who pretend kick his ass on screen would want anything to do with if he came looking for them with bad intentions. I guess that's why he makes such a great baddie, because he is so big and fast-- and because he has a German accent, let's not forget that.
This review marks a first here at the DTVC. In the past I've uploaded video clips from the movies I reviewed, but this is the first time I ever enhanced one. There are two training montages in
TC 2000
, and I thought they were both great, but when I cut them together, I noticed the transition was bad between the first and second, so I decided to cover the whole thing with my own music. It's on the
image page
, so take a look at it and tell me what you think. The Bolo Yeung interpretive dance at the beginning was my personal favorite.
This is only available on VHS as far as I know. If you look it up on Amazon, one of the links they'll direct you to is another film,
Expect No Mercy
, which is on DVD, stars Jalal Merhi and Billy Blanks, but is not the same film.
TC 2000
is totally worth picking up if you find it anywhere. Amazon is a little steep, but $5 or so after shipping is worth it, so if you can find it for that, pull the trigger.
For more info:
http://www.imdb.com/title/tt0108277/