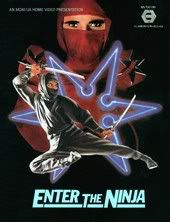 If you want to look for the genesis of the ninja in American pop culture in the 80s, this is a great place to start, even though this film itself is a little light on the Japanese assassin. It really was the
American Ninja
s and the ninja films later in this series that started the boom, but that doesn't mean this is any less worthy of a review.
Enter the Ninja
is a Golan-Globus film with Franco Nero (from this point on, The Stash) as a Westerner who becomes a ninja, and visits his friend in the Philippines. Beyond the fact the friend looks like a smaller James Caan in
The Godfather
, he's also having trouble with a local strongman that wants him to sell his huge ranch. His wife loves the ranch, and doesn't want to sell, and The Stash thinks if his friend wants his ranch, that no strongman will take it from him, so he takes out wave upon wave of local toughs. Finally, the corporate dude funding the strongman decides he needs to hire his own ninja, so he employs Shô Kosugi, The Stash's rival from ninja school, to take him down. Do we really see that happening?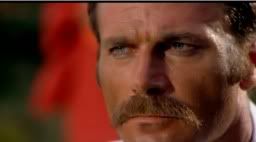 This is pretty ridiculous. First off, Kosugi would've made a better lead, and this problem was corrected in
Revenge of the Ninja
. I agree that it was plenty believable that The Stash could take Kosugi, because everyone fears The Stash, I just would've preferred Kosugi as the hero. Second was the lack of actual ninjas. If you compare this to the
American Ninja
films, which were chock full of ninjas, it's a disappointment. Finally there's The Stash. How can you not love The Stash? I'd love him more if he was dressed as a ninja more often, or if he was fighting more ninjas, but I'm not sure how much you can blame
Enter the Ninja
for that, because they were just starting the ninja film paradigm, and they (Golan-Globus) certainly corrected those mistakes in subsequent films.
The Stash has done some other pictures since this one, most notably
Die Hard 2
. Actually, he's a pretty accomplished Italian actor, more than simply The Stash. Alas, no more ninja films though. As a Westerner donning the ninja gear, he would've totally sucked it it wasn't for that amazing patch of hair on his upper lip. He had nothing going for him compared to a Michael Dudikoff, who was an amazing Caucasian ninja. I would say, though, that he was much better than David Bradley, so he has that in his favor. Here's to you, The Stash.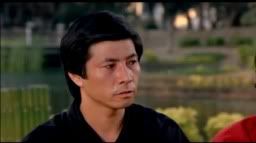 This has barely any Shô Kosugi, and we know from the beginning that it's only a matter of time before The Stash bests him. If you're someone, like myself, looking to get into more Kosugi, this is not a great place to start.
Revenge of the Ninja
is more like it. That doesn't mean Kosugi isn't great, just that he doesn't have a great role, which was a bad decision, in my mind, The Stash or no The Stash.
My friend at
Movies in the Attic
thought the female star, Susan George, was out of her element here, because she's more of a theatrical actress, but I'm not so sure. I thought she was hot, and somehow she eked out a fully rounded, complete character out of the scant material she had. She was at times a spitfire, feisty, hard nosed, and at others scared, emotional, and frustrated. Of course, in an action film, we often don't look for nuance, we want black and white-- if a woman starts out as feisty and tough, when she's kidnapped, bound and gagged, and held at gunpoint, we expect her to be just as defiant, as opposed to being scared, hoping The Stash would save her, which is probably more realistic, even if that realism was coming in that most realistic of mediums, the ninja film. Perhaps my colleague was more right than I originally thought.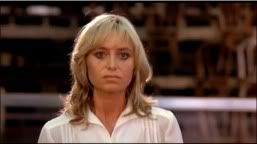 I don't really have much for a seventh paragraph, so I thought I'd discuss my favorite ninjas in pop culture, the
Mortal Kombat
ones. They were really only one ninja and ten color swaps, but they were still cool. They started with two, Scorpion and Sub-Zero, but if you knew what you were doing, you could fight Reptile, a green mix of the two, at the bottom of The Pit. In part two, they added Smoke and Noob Saibot (the last names of the creators spelled backwards). Again, it was all color swaps, and all Smoke and Noob Saibot were were versions of Scorpion. They also had female ninjas, Kitana, Mileena, and Jade. You gotta love female ninjas-- very hot. In the third one all bets were off, as they added robo-ninjas, classic and old versions of Sub-Zero, and more color swaps. I haven't really played anything after part III, though I tried my brother's
DC vs. Mortal Kombat
game, and the one thing that sucked was the lack of unlockable ninjas, which was for me what made the earlier games great. I think it had Scorpion and Sub-Zero, but that was it. If anyone can kick Superman's ass without Kryptonite, it's a ninja, and they dropped the ball by not including more.
Okay, that was a longer rant than I wanted, but I just got all nostalgic. This might be worth giving a looksee, but don't expect the ninja fest some of the later films were. Also, it's available on Hulu, which was annoying with the random ad insertions (on TV the ads come in natural spots, on Hulu you'd get one in the middle of a sentence), but for a movie like this, it wasn't so bad. Maybe catching this for free is the best option. Also, it's not out on DVD yet. Almost forgot to mention that, so it's either Hulu or VHS.
For more info: http://www.imdb.com/title/tt0082332/