I watched this not long after I saw
Wrong Turn at Tahoe
, because I had it on Watch Instantly, and Netflix was removing it. I would've waited on it to put some space between my Cuba Gooding jr. DTV films, but when forced with the decision of whether to waste a DVD rental on it in the future, or get it out of the way now directly on my computer, I chose the latter. Maybe I should've just let it evaporate from my queue and never watched it-- ever.
The Way of War
has Cuba Gooding jr. as an elite special forces guy sent on a secret mission that was bad and stuff. What follows is a mess of double crosses and people killing people related to this or that element. To say anything more would be to pretend this was somewhat decent.
The first user review I saw of this on imdb was titled "CUBA, what were you THINKING !?!?" The only thing I could think was he did it for children who have trouble sleeping, because this snoozefest, if it wasn't for the violence, would work better than anything I could think of to put kids to sleep. Hell, it put me to sleep twice when I watched it. I'm not kidding. It's like Lunesta without the side effects like depression and thoughts of suicide. Pending FDA approval.
Hey Cuba, how has your stay been at the DTV Hotel? You need more towels? Oh, because you have to take so many showers to wash away the dirty you feel after making such a sack of asscrack as this. I guess looking at the Oscar on the mantel doesn't work anymore like it did with
Snow Dogs
and
Daddy Day Camp
. The reality is, if this is the best you can do in the DTV world, why not just stick to
Boat Trip
? Is it worth it that much to play a dark, brooding, cold-blooded killer, even if it's in a horribly written cinematic tranquilizer?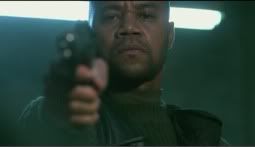 For most people who find out that I have a blog that focuses on Direct to Video movies, when I mention Cuba Gooding jr.'s films they always say "Cuba Gooding jr. does [DTV]? Didn't he win an Oscar?" imdb is not very clear on what happened, so I went to
Wikipedia
to get the lowdown on him. All they could say was that after
As Good as It Gets
, his films were "inconsistently successful" and that he did some that were critically panned or did poorly in the box office. They also mention his bright spot recently in
American Gangster
. Maybe he just decided if the best he could do in Hollywood was
Norbit
, he'd try different roles in DTV. The Wikipedia article does say he trained in martial arts before becoming an actor, which I didn't know, so maybe Hollywood, based on his reputation as a good guy, would never let him be the action guy he wanted. The problem is, he's taking DTV roles that are complete crap. I guess the question is, again, is it worth it?
The dad from
Juno
is in this as well. He was one of the bright spots, and he and Cuba acted well together. The best way to look at his part is pretty much the dad from
Juno
as the head of an elite special forces unit, only without any of the great Oscar winning dialog. There's a reason why, on imdb, Cuba's name and his name are set apart from everyone else's. The only other talent was Clarence Williams III, or Link from
The Mod Squad
, and his name is buried near the bottom-- probably better than being at the top when dealing with a sack of asscrack like this.
One thing that was kind of cool was the amount of Washington Redskins memorabilia. I do think they should change their name to something else, in part because the name's offensive, but more because it doesn't really fit the city. The Beltways or Traffic Jams is better, or maybe the Taxations without Representations. Anyway, I remember in the 80s and early 90s, the Redskins were good, and as a Patriots fan, I was jealous of how good they were. Boy do times change. One team gets a good owner, the other gets a shitty one, and the rest is history.
I don't know how much more explicitly I can say this: STAY AWAY! According to imdb it's airing on TMC on Tuesday December 29
th
. Again, STAY AWAY! If you're having trouble sleeping, watch the Weather Channel or drink some warm milk.
For more info: http://www.imdb.com/title/tt1133995/