I was always under the impression that there were two Lambada films that came out at the same time, but I could never remember what the other one's name was. I knew one was Lambada: The Forbidden Dance, and one was something else... well, I finally figured it out, as I was watching this one, what the two were named-- one was
Lambada
, and one was this, the Menahem Golan produced
The Forbidden Dance

,
and over time, I just fused the two titles in my mind, yet still remembering that there were two distinct films. I think the reason why is we never just said one thing or the other, it was always "Lambada: The Forbidden Dance". Anyway, what I'm trying to say is this week's box office bomb is only as half as good as it should've been, though I have a feeling this is the funnier of the two films.
I never do this, but the Netflix synopsis is better than anything I could ever do: "An Amazon Indian princess (Laura Elena Harring) travels to America when a major corporation's plans threaten to destroy her rainforest homeland. When the company refuses to arrange a meeting with her, she and her boyfriend decide to raise her environmental message by dancing the Lambada on television. Trouble is, the corporate bigwigs have a lot at stake... and they'll do anything to keep the couple off the air."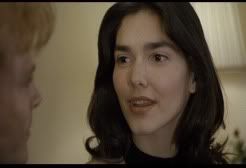 All right, maybe I could do a better synopsis.
The Forbidden Dance
is a story of worlds colliding as an Amazonian princess and her local witchdoctor head to the US to convince a corporation not to tear up their homeland. She's stonewalled, forced to work as a maid, then a dancer/almost hooker, and is saved by a lazy trust fund kid with a penchant for dancing and shopping at the Chessking. Together they dance the Lambada, get on a TV show, and tell the world about the damage destroying the rainforest is doing to the world.
They just don't make movies like this anymore... because the Chessking is out of business I guess. Really, an
SNL
sketch couldn't write some of the jokes that weren't intended to be jokes, especially the big finale with the tribe's king in full garb and the witchdoctor coming to see the princess dance, only to find the hero has a horribly sprained leg from jumping out of a building after rescuing Laura Herring from the clutches of the evil Richard Lynch, only to have the witchdoctor, by using a python, heal the sprained ankle just in time for the hero and heroine to dance-- I've seen a lot of comedies that aren't anywhere near that funny. Just amazing.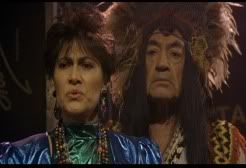 That's right, I said Richard Lynch. He's back and badder than ever. Burning down the rainforest-- have you no shame? Where's Chuck Norris when we need him? When he captures Laura Herring, he makes her dance the Lambada for him on some stage he has, and he comes up on stage with her, like he's going to dance too, and then the Chessking tool shows up to save her. If Richard Lynch had gone through with it, actually danced, I wouldn't have placed this in the box office bomb post, it would've been a best of all time post.
One of my friends said, rather smugly, "I'll let you watch that and I'll keep my hour and a half." And do what? When did we all suddenly become death row inmates, vigorously guarding every minute we don't spend sleeping or in traffic or waiting in line, to make sure we do the absolute best thing possible with it, only to find that best thing to be another baseball game on TV or back-to-back episodes of
House
on Fox. Is it really so bad to just say "I watched
Lambada: The Forbidden Dance
, and it was fucking hilarious!" People need to stop taking themselves so seriously.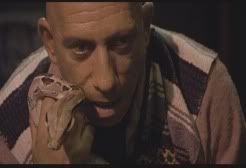 I gotta get in a little anthropology here. First, Harring's character is named Nisa, though Nisa was the famous !Kung woman, and the !Kung are from Africa, and the Amazon is in South America. Second, there is some truth to people like Richard Lynch going in with guns and forcing natives off the land to raise beef. What they don't talk about is how they kill the natives to make sure they stay off it, it isn't just about the rainforest being depleted. Also, the witchdoctor has special powers that even anthropologists would say are ridiculous-- no one can defy the laws of physics and makes explosions occur with the wave of a feather, or loud growling happen out of nowhere. Furthermore, if this witchdoctor had all these powers, why didn't he used them on the men trying to take their land? And there must be a few of these guys out there that could work together against a common enemy. Oh wait... did I just ask why
The Forbidden Dance
wasn't more realistic? Yes, you guys are right, why do people who write blogs reviewing Direct to Video movies take themselves so seriously?
This movie is hilarious. You thought
Steel
or
Cool As Ice
was hilarious-- well you were right, they were too-- but this is just as funny. If you're having a shitty time of it, I can't think of a better way to relax and laugh at the world; and unlike
Steel
and
Cool as Ice
, you can get this one at Netflix.
For more info: http://www.imdb.com/title/tt0099595/