This is another film that the box office bomb slot was made for. Until the new
Hulk
film was released in 2003 (can you believe Ang Lee directed that? Almost as bad as Gavin Hood directing
X-Men Origins: Ben Vereen
),
Superman IV: The Quest for Peace
was regarded as the gold standard for bad comic book movies. Okay, there was also
Batman and Robin
. But this was up there.
Superman IV: The Quest for Peace
is the Golan-Globus entry in the Man of Steel saga. While a corporate tycoon is taking over the Daily Planet and turning it into a tabloid rag, a boy tells Superman he wants him to rid the world of nuclear weapons, so that's what he does. Only Lex Luthor has his own plan, and he uses a strand of Superman's hair to create a person as powerful as Superman, which he installs in one of the nuclear bombs Superman is destroying. Did I mention Superman is throwing the bombs at the sun? Anyway, Nuclear Man is born from the sun and a nuclear bomb, and now Superman has to do everything he can to stop him.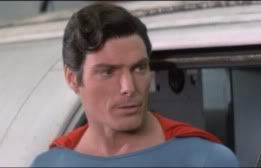 At the time it came out I thought this movie was crap, and though I'm not saying it isn't completely, I can see what they were going for... at least I hope. If this was a serious attempt at serious film, then it's crap; but what I saw was a send up of screwball comedies from the 40s and 50s, an homage to the old
Batman
series and Godzilla movies, and an overall attempt to have fun with it. If that's the case, then I have to get behind it, because I certainly had fun.
At the same time, one can't watch this and not see the connection between it and Tim Burton's
Batman
which came out a couple years later. He totally turned the comic book movie on its ear, and Jack Nicholson gave us a comic book villain like none we'd ever seen, in a way influencing the actual comic book upon which it was based, because writers and artists changed their own interpretation of Batman and the Joker after. I mean, I have to feel that that Batman was at least in part a reaction to this Superman. For me, I think both films have their place. Sure,
The Dark Knight
and
Spiderman 2
were better films than
Superman IV
, but there's nothing wrong with getting a little goofy with it. Unlike Ang Lee's
Hulk
, which was trying to be serious and was just bad, I think this one did take a page from the old
Batman
of the 60s
-- Superman being fluent in Italian and Russian, his speech about the safety of the public transit system after he saves a runaway subway train-- it all just worked on that level for me. Comparing
The Dark Knight
and
Superman IV
at first seems easy, but in reality, it's more apples and oranges than one might think.
The end battle between Superman and Nuclear Man was amazing. It was a perfect Godzilla style showdown, right down to Nuclear Man's growling and the look on Superman's face when he blew his ice breath-- his eyes had that same vacant look that Godzilla's always did. Again, if this wasn't done on purpose, then it came off as crappy, but if it was, then it was perfect. Also, in making Nuclear Man, the film does a great job paying tribute to the old
Frankenstein
movie, which we discussed some at length here on Halloween. I guess it's all in how you see this stuff, it's either an homage, or a rip-off.
One thing that should be pointed out is no matter how silly this was on purpose, it was packaged to us as a serious film by Golan-Globus, and in the end, when it didn't do well, it cost them quite a bit. The reality is, for us
American Ninja
fans, seeing a silly send up of Superman movies works, but the vast majority of the viewing audience isn't into that. Scenes of Superman flying that are pretty much
Conan O'Brien
driving-his-desk-around-the-world quality images are funny, but if you're paying good money to see this in a theater and are expecting good special effects, you may not be laughing as much, and you're probably telling your friends to avoid it at all costs. 12 years later it's easy for me to see this for what it was, but at the time the focus was on what it wasn't, and I don't blame anyone for that.
My last paragraph is on the late Christopher Reeves and Margot Kidder. These were
the
pop culture embodiments of Superman and Lois Lane, and for us who grew up in the 80s, they still are. Reeves just had it in spades, and no one since has been able to pull off that combination of geeky Clark Kent and heroic Superman. I think here he showed just how talented he was as an actor beyond Superman, by doing the tongue-and-cheek bits so well. He would've been great playing a Gary Grant part in a screwball comedy, or taking over Adam West's role in a similar TV version of Superman. Because we pigeon-holed him as Superman, we didn't realize how much we lost when he had his tragic accident. This movie also reaffirmed for me why Margot Kidder was better than Teri Hatcher for the role of Lois. She always gave the role this Hepburn in
The Philadelphia Story
quality that I really liked; and I understand that Teri Hatcher was given the task of modernizing Lois Lane, but I'm not sure something like that should've been modernized. Kidder in her outfits that were feminine takes on masculine office attire and her take charge attitude toward being a reporter at the Daily Planet, blended seamlessly with her giddiness and nervousness at the prospect of cooking for Superman. It would be interesting to see if anyone could pull that off today.
If you haven't seen this in a while, you may want to give it a spin for the fun of it. You can currently see it on Netflix's Watch Instantly, so if you have that, it's a cheap and easy way to make it happen. I'm not sure it's worth buying, but if I saw it in someone's collection, I'd totally respect it-- if they thought it was funny too, of course.
For more info: http://www.imdb.com/title/tt0094074/