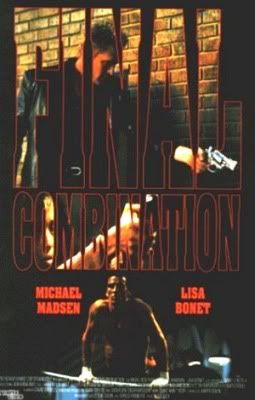 This was a suggestion on the
Facebook page
from one of the readers, and if you don't know, that's the place to go to make requests or suggestions for things you've checked out recently that you want to bring to my attention, or personal favorites that you'd like me to review. What made this suggestion even better was the fact that Netflix has it on Watch Instantly-- always a plus.
Final Combination
is an early 90s Film Noir starring the great
Michael Madsen
as an LA detective and former hockey enforcer. He's out investigating a serial killer (Gary Stretch) that likes to beat women to death while listening to phone sex and renting hotel rooms under the real names of boxing legends. Enter Lisa Bonet, a freelance reporter who's been hot on the killer's trail. She and Madsen become uneasy allies and very easy lovers. But does she have ulterior motives? And can Madsen avoid getting too tangled up in her and catch the killer before he strikes again?
Other than the ending, which was a little all over the place for me, I really enjoyed this movie. Madsen is the perfect choice for a 90s Film Noir lead. He gets it on a deeper level than most actors, and the director here got that he got it and leaned on him. He just exudes cool in everything he does. Then you add in Lisa Bonet, who is fantastic as the Film Noir femme fatale, and she and Madsen have great chemistry. This hits all the spots for me, from the cinematography to the music to the dialog. If you dig Michael Madsen, this is the kind of role he's made for, and worth your checking out.
There's something about Michael Madsen that's authentic, and I think that's why he's so good. Even in movies he's in that suck, he's great; but this movie is good, and as I said above, I think a big reason why is that this one is centered around Madsen's authenticity. Madsen has a way of channeling Noir icons of the 40s and 50s, but he never feels affected when he does it. He has a very deep DTV filmography that we've only scratched the surface of here, so who knows, maybe we're talking about a 2012 Hall of Fame inductee.
If you're my age you grew up with
The Cosby Show
on Thursday nights, so you're familiar with Lisa Bonet and wouldn't surprised that she does well in a movie like this opposite Madsen. Another thing I like about her casting here is that she wouldn't have been cast in a Film Noir of the 40s and 50s, so she brings the movie into the 90s better than Madsen does; but she still has all the elements of the classic Noir femme fatale, from the femininity and seductiveness, to the assertiveness and ability to put the lead on his heels.
After Madsen and Bonet, there are a lot of other people in this worth mentioning. This was Gary Stretch's first feature length movie, and I believe he was still a boxer at the time. I think our only Gary Stretch movie other than this one was
Mega Shark vs. Crocosaurus
. Then there's
U.S. Seals 2's
Damian Chapa, as a detective working under Madsen. One of my personal favorites was a small cameo by Parker Posey as Stretch's first victim. This was one year before she broke out as the 90s indie it girl with
Party Girl
. Susan Byun from
Sgt. Kabukiman
and the
Gary Daniels
film
Deadly Target
plays another potential Stretch victim. Finally, Curt Smith of Tears for Fears has one scene as a desk clerk in a hotel. How awesome is that?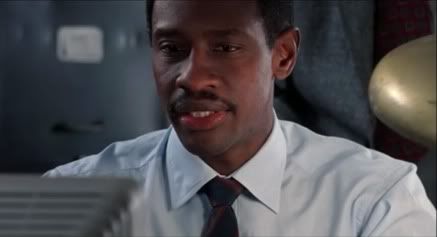 Actually, that's not finally, because there's one more I need to mention. That's right, Tuvok is back, this time as another detective working under Madsen. We last saw Tuvok as a drug dealer in
Death Wish 4
. This may become our thing, a little novelty. It's not about seeking out Tuvok movies, but seeing how many times he'll pop up in something coincidentally-- like the McDonald's thing I've done in the past. Again, I've never really even seen
Star Trek: Voyager
, but maybe if we keep seeing Tuvok in our movies I'll have to start.
Considering this is on Watch Instantly here in the States, I think it's worth checking out; but even if you don't have Watch Instantly or live outside the US, if you can track this down I'd say go for it, especially if you're a Michael Madsen fan. You'll enjoy it.
For more info:
http://www.imdb.com/title/tt0107417/