A friend hooked me up with this from a rip off of a Czech VHS. How sweet is that? Always on the lookout for more
Richard Norton
and more AIP flicks, I was looking forward to making this bad boy happen. Let's see how it went.
Return of the Kickfighter
is something of a 'Namsploitation about a group of soldiers that bury some gold at the end of the war, and 15 years later a Viet Cong soldier who had it initially wants it back, and he plans to get it by killing all the members of that old troop. Initially his work looks like the work of terrorists, so the Army calls in it's best guy, Richard Norton, who, though he may have long hair and a beard, and may have been born in Australia, grew up in the States and is American through and through. Thank God, because they'll need him if they want their gold and they want to get out of this alive.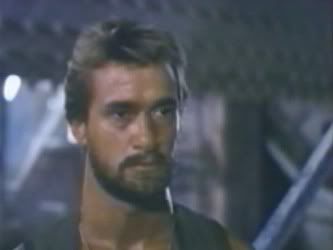 At least I think that's the plot. I may have missed something. Does it matter? I'm watching this for the exploding huts, and I got those. I'm watching this for the Richard Norton, and I got that too. Also, we had Bruce Le as a guy that had a score to settle with the Viet Cong soldier or something, and he was pretty sweet. This is a tough find, and I'm not so sure you should be going too far out of your way to get it, but if you see it in a bargain bin or on eBay or Amazon for a reasonable price, it might be a good one to to have in your collection.
What's interesting about this, is Richard Norton made a movie called
Kick Fighter
in 1990 with the same director as this one, so if you see that one kicking around, this movie isn't a sequel to it. Anyway, what can I say about how great Norton is here? He seems to have the attitude that shirts should only be worn if they have some additional utilitarian function. For most of us, that utilitarian function would be to cover our upper body, but for Norton, that would mean covering those too sweet pecs. No can do. For him, it's either no shirt, or a vest that holds ammunition and grenades. Otherwise, that T shirt he wears the rest of the time is too cumbersome for him. He also gets some great fights in and blows up some huts, which is cool too.
Mr. Kenner at
Movies in the Attic
had mentioned how he wanted me to do more Bruce Le on here, way back when I did
Future Hunters
over two years ago. I guess that didn't work out so well. He has a bigger part here than he had in that other flick, but it's still only a supporting role, and he even doesn't get to win his one big fight against his main rival, Norton has to come in out of the bullpen and put the fire out. Still, a little Le goes a long way.
Maybe I should've paid more attention in the credits, because I have no idea who this guy below is, but he looks like a poor man's
Charles Napier
. I mean, had this been made in the States Napier would've been playing this part, it's like it was made for him. As far as poor man's versions go, this guy wasn't bad-- Charles Napier would've been proud.
I could't tell for sure, but it looked like Norton had a rat tail. Remember the rat tail? Those were huge in the 80s. I started one, but then just cut it off. I didn't get haircuts often enough for the rat tail effect to become prominent. I remember some kids in school had some enormous ones though. Then, in the early 90s, when I was in 8th grade, our science teacher sported one. We were all like "dude, those went out almost 10 years ago, what are you doing?"
I couldn't find this on Amazon or eBay. In a way that's too bad, because this is a lot of fun; but it's not like it's one that you can't live without. I'd say just keep your eye out. I imagine my readers in Europe will have an easier time, especially if there's a Czech version floating around. No matter what, though, VHS is what you'll find it on.
For more info: http://www.imdb.com/title/tt0093549/