I had been waiting for this one to come to Netflix on DVD for a while, but it was stuck in the old "Saved" queue. Then it found its way on Watch Instantly, but I kept pushing it back for other things. Anyway, now we're here, finally making it happen. Let's see if it was worth the wait.
Supreme Champion
has UFC fighter Stephan "American Psycho" Bonnar (though on the cover he looks like Nate "The Rock" Quarry) as a cage fighter/Iraq War hero whose ex-girlfriend comes to him for help. Turns out she's got a gambling addiction, she's into casino owner
Daniel Bernhardt
for a lot of dough, and he essentially owns her and she doesn't want to be owned by him anymore. Bernhardt has his own idea on how he'd like to settle her debt: he wants Bonnar to fight in his underground illegal cage fighting tournament. Bonnar agrees, only to find out Bernhardt isn't ready to play fair. Now he needs to use all of his fighting skills if he wants to get himself and his girlfriend out alive.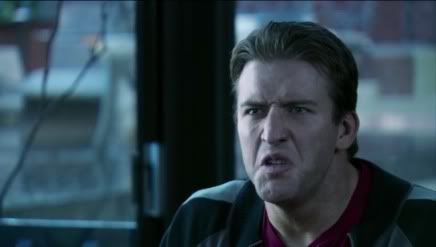 Sounds formulaic, huh? Sounds like you've seen this one tons of times before, right? Maybe, but I don't know if you've seen it this bad. It's like a Skin-a-max flick in terms of quality, from the film stock and special effects, to the forced and un-proofread dialogue, to the failed attempts to salvage said dialogue with acting that didn't quite cut it. Problem here: unlike a Skin-a-max flick, there's no soft core porn; and unlike a great bad action flick, there isn't enough action, and what there is isn't always carried out effectively. I'm not saying you can't do paint-by-numbers-- and this was as paint-by-numbers as it gets, between the forced to fight paradigm to its devolution into a most dangerous game paradigm-- but it can't be paint-by-numbers with no substance too.
I think the fatal flaw was in not allowing Bonnar's unique combination of great martial arts skills and naturally off-beat personality to flourish. First off, the script was so harsh that all the jokes lost any punch they might have had; and Bonnar's delivery sounded more like a guy who was over-thinking his lines than a guy who in real life could pull lines like that off with ease. Then they made his character more serious than off-beat and funny, which he had no ability to pull off. Finally, there weren't enough fight scenes, which is where Bonner could really show off what he can do, and the ones we got weren't always that great. For a first timer, his role and this movie had too much crap going on; he needed things simplified and streamlined. Give us the guy we enjoyed on the inaugural season of
The Ultimate Fighter
.
Then we have Daniel Bernhardt as the villain. How did he end up here? Is the career really that bad? Was he wondering how he ended up here too? Was he mentally firing his agent as he recited this atrocious dialogue? I mean, this is a far cry away from one of his best, battling in Ben Franklin's Dark Kumite in
Bloodsport 4
-- it's closer to one of his worst, fighting dinosaurs and
Robert Z'Dar
in
Future War
--, but to be fair, he acquits himself well, even if this is pretty rough stuff. It's hard to see him like this, I want to reach through the screen and give him a hug. I have to assume Chuck Norris no longer returns his phone calls.
This movie had an opportunity to take a great detour from the run-of-the-mill forced to fight paradigm, and I was disappointed that it didn't go there. Essentially, they could've removed the "forced" part from it. Why not just have him there of his own volition to fight to pay off his ex's debt? The intrigue could be either in Bernhardt or the other competitors messing with him, or maybe the ex set him up and didn't want to be rescued, but just duped Bonnar so she could help out Bernhardt. For once I'd like to see someone try something new with these retreaded ideas.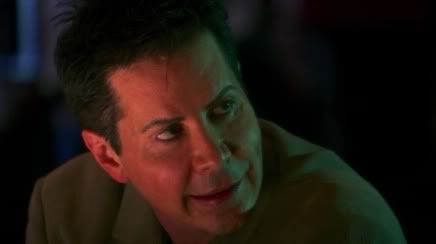 The man to blame here is right above, one Mr. Ted Fox. He was the writer, producer, director, and actor. This was his
Citizen Kane
. I don't know if this was a rush job, something that was his baby that he had to change a lot and sacrifice a lot of to get it on the shelves, whatever it is, it didn't have a professional look to it. The thing is, when you look at Fox's resume as a producer, he's got some bigger projects to his name, including the flick
Setup
with Bruce Willis. I have to think this is one he'd like to have back.
So even though this is available on Watch Instantly, I'm not sure it's worth it. You've seen it before, and you've seen it done better before. Even the Daniel Bernhardt or Stephan Bonnar factor isn't enough.
For more info:
http://www.imdb.com/title/tt1283546/