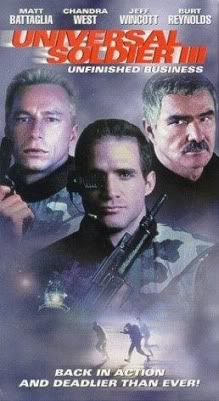 If you haven't read my
Universal Soldiers II
post yet, that one gives the back story about how we got here with me reviewing these two films. It's not like it's a very interesting story, but that's it. Considering I don't want to repeat myself, I thought I'd talk about something else in this opening paragraph. I think I'm going to get sushi with my friends tomorrow night, and I may fork over the cash to get some sea urchin. I feel like I can get myself to like it, but I don't know. Does anyone else who gets sushi like the sea urchin? I've never done it with soy sauce and wasabi before, so I'll try that tomorrow and get back to you on how it was in the comments section.
Universal Soldier III
picks up where part 2 leaves off. Matt Battaglia and Chandra West are still on the run from the law and still trying to expose the UniSol project, which is now helmed by
Burt Reynolds
after
Gary Busey
died and passed the baddie baton to him. Reynolds has some new tricks up his sleeve. First, he has his crack scientist creating a clone of
Jeff Wincott
. Neat. He also has this thing called "Sleepers", which are people who are technically UniSols but exist in society like regular people until called into action. With all this crap going on, can West and Battaglia survive?
This one is a little bit better, and little bit more fun, but still pretty wide of the mark. It's just one of those things that, as a two-part syndicated TV episode it wouldn't have been that bad, but as a movie, not enough happens. I can deal with only a couple fight scenes in a 42-minute TV show, but in a near 90 minute movie, it's kind of boring. Throw in the bad construct with Wincott as a clone. The whole idea is supposed to be that he's a clean slate-- because, as a clone, he'd be a whole new human being. For some reason though, even as a clone he still remembers the family he technically never knew. As silly as it sounds, it's also a waste of what could've been a cool element. The Sleepers thing is another one that I assume would've come into play much more on a TV show, but in the movie, it's just something that was poorly fleshed out. I guess the only thing I can say is, part III more than part II shows what might have been had the TV show been made, but still, the fact that it was supposed to be a TV show and not a movie remains a detriment.
You gotta like Burt Reynolds though as the baddie. I can't think of a better person for Busey to pass the baton to than him. He kind of does a Dr. Claw thing for most of the film, hanging out in a dark room, smoking a cigar and giving orders-- all he needed was the cat. Then he appears at the very end when Battaglia and West confront him. Imagine him as a baddie for the whole series? They could do like Suzanne Sommers on
Three's Company
when she was off the show but still under contract, so they had her character sent away, then she'd go in each week and talk to the other characters as she were on the telephone. They could just have Reynolds in an office smoking a cigar and giving orders each week, then maybe have him out and about for the season finale.
Chandra West showed up again in this one, though there was a lot more emotional bunk that didn't really work, and even she couldn't save it from sauteed in wrong sauce-dom. The one thing I like about these two sequels is that they're almost more about her character as the protagonist than Luc Devereaux, which is a cool change of pace. The problem is, though, that an action movie needs to be action driven, and she isn't doing the action, Battaglia is. Somehow the first
Universal Soldier
mitigated a UniSol Devereaux as the main character better than these two sequels, which really just relied on West for the film's personality. So maybe it wasn't so much as cool change of pace as much as it was laziness in the writing, and West made it seem like a change of pace with the way she carried it.
In my part 2 review I didn't mention Matt Battaglia at all, so I figured I'd do that here. First off, I didn't know that he was a former NFL player. He also has had a pretty prodigious TV acting career, which is probably why he was chosen for this role, considering this was meant to be a TV show. The third thing is that he was in both
Showgirls
and the
Dolph Lundgren
flick
Joshua Tree
, aka
Army of One
. As you may or may not know, that is the most popular Dolph post of all time, and it has nothing to do with Dolph Lundgren. I'm not going to say why it's the most popular post, only because if I do, those key words will turn up in more searches and send people here erroneously, and I don't want to do that.
Finally, I want to discuss Wincott's role. I have this rule when it comes to holding movies accountable for inconceivability called the Gilligan's Island Rule. It came from a stand-up comedian who talked about watching the Globe Trotters episode of Gilligan, and how, when one of the Globe Trotters was injured and Gilligan was subbed in, the comedian's friend said "yeah right, like they'd let Gilligan play," to which the comedian replied "wait, you've been good with all of this so far, but the idea of bringing Gilligan off the bench for the Globe Trotters was too inconceivable?" I thought about that as I was going to give this movie crap for not understanding how cloning works when Wincott suddenly remembers his family that really isn't his family, you know, like "okay Matt, you're good with bringing soldiers back from the dead, erasing their memories, and injecting them with stuff that makes them super strong, but Wincott remembering his family after he was cloned, that's what did it to you?" But then I remembered the movie itself saying "he's a clean slate." He's a clean slate... See, that's where I do draw the line, you can't break your own rules. Obviously the movie made Wincott's new incarnation too strong for Battaglia's character to take down, so they just added in that remembering his family thing to get them out of it. That I do have a problem with.
That was an enormous paragraph, so I'll wrap this up quick. Not as bad as part II, but still not great; no longer on Watch Instantly, probably not worth your time. I'd stay away.
For more info:
http://www.imdb.com/title/tt0186655/