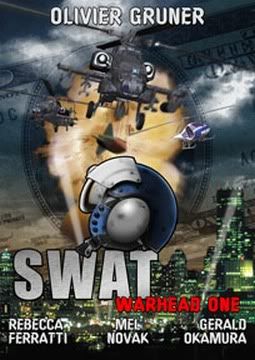 Though this has an imdb date of 2005, the fact that it has almost the exact same cast as 2002's
Power Elite
means this was probably shot at the same time as that one. I know what you're thinking: "hey Matt, isn't it just as likely that both movies were shot in 2005, and it's
Power Elite
that was released three years before it was made, as opposed to
SWAT: Warhead One
being released 3 years after?" Excellent point. As with its companion film, I got a Dutch DVD rip of this one from a buddy because, like it's companion, it wasn't released here in the States. And like it's companion, I have a feeling this one wasn't released over here for a reason too...
SWAT: Warhead One
is about a prototypical nuclear warhead that's stolen by the Russian mob, but because it's so unstable, no one on the black market wants to touch it.
Olivier Gruner
, who was on the Navy SEAL team that failed in protecting the warhead, gets a job with LA SWAT, and 8 years later, some shady happenings pop up that may or may not include said nuclear device. Turns out the Chinese mob is looking to scam the Russians by buying the warhead with counterfeit money. Now it's up to Gruner and Mel Novak as an intrepid reporter to crack this case and save the day.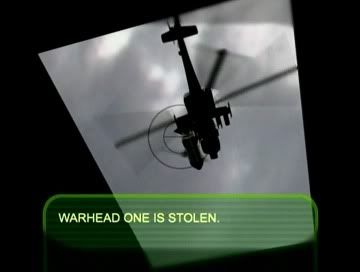 Or something like that. The first fifteen minutes of the film are broken up with constant title screens, like we're watching a silent film, only it's not a silent film, it's a talkie, and people can talk and tell us the plot, they just don't. After the first 15 minutes though, we lose those titles, and without them, this thing is so all over the place that I'm not even sure the people writing it know who's who-- nor care. I'd be all right with that if something were happening, but until the last 30 minutes or so when we're treated to
Die Hard
in a hospital, we pretty much got nothing beyond the occasional silly passage of dialog, or random
James Lew
black and white fight scene. This is just bad, and it's no wonder Gruner looked like he was on the verge of tears in a few scenes.
Poor Gruner. I don't even know what's going on here, and I'm not so sure he does either. The worst thing you can do with a guy who doesn't speak English well is saddle him with bad dialog, and this is some of the worst. Then all of his fight scenes are butchered by bad slow-motion. The key to the fight scene is the slight of hand that comes with us thinking someone is getting hit when we know they aren't, and a big part of that is lost when we can see, frame-by-frame, the punch or kick missing a dude's face. I was thinking back on Gruner's filmography, and he started out with some really fantastic stuff:
Angel Town
,
Savate
,
Automatic
,
Nemesis
. Like someone like
Gary Daniels
, we can't blame him for some duds like this, it's just unfortunate that he's had a big string of them.
I want to get back to that dialog, because there were some hilarious moments, making me wonder if this was written by someone that's a native English speaker. First, at the very beginning of the film, Gruner preps his SEAL team about the warhead theft, and informs them that it has been "kidnapped". Nope, it hasn't, only people can be kidnapped. Inanimate objects are stolen. It's beside the point that the warhead hadn't actually been stolen yet when Gruner says this, that it was in the process of being stolen, and Gruner and his team get from NYC to the Bearing Strait in two hours, only to see it taken and a few helicopters explode, the main issue is the misunderstanding of what the word "kidnapped" means. The other one came later, when Gruner finds some evidence, and Novak tells him what he thinks it could mean. Gruner's response is "and why should I believe you?", as if Novak would be purposefully trying to deceive him. It would be like someone saying "the Chiefs haven't won a Super Bowl before, have they?", and someone else saying "oh yeah, they won Super Bowl IV", and then that person with the initial query, instead of saying "are you sure?" or "how do you know?", says "and why should I believe you?" Why would he lie about that Gruner?
Cine Excel mainstay Gerald Okamura plays the main villain in this, and, for my money, gets too little screen time. He's hilarious, the only one able to crack jokes and have them sound authentic, plus he had that sinister thing down to a T. This movie should have scrapped the whole investigation aspect, and gotten right to Okamura and co. taking the hospital hostage, and from there it should've just been
Die Hard
with Okamura lighting it up in the Hans Gruber role. Thirty more minutes of him, and this would've been a completely different review.
I'm kind of scraping the bottom of the barrel for a seventh paragraph here, so I thought I'd draw your attention to the
Cine Excel website
(actually "Ciné"), in particular this page of covers from their film library. We've done some of these, but not even close to half. There are some I definitely want to get my teeth into, some I'd afraid of, and some that look intriguing but I just know will bite me in the ass if I fall for their sweet covers. I guess what I'm saying is, this won't be the last time we see Cine Excel here at the DTVC.
And I can't believe I'm saying that after this Gruner double-feature painfest I just endured at their hands. Same as
Power Elite
, Dutch DVD, totally in English, anyone in Region 2 should be able to get their hands on it, or if you can play any region here in the States. I'm saying unequivocally though that this not only isn't worth the effort, but that you should expend that effort staying away.
For more info:
http://www.imdb.com/title/tt0340326/