This has been on my radar for some time, back as far as when I still had the DVD service from Netflix. They never sent it to me, keeping it relegated in Very Long Wait limbo-- which was a big reason why I dumped their DVD service, everything I wanted was in some kind of wait limbo, so my one DVD at a time plan was essentially a weekly spin at the roulette wheel. Long story short, it's now on Instant, so I'm now reviewing it.
Setup
is a Lions Gate DTV suspense yarn featuring
50 Cent
as a dude from Detroit who, with his buddy
Ryan Phillippe
and some other dude from the neighborhood, live a life of crime. It's their most recent crime, a big diamond heist, that has 50 and Phillippe at odds with one another, because Phillippe double-crossed them, killed the friend, and almost got 50 too. Now 50's out for revenge, but he's not the only one: the people who originally owned the diamonds have someone on their trail, and
Bruce Willis
, a local mob boss, has some beef with 50 about something else, but he wouldn't mind the diamonds either. Can 50 get out of all of this alive, and finally get his revenge on his old pal?
I can't believe I'm going to say this, but
Setup
wasn't that bad-- in fact, it was pretty good in spots. It had some bad spots too, and we'll get into that later, but there was a lot of good. First off, 50 Cent was a pretty decent lead. The voice-overs were silly, and the fact that he'd even hang out with Phillippe's character didn't jive with who 50 is, but otherwise, he worked. Even better was Bruce Willis as the mob boss. Most of the Lion's Gate DTV flicks with big names in them just use the names as window dressing, but this one leans on Willis and let's him carry his scenes, allowing the other actors to follow him, instead of forcing them to take a lead that ultimately doesn't work. I liked the dark humor in the film too. It drew from some classic violent sources, like
Pulp Fiction
and
The Exterminator
, plus you had 50 Cent and Bruce Willis with their own wit that worked well too. Overall, this was a pretty good deal.
That isn't to say though that it didn't have some major problems. First and foremost, while this didn't have the egregious high blink rate MTV jumpcuts, it did have some weird editing, and this shoddy zoom effect that looked like someone making a home movie and wanting a close-up of their grandkid crying on Santa's lap. Why do directors do this stuff? Even worse were the freeze frame and title introducing characters, only it introduced their roles, not their names, like "Hitman" for the guy who worked as a hitman. Really, we couldn't tell from the context what he was? And later in the film, we get some random dude introduced in a random location out in the mountains, and suddenly these freeze frame titles are conspicuously absent. My biggest issues though was the dynamic between 50 Cent and Ryan Phillipe's character. Phillippe played his role like a dude on a paternity episode of
Maury
. All the guy was missing was the whisper thin mustache. 50 wouldn't hang around a dude like that, and a dude like that wouldn't be the mastermind of a big heist. That undercuts a lot of what the movie was trying to do, but because Phillippe isn't in it as much as Willis and 50 Cent, it doesn't hurt it was much as it could've.
I want to go back to those freeze frame titles. Why are those ever in movies? In my mind they say two things: our screenwriters aren't good enough for you as the viewer to figure out from the context who these people are; and our actors don't perform well enough for you to figure out who they're portraying. There's even one for Bruce Willis that says "Mob Boss". Really? And like I said above, we get some random scene in an airplane hangar out in the mountains with some dude we don't know, and there's no freeze frame title there, the one place we actually needed it! I get that a Lion's Gate DTV suspense yarn is supposed to be low-quality and I'm not supposed to take it seriously, but do you need to make it so obvious? Especially when this one wasn't so low quality and could've been taken it seriously.
Bruce Willis was fantastic, and as I said above, I really liked that this movie leaned on him a lot. It's common for movies like this to take a star like Willis and splash his name all over the cover, then use him for a scene or two, as a character that's totally disposable and unremarkable. Another common thing is to see someone like 50 Cent forced into carrying a scene with someone like Willis, something that doesn't work for anyone involved. They didn't do that here. They let Willis determine how these scenes should go, trusted his experience, and it paid off. One of the best was a limo scene with Willis and 50, where the two were headed to some confrontation, and Willis was talking about the difference between older men and younger men. This was no Willis bait-and-switch, he's a solid supporting cast member, and the film benefits for that.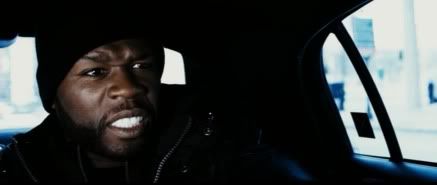 I want to finish by discussing 50 Cent, because he was really good here. He had a few lines that made me laugh out loud, plus his role as the protagonist was one I could really root for. The only thing of course was that they made his character work, and Phillipe's didn't, and that hurt 50's somewhat because we had to remind ourselves that he was supposed to be on Phillippe's level, or that his character would've willingly hung out with Phillipe's. I think it'll be interesting to see going forward what kinds of roles 50 gets. I've usually not been a fan of rappers turned actors, because they often take parts from better qualified African Americans like
Michael Jai White
; but this isn't a role I'd want to see White in. I think these suspense crime dramas work for 50, and White can keep the DTV actioners-- and the comedies.
While this is on Watch Instantly here in the States, I think it's worth checking out because it's very little investment beyond time. In addition to Willis and 50 Cent, I forgot to mention that James Remar has a great small role as Phillipe's father, and
Randy Couture
is solid as Willis's hatchet man. This is one of those rare occasions that the Lions Gate DTV flick got it right.
For more info:
http://www.imdb.com/title/tt1748197/