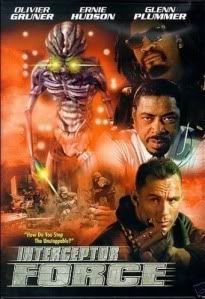 I don't really know what's taken me so long to get this movie done. I've had it on Watch Instantly for over a year now, maybe close to 18 months. I think what happens is I throw a film on my Instant Queue, and then forget about it, with the idea that I can get to it whenever. Right now I don't just have DTV films in there, but tons of Criterion Collection movies. If you have Netflix, Criterion on Watch Instantly is one of the coolest things, because a lot of the great foreign classics you've maybe not gotten to yet but have always been meaning to are on there. Of course, if you're like me, there's so many I've been meaning to see, and I just never seem to be able to get to them.
Interceptor Force
has
Olivier Gruner
with 80s teen sensation
William Zabka
and
Showgirls
alum Glenn Plummer as mercenary extractors that are called in by Brad Dourif to go to Mexico and pick up the debris of a crashed fighter jet. What they don't know is the debris is really extraterrestrial, and the alien that came with it is a dangerous killer. Not only that, the Mexican town is run by a drug cartel, and they want to kill Gruner and his crew too. And not only that, but Dourif made them take two extra people with them,
Boa vs. Python's
Angel Boris and a guy who looked like a young Adrian Monk, and these people are keeping things from them, only revealing them as the plot requires. Will Gruner make it out alive?
First 15 minutes, amazing film. Gruner kicking ass and taking names, then picked up by a plane and joking around with Zabka and Plummer. Who'd a thunk we'd only get one more great scene like that for the rest of the film. Everything else was bad
Predator
crossed with bad
Terminator 2.
The problem with all these alien invasion films is they get caught up in their crummy plots. They make these aliens that are impossible to stop, write themselves into corners, and then walk all over the paint and track it back into the house, making a bigger mess, instead of starting over and making a better overall story. The way to go would've been politician's daughter is kidnapped by the drug cartel, and Gruner's men are called in to get her back.
Gruner was awesome here, which made this all the more disappointing. At least they didn't completely waste him, but they didn't use him enough. Gruner's at his best when he's allowed to really get after it. He makes the one-on-ten fight believable, which in turn makes it awesome. This also puts Gruner in double figures for movies up here finally, which is kind of surprising. I looked back at my past Gruner posts, and a lot of them say the same thing-- why doesn't he have more reviews? I guess he's just one of those ones who gets lost in the shuffle. Next up for him will be
T.N.T.
, which I'm shocked Netflix still has.
This is our second William Zabka film, the first being
Gale Force
, starring
Michael Dudikoff
and
Treat Williams
. Anyone who digs 80s movies like I do, has to love William Zabka. It's often hard to reconcile how he looks in these DTV films with the bully or heel from a lot of my faves. What I found interesting when going over his bio is how few films he actually did. He was such an icon of that era, in my brain I associate him with so many other movies that he didn't have anything to do with. I'm trying like a trooper to get my hands on the
Shootfighter
films, which are must haves. Cross your fingers.
There was a pretty sweet supporting cast, with Ernie Hudson jr., Brad Dourif, and Glenn Plummer. Also, we have Angel Boris, who is special because she starred in
Boa vs. Python
, the first film we ever reviewed here at the DTVC. Shows you how big of a deal it was to me, considering I was away for the weekend and forgot that Saturday marked the three year anniversary. I'm a moron, because I thought May 5th was our first day. Anyway, we've come a long way in that time, and I want to thank everyone for all their support. If it wasn't for you we wouldn't have even made it out of May 2007, let alone May 2010 and beyond.
Whenever I feel like a moron, I found a new way to raise my self-esteem:
Ancient Aliens
on the History Channel. Have you seen this show? All these crazy dudes with crazy hairdos try to explain everything in human history by saying aliens did it for us or taught us how to do it. I saw it late Saturday night, only to find out it's actually on in primetime! I can see 2AM to capture that crazy insomniac demographic, but primetime? There's enough of a market for that? I want to believe they're all just like me, and want to feel smarter, because the idea that that many people are watching that show and thinking everything humans ever accomplished was through the aid of fictitious aliens... that kinda scares me.
Interceptor Force
is pretty pedestrian outside of two great Olivier Gruner fight scenes. Considering it's on Netflix Watch Instantly, if you have that you're only investing your time, which isn't so bad. I'm not even sure it's in the "so bad it's good" category, because the story is so lame and derivative. Again, other than the two great fight scenes, nothing to write home about.
For more info:
http://www.imdb.com/title/tt0167215/