Had this film come out before we started the DTVC in May of 2007, it would have been saved for a milestone post, like 100 or 500 or something. Because it's a new release on DVD, I wanted to get the review in on the day it was out-- especially since we're far off from the next milestone number-- so even though this is post number 558, we're going to treat it like a milestone post, suspending our usual 8 paragraph 3 image format for a 10 paragraph 4 image special edition. Luckily, I don't sell issues of this like comic books, because you'd be paying ten bucks for the reverse hologram cover-- or not, and I'd be stuck with a stack of them collecting dust and not going up in value.
The Expendables
stars Sly Stallone as the leader of the eponymous mercenary group, experts at taking care of business and selling their talents to the highest bidder. When
Bruce Willis
comes knocking, wanting a crew to go into a Latin American island to take out the general in control there,
Arnold Schwarzenegger
thinks the idea is madness, so his merc group won't take the job. Sly likes the idea of the $5 mill Willis is willing to pay them, so he agrees. On a reconnaissance mission, he and
Jason Statham
realize things are pretty rough, that there's not just a general, but an evil
Eric Roberts
and a lot of soldiers, so they initially decide they want no part. Then Stallone thinks about the girl they left behind, who wanted to stay and fight for her people, and he decides he wants to stand for something too, and go back in there. His crew agrees, leading to one of the greatest finales in action movie history.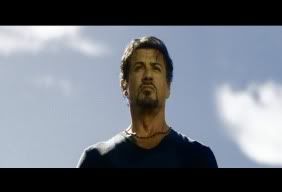 I considered using a metaphor to describe this, like how I said
Righteous Kill
was like the old timers game with Pacino and De Niro, I was thinking maybe
The Expendables
was the fantasy camp. But then I realized that that would be selling this film short. Selling short a film that punches you in the face with awesomeness. Selling short Sly Stallone, who said "hey, the shit we did back in the 80s and 90s, a lot of people really liked that shit. Fuck Matt Damon and Toby McGuire, let's get some motherfuckers that people really want to see kicking ass, and let's show them kicking ass!" He took the great films we love from the 80s and 90s, and he made one that was faster, louder, and more powerful, yet without losing what made those movies so awesome. This was
Commando
on steroids-- or HGH-- and a middle finger to everyone who thumbed their nose at the shit we grew up with.
We spend so much time on here ruing newer films for not getting it. Not getting what we want as an audience. Look at
Jean-Claude Van Damme
, who brags in
JCVD
about how he turned down a role in
The Expendables
because he didn't like what Stallone was offering him. Are you kidding? Your fans wanted your ass in this, kicking ass with all the rest of these bad asses. We don't care about what kind of
role
you get, or about how much Stallone didn't stroke your ego, we want to see you in this enormous pile of awesomeness. Stallone has come through, and he got everyone on board to understand his vision. He made this movie as much for us as he did for them, and I'm stoked about that. Thank you, we all appreciate it.
As always, we need to look at the Hall of Famers, and out of all the names, we only have two:
Dolph Lundgren
and
Gary Daniels
. Lundgren, as he does in almost every big screen film, plays something of a baddie. He actually hits Gary Daniels in one scene, reminding us of what we didn't get in
Retrograde
. The best part was his fight with Jet Li, because he was able to let rip with his Olympic-class martial arts talent, probably one of the best scenes we've ever seen him in. Do you see him telling us, his fans "I didn't do the film because I didn't like the role Sly had for me"? Hell no! He delivers. Gary Daniels is interesting, because we'd been doing some of his early roles here recently, and this was reminiscent of those. Very small part as Eric Roberts' hachetman-- second in command to Stone Cold Steve Austin-- but yet, he also has a great fight, with Jet Li
and
Jason Statham at the same time.
I commonly have a gripe with a movie, especially an action movie, that suspends the action in order to get melodramatic on us, so you're probably wondering what I thought of Mickey Rourke's tear-filled tale of an incident in Bosnia he witnessed. That's one of the benefits to having such a large and diverse cast, you get guys like Mickey Rourke, who was an amazing Sean Penn performance in
Milk
away from a best actor Oscar. Mickey Rourke can make a scene like that compelling, and more importantly, make it work. Not every movie has the advantage of such a deep cast, which is why I'm often annoyed when they try to do what Mickey Rourke did here, because it seldom comes off.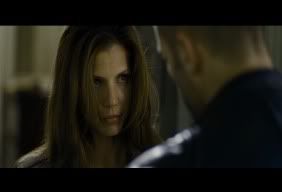 If I have any complaint with
The Expendables
-- and can I really have any complaint?-- it's that we don't have more Charisma Carpenter. Isn't any movie better for having more Charisma Carpenter? Exactly, she's awesome. She turned forty a few months ago, which is just crazy to me, because she doesn't look nearly that old. She plays Statham's ex-girlfriend, and when he finds out her new boyfriend hit her, he goes down to where the guy is playing basketball, and destroys him and all his buddies. Amazing scene, and one I think all these TapOut/punchfighting movie makers should look at that for how to make their fight scenes in their films. Anyway, I'm getting off track, this paragraph was meant to be about how much I like Charisma Carpenter. Hopefully, if Stallone makes a sequel to this, he'll put more of her in it.
Speaking of the abusive boyfriend, this movie adds an element that not every action films includes, and that's a strong statement about violence against women. In every case that a male character does something to physically attack a female character, that character is dealt with harshly, which is as it should be. People always focus on the violence in a film like this as a bad example for kids, but it's so extreme and so (almost) cartoonish to be taken seriously. On the other hand, how many action films or old gangster and Film Noir pictures show women being dominated or treated violently, without immediately denouncing such behavior. This movie does that, and does it in a very powerful way. Kudos for that.
On top of the great action, all of the characters were in other great scenes where there was no action at all. All of this could have easily been about them, they could have used those scenes to revel in each other's stardom, but they didn't. They made those scenes about us, their fans, and as such, they were tons of fun to watch. It just gets back to what made this movie so great, that Stallone understood what he was doing and what we wanted, and he made it all happen.
Plain and simple,
The Expendables
delivered on what it promised. If you saw it in the theater, see it again. Put it on your Christmas list, or run out to the store to buy it because you can't wait. I'm curious to check it out on my buddy's Blu-ray player myself. This was the movie we were hoping for, and seldom do any films ever give us what we're hoping for.
(As an aside, for the first time ever I got an error message for having too many tags. I didn't even know there was a limit!)
For more info:
http://www.imdb.com/title/tt1320253/