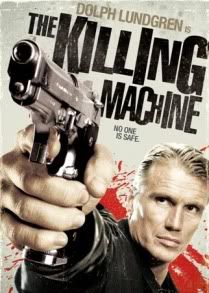 This was something of a long time coming. As far as I knew, it wasn't out here in the States, because Netflix had it buried in my "saved" queue. Then Mr. Kenner at
Movies in the Attic
commented that we had "slowed down" here at the DTVC, because we hadn't gotten to the new Dolph film, and I found out then that Amazon had it, but I didn't have the money to buy it. He said it was on RedBox, but their website didn't list it, and the one nearest me didn't have it. Anyway, a few weeks ago its status changed to "Available November 16, 2010", which is different from the usual "Released" on such and such date. (
Hunt to Kill
had a similar status). I guess we're saying better late than never, but it did suck that I had to wait because Netflix didn't have it the moment it came out for whatever reason.
The Killing Machine
has the DTVC's greatest Hall of Famer,
Dolph Lundgren
, as Icarus, a former KGB hitman that comes to America for a new start, gets a wife and daughter, then finds out the Russian mob finds out who he is, and they make him do some hit jobs for them. This causes a strain on his marriage, so he shacks up with a total hottie. One thing leads to another-- as they always do when one is a hitman for the mob-- Dolph ends up on the mob's bad side, and needs to protect his family from their wrath.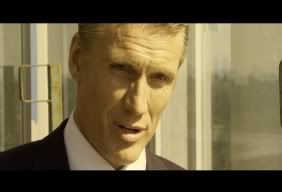 Man, as much as it pains me to say this,
The Killing Machine
didn't work for me. It had plenty of great points. Dolph turns in one of his best performances, I loved the Noir-ish feel of it, there were some other great characters, loved Bo Svenson, and the action, when it was there (and we could see it) was pretty stellar. The whole thing with the family, though, didn't fit. It felt like a Lifetime movie was crammed into a
Le Samourai
French Noir thriller/action flick. In the making of featurette, Dolph said he was intrigued by the idea of an assassin who is also a family man, and his attempt to marry the two lives. I like that he tried it, but in the end, I would've been better with his character having no family, a solitary assassin who runs afoul of his masters.
Dolph said in that same featurette that he wanted to go for a Noir theme, but then wanted to advance the genre somehow. I saw Noir in the storytelling, but not in the directing. Overly rapid jumpcuts, though not as bad as in some of those UFC actioners, was bad enough, but then the LSD cam with the trails on the screen, or the scratched DVD cam where the picture moved in fits and starts, was as far from Noir as I can imagine. When I think Noir, I think of long takes, wide takes, close takes, frames with curious or ironic elements combined. When I think of what Dolph
said
he was going for, I think of a
Steven Seagal
flick,
The Foreigner
, which really married Film Noir and DTV action perfectly. Plus you also had the Lifetime movie aspect with his wife and daughter. The wife was a great actress, but when I think Noir, I think Lauren Bacall in
The Big Sleep
, Rita Hayworth in
Gilda
, or Barbara Stanwyck in
Double Indemnity
. I'm not saying the actress who played Dolph's wife wasn't capable of that kind of role, I'm saying her role as written was too Lifetime movie to fit a Noir-ish theme.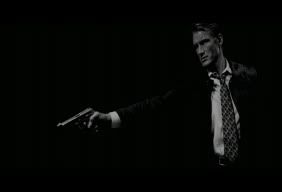 Anyone who watches the NBA knows what I mean when I say the "Star Rule". In short, it means that star players get preferential treatment from the refs. It was originally known as the Jordan Rules. It definitely could be inferred that Dolph benefits from these star rules here at the DTVC, because I forgive things-- like the constant jumpcuts-- that I'd kill other films for. Let's understand this, Dolph is the Babe Ruth of DTV action. Without him there'd be no Direct to Video Connoisseur. Just his presence on-screen is awesome enough to make up for any poorly lit jumpcut laden action scene that I can't make heads or tails of. That being said, at the beginning and very end (actually the same scene shown twice), we get some amazing vintage Dolph action out of him, as he takes out Bo Svenson's thugs. And I admit freely that he turns in an excellent acting performance, to the point that even in the Lifetime movie scenes, I wasn't thinking about how little action there was, I was actually digging it. Still, I'd rather see him as the stoic Noir-ish assassin-- he looks great in a tailored suit-- than I would the Lifetime movie leading man.
Dolph gets a little introspective on us in
The Killing Machine
, at least it seems so. He sits with his character's daughter, who tells him how he's never around and how she wishes he didn't always have to go away for work. I think this is Dolph working out on-screen what it's been like to miss his family as he goes off to make these films, and maybe he's even sending a message to us fans that there is a human Dolph Lundgren who doesn't take out five guys at once and come out of ten-on-one gun fights with only a wound to his left shoulder. Usually, I'd dump on a film that cut out a potential action scene for something like this, but as I've said above, Dolph has earned this credit with us as an audience with all the great work he's done in the past, so I'm okay with it-- in fact, I liked it.
Finally, Samantha Ferris played a great character, among many great characters in this film. She was a woman who commandeered some very masculine traits-- and even rocked suits-- but also really retained her femininity in the process. In the featurette, we found out her character was originally supposed to be a man, and some of that is retained in the dialog. But to say she was androgynous, or a butch lesbian, wouldn't really capture what she brought to the table. Unlike the character of Dolph's wife, that didn't fit the Noir aesthetic, this character not only embodied it, but she advanced it in exactly the way Dolph said he wanted to with the whole film.
So I don't know what to tell you. It's not horrible, it just suffers from a bit of an identity crisis. Dolph's Film Noir mixed with Lifetime movie goes together like chocolate and Doritos: they're both good, but together they don't work as well. Also, I should point out, this is a pretty macabre Dolph. Early on, we see a guy get fish hooked pretty brutally, with his tongue hanging halfway down his face. It was a little ridiculous. Some of the other stuff was better, like when he sends a dude eye-first into the bar holding his weights on his bench press, but expect a a little more gore than you're used to with Dolph, maybe along the lines of
Missionary Man
. Anyway, I guess my final analysis is fun, but not that fun.
For more info:
http://www.imdb.com/title/tt1261862/