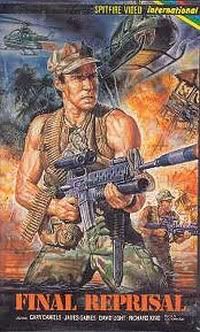 According to imdb,
Final Reprisal
was the second film
Gary Daniels
made, but it's actually the first, and the other one,
The Secret of Mahis Island,
he made soon after. As an aside, I haven't been able to find
The Secret of Mahis Island
, which could eventually prove to be a problem depending on when we get around to finishing off his DTV filmography.
Final Reprisal
has Gary Daniels as a Marine in Vietnam, sent to take out a bunch of North Vietnamese leaders at a meeting. Turns out the meeting is postponed (those things are almost always postponed for one reason or another), and Daniels's crew is trapped in a North Vietnamese fortress. As luck would have it, the defense minister who lives there also has a daughter, very young, like a preschooler, and he's very fond of her. Daniels and his two remaining men take the girl as a hostage, escape, then run over a mine, which blows up their jeep and separates them. When the minister and his soldiers arrive, the girl has been shot through the head, and as luck would have it for him, one of Daniels's men, his best buddy, is wounded and ripe for capture and torture. Fast forward five years, and Daniels has a wife and kid, and a job training the special forces in Thailand. When the old buddy shows up out of the blue, it seems great-- until Daniels and his family are attacked. His wife and son don't survive, and now Daniels wants his... final reprisal... or does the North Vietnamese defense minister?...
For what this was, a no-budget late 80s bad actioner from the Philippines, it actually wasn't bad. Bad acting? Yes. Bad script? Yes. Bad special effects? Yes. Bad Foley? Yes. A timeline that either doesn't work, or everything in the film is anachronistic? Yes. But if you're going into late 80s bad action from the Philippines, are you expecting anything less? What surprised me was how solid Gary Daniels was as a leading man. No, he couldn't mitigate the poor script, but can he now either? But there was no sense that he wasn't the man we loved in the 90s into the 2000s. His martial arts were solid, his screen presence was all you could ask for. It wasn't so much DTVC Hall of Famer in the making, it was more like DTVC Hall of Famer already there.
And I guess why I was surprised by how much of a star he proved to be in
Final Reprisal
is that in a lot of his other early films, like
Ring of Fire
or
Deadly Bet
, he's barely in them, and I can't figure out how that could happen if anyone casting any of these films had seen him in this. The only thing I can think is that
Capital Punishment
didn't do anything for them, but even then, that doesn't excuse, for instance, the scant part he had in
Bloodfist IV
, or that he wasn't the lead heel in
Ring of Fire
. Here's an interesting question for everyone, who's had the better career, Daniels, or
Don "The Dragon" Wilson
?
One of the most difficult moves to pull off in an action film is the bad guy revenge on the good guy, especially when it involves the bad guy losing a loved one. Here they tried to mitigate it, in part by saying the bad guy was falsely accusing Daniels for killing his daughter-- sketchy at best, considering he did take the daughter hostage, and in a court here in the States, that would be enough to convict him as an accessory to the murder, even if he didn't pull the trigger; and in part, by playing up anti-communist sentiments. I guess a dead 4-year-old, if it's a dead commie 4-year-old, counts less than an American 4-year-old. Anyway, if Daniels wasn't awesome in this, I would have been rooting for the baddie-- Daniels's awesomeness saved the film.
Often, I have very little to report to my straight female and gay male readers in terms of gratuitous PNA (pecs and ass). Usually you get the hero shirtless, but after that, it's all for us straight guys and lesbian women, with naked hot chicks all over the place. None of that here beyond a couple naked strippers at a bad club, but for the other half of my audience, you get some Gary Daniels bare buttocks. Shower scene with his buddy, no curtains in either stall. And here you thought you only got that kind of action in a
Van Damme
movie.
Finally,
Miami Vice
, while waning in popularity here in the US in 1988, was I guess just getting started in the Philippines, because near the end, they decked Daniels out in a Crockett special. They even went with the perfect undershirt in exactly Crockett's style. I don't know if you've seen that asinine LeBron James commercial where he whines to us because we don't like him anymore, but the Don Johnson cameo is great. If LeBron was half the cat Johnson is, my Celtics wouldn't have destroyed his Cavs in last year's playoffs.
Okay, I'm way off topic now, so let me reign it in. This is hard to find, but worth it. It would be worth it on it's own as a Daniels flick, but this has the added bonus of being Daniels's first flick. Total fun time,
Rambo
and
Commando
rip-off, with zero budget, and bad everything-- except for an awesome Daniels, and that's plenty.
For more info:
http://www.imdb.com/title/tt0832300/