I went back to the archive, to over two years ago, to read my review of
Lost Boys: The Tribe
. I liked it, but not too much, and I was stuck with a feeling of "why was this made?", similar to the feeling I had after seeing
Star Wars Episode I
. Anyway, I had forgotten all about that review when I saw
Lost Boys: The Thirst
pop up on my Netflix queue, and was just excited to see what Feldman had in store for us this time.
Lost boys: The Thirst
had
Corey Feldman
as Edgar Frog, living in a trailer that's being foreclosed on, and he needs some cash. When a hot stranger with a British accent comes to him hoping she can save her brother from vampires, at first he declines, but then he thinks about it, and decides it might be worth a go. Word on the street is, he can get a shot at the head vampire, the Alpha, the oldest of all time. He wants his brother Alan's help, but Alan's a vampire, so he can't count on that. He turns to a coquettish comic book store owner who has a thing for him instead. Can they take down this ultimate baddie?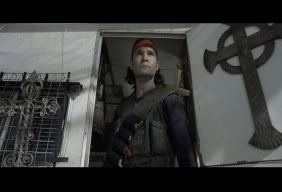 Wow, this was the bomb. Totally got it right. As good as we can expect. Tongue-in-cheek in the right parts, bloody in the right parts, and awesomely Feldman in the right parts. This just got it, and because it got it, I loved it. There were great jokes about the
Twilight
series, reality TV, bloggers, and comic book buyers. The story and acting did a great service to the original, and I think fans of the original will like this one much more than
Lost Boys: The Tribe
. It also hits a perfect 81 minutes long. This was just a lot of fun, what you're looking for from a DTV
Lost Boys
movie.
This is one of those hybrid action/horror/comedy films, so I'm not sure I can classify it as strictly horror for the sake of this paragraph, but I'll try anyway. When I first started this site, I was drawing from a much larger scope of films than simply 1980s-90s bad action. My friends and I growing up loved all genres of low-budget DTV movies, from Sci-Fi like
Cyberjack
, to action like
Showdown in Little Tokyo
, to comedy like
Ski School
, to horror like
Bad Taste
and
Street Trash
. In fact, the horror was perhaps a bigger part of the picture than action films were. What happened along the way, though, as the blog grew in popularity, a lot of the energy in the comment threads came for the action films, and it was on the basis of that momentum that I started picking movies. Particularly big are those comments I get where someone comes in and is like "I loved this or that part, this is one of my all time faves, I love this or that actor", which is great, and I just don't get those in the horror films. I do know that I have a lot of horror followers, only they're not as vocal, and that's fine; it's just hard to ignore that energy, and because it mostly comes from the action films, that's why a huge percentage of my reviews are of action movies.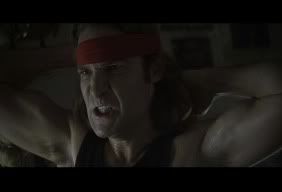 Corey Feldman really brings it here. He doesn't take himself too seriously, but he knows when to be funny, and when to play it straight and let the atmosphere do the humor for him. This is a huge change from his early days in comedic films like
Busted
and
National Lampoon's Last Resort
. There's still a lot he did in the 90s that I could go to for future posts, but I'm not sure how much I should, considering the odds are good it won't be as good as this. I think we're all rooting for Feldman and dig that he's made good now, and I can't wait to see what's next.
This film introduces an interesting dichotomy between two types of woman: the absolute hottie that's probably unattainable, and when she comes calling, a guy like Edgar Frog should be suspicious; and the cute comic book chick, who may not be as gorgeous as the hottie, but doesn't do so bad in the looks department herself, and also happens to know tons about comic books and other nerdy stuff. The idea, of course, is that the hottie is dangerous, while the cute comic book chick is innocuous, and the safer bet. This film follows that logic up until the end, when they show that even the comic book chick has an edge-- that she may not be that innocuous after all. I like that, when DTV movies do a decent job depicting their female characters in more rounded ways. It's an easy way to add depth that takes very little time, yet is seldom done.
Finally, we all watch this film with a heavy heart, knowing
Corey Haim
no longer with us. He actually turned down a role in this with a plan to appear in a fourth installment. We see him in flashback shots from the very first film, and it's eerie to think Feldman as Edgar Frog is mourning the loss of his friend, when soon after the real Feldman would be mourning the loss of his real friend. This film, for as much fun as it is, does bring home the fact that Haim didn't make it with us, and didn't get to enjoy this too.
This is an excellent movie. I'm upset that I had to wait over a month for Netflix to get it, but they have it now, so if you have Netflix, have at it. It's been since
Titanic II
that I've seen a new movie that got it as much as this one did, and I'm glad I had an opportunity to review it and tell everyone about it.
For more info:
http://www.imdb.com/title/tt1400526/