My original
Mean Guns
post came on May 15, 2007, about ten days after post number 1. At that time, I didn't really know who
Albert Pyun
was. This thing was still meant to celebrate all the B movies my buddies and I enjoyed, so I focused more on actors like
Christopher Lambert
. I happened to catch
Mean Guns
on TV, because it had Lambert, was less than impressed, and there's the review I wrote. This was before I had software on my computer to capture images, so the original two I got from somewhere-- I can't remember now. If you're out there and you're pissed I hotlinked your images, well, chill out, and remember, they're not yours either. Anyway, Mr. Pyun asked me recently to give his film another chance, so that's what we're doing with by revisiting it here.
Mean Guns
is about a group of killers, snitches, etc. that have been gathered in a prison for what they think is a party. It's not. A major crime organization, aptly titled The Syndicate, has brought everyone that's ever wronged them together, and the last three standing get a share of a $10 million prize. The rest-- well, I'm sure you can figure that out. What follows is a deadly free-for-all followed by an equally deadly game of cat and mouse, as the remaining players form alliances, betray each other, and ultimately, kill each other off.
Okay, let me start with what I liked about
Mean Guns
. A lot of the characters were great. Michael Halsey was great, Lambert was great,
Ice-T
was great, all the way down to Pyun mainstays
Yuji Okumoto
,
Thom Mathews
, and Tina Coté. The action was solid and the film's premise was intriguing. I believe I said in my initial review that after the first 45 minutes, it's much better, and upon a second viewing, I'd amend that slightly, because there are pockets of action before that, but then it kind of grinds to a halt, and when it picks up again, it never quite regains that frenetic pace it had when Ice-T's men first dump the guns out to the 100 or so gangsters. Also,
Mean Guns
had some great Western and Hong Kong cinema elements, and I liked the off-beat nature of the violence (other than when the kid was involved, which I'm about to get to). So there was a lot here I dug.
All right, here's what didn't work for me. First and foremost, having the kid there was really weird, especially when she witnesses Tina Coté's death, which would've been played for laughs otherwise. I mentioned in the first post the sped up film in spots, especially with Ice-T staring at Lambert, didn't look right. The dynamic between Okumoto and Mathews felt forced and too derivative, like it was trying too hard to be Travolta and Jackson in
Pulp Fiction
. On top of that, the conflict between the two when Coté arrives seems really inorganic. Okumoto barely has a chance to get to know her before he's ready to forsake his friendship with Mathews for her. Had she been paired with them from the start, and that scene where she fights a guy in the kitchen been removed (which didn't work for me), the conflict would've looked a lot better. Finally, the almost 2 hour runtime may have been the biggest issue I had. In part, we had elements like Lambert's past that I felt were superfluous-- why not just have Lambert be a crazy guy, and leave it at that, especially if that means getting rid of the kid aspect. Then we also fell into a trap of excitement by repetition. Gunfight after gunfight with no distinguishing qualities. Don't get me wrong, a lot of them were great, they just lost their punch after a while.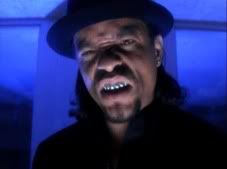 That leaves me I guess with the what do I think might have improved it. As I said above, the idea is perfect. A deadly game conducted inside of a prison before it's opened is great. I almost think more could've been done with that. There were some gunfights in the kitchen, but that was it. Also, we never really had a sense of the space. We'd see a character in one place, and the immediate scene after they'd appear in a totally different location. When I think of a prison, I think of a virtual island, but also an environment that can be completely controlled by an individual or a group of individuals, almost in the way that the island in
The Tempest
was controlled by Prospero's magic. All we had, though, was a lot of what looked like a high school, only with armed guards outside, and with Ice-T watching everything on security cameras. It would've been interesting to see Ice-T, or someone else in the film, play with the space some, open and close cells, sound alarms, set off sprinklers, find some riot gear, hose someone down with a fire extinguisher, anything like that-- in that Hong Kong cinema vein, where the set is a dynamic part of the action.
Another thing I thought about as I watched it, is why didn't a character hide out while everyone killed each other? Like a grizzled vet, a
Lance Henriksen
type who we see from time to time in thirty second shots, playing solitaire or reading Nietzsche in a janitor's closet or something, while the sounds of gunshots and violence rang out around him. Then, after enough of the players have killed themselves off, he pops in and gums up the works for the other characters who think they're close to the prize.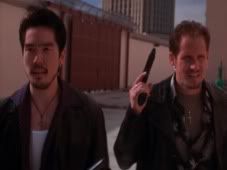 When I wrote the initial review, three years ago, I made a few jokes, as I often do, one of which said something to the effect of "the sped up film looked like a car commercial, which was probably what this director did before this." I would say Mr. Pyun would have been within his rights to hit me with a "you're a fat kid living in his parent's basement" crack, or even to not even waste his time with my little review blog. He didn't do that though; he instead commented in another post about how he liked being in the Hall of Fame, and joked about how I made it through some of his films like
Cyborg
and
Omega Doom
. It's possible in the
Mean Guns
review he knew I was kidding about the car commercial crack, but in a later post, someone commented that they "didn't like Pyun's work", and he didn't respond at all to it, instead posting a comment telling us what happened with
Urban Menace
. As a result of all of this, I now make it a priority to look at his work and get the word out there about him. It's an age old saying, you catch more flies with honey, but for smaller production companies and lesser named directors, you could learn something from Pyun's use of blogs like this. Instead of wanting to shout down every negative review and pick a fight with every "fat kid in his parents' basement", use us to your benefit, get us excited about your future projects. I can say he's also taught me a bit about catching more flies with honey...
All right, time to wrap up this second
Mean Guns
review. Albert Pyun announced on his Facebook page that he's looking to remake this film, setting it on the BP Deep Water Horizon oil rig. I think that could be really great. As far as this
Mean Guns'
availability, I got it on Netflix Watch Instantly, but Hulu has it as well. The problem with both is it's pan-and-scan. I believe the version I saw on TV was too, but I could be wrong about that. Netflix no longer has it available on DVD to rent though. There's a lot to recommend here, especially with Lambert and Ice-T (though I still don't like Ice-T's fight scenes), but it is 110 minutes long. As I said above, that's my main issue with it, because early on as I was watching it again, I was like "geez Poirier, what movie were
you
watching, this is pretty sweet", but it loses some steam, and never quite gets it back-- at least in my opinion. By all means, get in and comment on this and say what you think too.
For more info:
http://www.imdb.com/title/tt0119642/
And for news on Albert Pyun's upcoming projects:
http://www.pyun.com/
, or you can check him out on Facebook at Albert Pyun Movies.