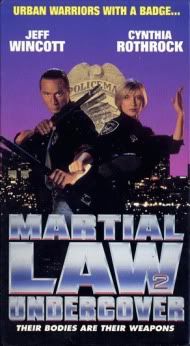 A while back, I mentioned something to Kenner at
Movies in the Attic
about a potential Top 10 DTV Movies of the 90s post, which would definitely be a large undertaking, considering what a huge decade for DTV the 90s was. Anyway, I gave him something of a preliminary proposal of what I was thinking about, and he gave me a counter proposal, so-to-speak, of the films that he thought I missed, and
Martial Law II
was one of those films. I vaguely remembered it, and my vague memories tell me that all of these 1990s DTV actioners are awesome, so I didn't think much of it, but knew it was worth going over again if Kenner felt it deserved a mention like that. Anyway, I thought it would be necessary to do
Martial Law
before I reviewed its sequel, which I did a few weeks ago, and now, here we are with this one.
Martial Law II
is something of a sequel, only instead of Chad McQueen, we have a too sweet
Jeff Wincott
and an equally awesome DTVC Hall of Famer
Cynthia Rothrock
. When Wincott's buddy dies of an apparent drunk driving accident, Wincott is suspicious, and his suspicions land him at a night club run by one of the greatest heels of all time, John Sears from
90210
, making the step up to full-on baddie. They don't like Wincott snooping around and asking questions, and Sears' hatchetman, DTVC fave
Evan Lurie
, has it out with him, blowing Wincott's cover. That's why he has Rothrock, a kickass cop with a background in tending bar, infiltrate Sears' club and see what's up. At the same time, Wincott snoops at his police precinct, thinking some of his fellow cops are dirty, including his chief, Billy Drago. Can Wincott and Rothrock kick enough ass to prevail and get their dead buddy justice?
Not only can they, but they can do it with ten kinds of awesome on top. This is just non-stop sweetness. This is what I'm talking about right here. Every fight was great, every actor turned in great performances, nothing was wasted, nothing was left on the table, and I left totally fulfilled. Wincott kills it, Rothrock is solid, you gotta love John Sears and Evan Lurie as your baddies, plus you have Billy Drago as a cleancut police chief, meaning his creepiness is a little more subtle; and Sherrie Rose, Leo Lee, and James Lew all play members of Sears' gang. As far as what made it awesome, I don't know where to begin. Each fight scene built on the one before it. They became progressively better. Plot exposition, when it was there, was short, well performed, and bled seamlessly into the action. There were other things I loved too, like the smooth jazz in the montages and other bumpers, some of which featured pretty rockin' sax solos; and perhaps one of the best uses of a shotgun ever in the denouement. This is as good as it gets.
We start where we always start, with the film's Hall of Famer(s), and for
Martial Law II
, that would be Cynthia Rothrock. You'd think with her being the one holdover from the original, she'd be the lead this time, but the film actually does work better with Wincott in that role, so I'm fine with it. They do do a better job giving her more and nicer looking fight scenes, so I liked that. Whereas in part one she was more like Chad McQueen's moral support, here she was a very capable and contributing partner, and provided the sensibility and levelheadedness in contrast to Wincott's fire and brash demeanor. I'm not sure where we'll go next with her, because we have so many options, being not even halfway through her 40+ film DTV oeuvre, but for right now, we'll bask in her awesomeness in
Martial Law II
.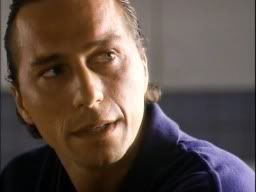 Now for Mr. Wincott. Everything you love about him is in full effect here, from the mean mug and the Bogie-esque snarl, to the Toronto/New York accent, to the great one-liners that are more sick attitude than toolishly clever, to the most important aspect, the great fighting. I mean, when you see the name "Jeff Wincott" in the opening credits, or on the box, this is what you're looking for, and when a film can deliver on it's top billed star like that, it just makes the whole movie watching experience so worth it. On a side note, I know I'm the
Direct to Video
connoisseur, but Mr. Wincott is currently in theaters in the new Denzel film,
Unstoppable
. Haven't seen it, so I don't know how big of a part he has.
We all love Evan Lurie here at the DTVC, and I was glad that he had a pretty sizable role. You just never know with him, because some film makers don't understand the awesomeness they have at their disposal when they cast him. We know, of course. Ever since I saw him in
American Kickboxer 2
, I've been hooked, and though he's never matched that stunning performance, in
Martial Law II
, at least he's solid. There's one Lurie film I've been trying to get for a while, called
Guns and Lipstick
, which also has DTVC Hall of Famer
Wings Hauser
, and another DTVC fave Joe Estevez. I found a copy of it at the local record store-- for $8 used! Are you serious? Amazon has it for $5, but when you throw in shipping, that ends up being $8 too. It's a shame.
Okay, if you haven't guessed it, I'm a big
Beverly Hills 90210
dude. I don't know why, but I've always gotten a kick out of it. Anyway, the major heel of the early college years, Keg House Frat leader John Sears, played by Paul Johansson, is the main baddie in
Martial Law II
. I was visiting a friend about a year ago, and she was watching
One Tree Hill
, and I saw him on there too, and was pretty excited. She told me he killed his brother or something. Once a heel, always a heel. In
Martial Law
, he moves up the ladder this one time to head baddie, and he does a great job. I guess if you're so good at playing the heel, it's probably not hard to turn the volume up a little more, right? It was cool though for me, to be able to meld my
90210
fandom and my DTV action fandom.
I think outside the US, this was released on DVD, but here I'm pretty sure it's strictly VHS. I'd go VHS if I were you anyway, simply for the nostalgia factor. I should point out, though, this isn't just a fun time, it's a total kickass time, and if you're not ready for this much awesome, you may want to pass and watch something more pedestrian-- say a crummy TapOut film. Otherwise, this what you came here for, get after it.
For more info:
http://www.imdb.com/title/tt0104823/