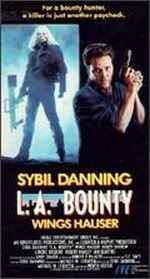 This was one I got wind of from our friend Ty at
Comeuppancereviews.com
(link is to his review). He and his site have done much to rekindle my interest here at the DTVC in one of our inaugural Hall of Famers,
Wings Hauser
. When I started this blog over three years ago, a lot of my focus was on the films my friends and I loved, and the actors we always looked for at the video store. Wings Hauser was one of those guys. But as time went on, I gained new readers and my friends and their opinions became less of an influence, meaning mainstays like Hauser faded back in favor of other stars like
Gary Daniels
. Now I've got an opportunity to bring the two together, and mix in more Hauser posts with some of the other later HOF inductees.
L.A. Bounty
stars megababe Sybil Danning as Ruger, a chick with a major revenge motive and a huge gun. She's tracking down Hauser, because he killed her partner. At the same time, Hauser has kidnapped an LA mayoral candidate and is holding him for ransom. They're on a collision course to wackiness-- Hauser and Danning, that is.
Jean-Luc Godard once said that all you needed to make a movie is a girl and a gun. How about the meanest broad ever, and a piece that can take a dude's hand off in one shot? Sybil Danning is Ruger. Ruger. How awesome is that? How awesome is this movie? Forget how awesome Sybil Danning is as Ruger, then you have Hauser as a great baddie. This movie just got it right all around, from great lines, great explosions, great gun fights, great music, great mullets, and great performances from its two main stars.
This movie had me thinking, Wings Hauser is at his best when he's a baddie, isn't he? There's something about his style, the look in his eyes, his stature, the way he delivers his lines-- he's just a frightening dude when he wants to be. I guess I don't blame him for not always wanting to be a bad guy though, I mean, it must be fun to be the hero, to get the girl, have sex with her on a kitchen counter in a puddle of milk (
Art of Dying
). Anyway, I'm digressing here. This is one of Hauser's best turns as a baddie, because he's really allowed to let loose and have fun with it. Maybe one of his best DTV films period.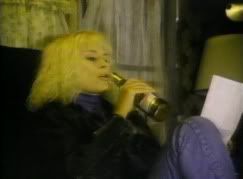 The only other Sybil Danning film we've reviewed is
Howling II: Your Sister is a Werewolf
, where she was the eponymous sister, or rather, the referenced sister in the title. Anyway, in
L.A. Bounty
she presents a totally different hero from most women we see in action films. She doesn't say much. She drinks Miller High Life (and makes for a better advertisement for the beer than those dumb commercials with the fat guy reclaiming it from parties). She smokes cigars. And she'll blow your ass away with her huge gun. But she's no dude, no butch lesbian with a buzzcut. No way, she's hot too, she just doesn't care about making herself look hot when her main objective is revenge. Why again am I going to want to watch the Rock in this same role in his new movie
Faster
), when Danning was so awesome?
A quick note on a DTVC favorite,
Branscombe Richmond
, who has a quick cameo in
L.A. Bounty
. You probably know him best from
Renegade
as Bobby Six-Killer. This is his sixth film here, and though there are probably character actors who are more deserving of a tag that don't have one, Branscombe's work on
Renegade
has to stand for something, right? According to imdb, he did a low-budget DTV flick with Ed Lauter, Frank Stallone, and James Lew in 2010 called
Taken by Force
. Who knows when it'll be out, or if it'll be worth looking at, but either way, it's good to see Richmond is still holding it down.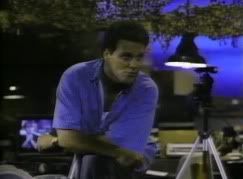 Danning's character, Ruger, drives this really awesome truck. It's jacked the hell up, looks like it may have been set on fire at one time, and on the inside looks like maybe she lives out of it. It got me thinking, remember when trucks were trucks? No buckets seats, no back seats, no enormous side-view mirrors that move in and out. None of this bullshit we see today, man, they used to make trucks. If I had the money, I'd like to get me an '82 Ford F-150, and get it back into running shape. It would probably need a whole new engine-- a whole new everything except for the body maybe-- but how awesome would that be? A guy can dream, right?
Well, at least one of your dreams has been answered, and it's possible you didn't even know you had this dream. A too sweet Sybil Danning and a too sweet Wings Hauser team up to bring you so much awesome you'll wonder what you did to be so lucky. It's okay, you deserved it, don't feel guilty.
For more info:
http://www.imdb.com/title/tt0097698/