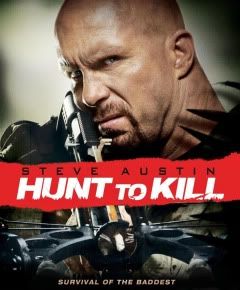 I write this blog for two types of readers: one, the people who follow on a regular basis and have been rockin' with me for a while now (and thank you to all of you), and then there's the cats who stumble upon us either through a search or another link on a site like imdb. For the former, you're reading this knowing without me telling you that I reviewed
The Expendables
the day before, and also already know that
Hunt to Kill
had a hard act to follow, and it's for you that I make the disclaimer that I accounted for that fact in how I dealt with this film, so don't think what you're about to read is influenced in any way by an
Expendables
review writing hangover. For the latter, first, however you got here, welcome, and thank you for checking us out, and second, again, the negative review you're about to read has nothing to do with how utterly awesome
The Expendables
was.
Hunt to Kill
is a ABC Family Channel movie about a border patrol agent,
Stone Cold Steve Austin
, who relocates to the border in Montana after his partner, Eric Roberts, is killed in a meth lab raid on the US southern border. He wants to reconnect with his daughter, but she rejects these rural surroundings, wanting to return to the city. Luckily for them, Gil Bellows and his gang stroll into town and take them both hostage so Austin can guide them through the wilderness to track down a buddy in a bank heist who made off with the loot on them, and this allows Austin and his daughter a ready made bonding opportunity. After they get the loot, this ABC Family Original takes a left turn, as Austin survives multiple gun shot wounds, a 30 foot drop onto a ledge that suddenly turns into water, then stumbles across a bag hanging from a tree which contains an expensive crossbow. Austin takes them out ninja-style, and he and his daughter walk off into the sunset.
I have trouble believing this was a serious film. Forget the "country boy will survive/those city folk don't have any real values" message-- I'll get to what I thought of that later-- the movie itself was a mess. First it's an action movie with an enormous explosion, which kills off Eric Roberts. Then it devolves into ABC Family territory, and I'm wondering what Austin is doing here at all. Then it becomes Rambo, and at this point, I'm literally laughing out loud at how silly it all is. I mean, we have Austin stalking his prey like a ninja, appearing in one place, then disappearing when the camera moves back there; or even funnier, popping up from under some bushes after the other characters leave a scene. I thought he might be acting out the end of
Macbeth
. It was just so goofy. To quote John McEnroe, "You cannot be serious!" Of the three Austin films I've looked at here, this was by far the worst and the most sautéed in wrong sauce.
There was a major bright spot though: Austin's fight scene with
Gary Daniels
. It was amazing. It was better than any fight in his previous films. I've been waiting for that kind of sustained awesome in my Stone Cold Steve Austin films, and, for me at least, it has yet to happen. Stallone used him perfectly in
The Expendables
, but I think it's equally possible to use him as well as the hero, not just the heel. The guy revolutionized professional wrestling, completely blurred the lines between heel and hero; but he was also electric in the ring. I just want a movie to capture that electricity. I don't want a good ol' boy country boy can survive Stone Cold. I don't want a confused amnesiac Stone Cold. I don't want an introspective ex-con Stone Cold. I want a badass driving through shit in a sick Harley, beating the crap out of multiple dudes, having beers thrown to him from off-screen, and giving the finger to all the extras watching him. How difficult is that? Fuck, remake
Stone Cold
for Christ's sake. How awesome would that be?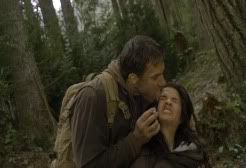 As we mentioned above, our one Hall of Famer is Mr. Gary Daniels. I watched the behind the scenes featurette that came with the DVD, and found out one, that Daniels choreographed that too sweet fighting scene between he and Austin; but two, he was only in the film as a favor to Austin, whom he befriended on
The Expendables
set. That's why it's always good to get that perspective if I can, even if most of those featurettes are about the actors and director trying to sell us on the movie. (The best in this one was Gil Bellows telling us how his baddie character was "totally unpredictable, you never know what he'll do next", when if anyone has ever seen one action film, they could have foreseen everything he did before he did it.). I should probably review a Daniels feature soon, just because it's been a while.
Back to the country living vs. city folk aspect of the film. As someone who grew up in small town Maine, but a small town Maine that is only an hour from Boston-- and southern coastal Maine tends to be more cosmopolitan than the inner more rural areas-- I have an appreciation for both sides of this coin, and the live and let live mentality. But there were a lot of messages that were pretty backward and ignorant. You have the one black character as a degenerate who couldn't wait to get his hands on Austin's daughter so he could rape her, the classic rural white fear of African American males wanting all their white women. There's also the city folk having no real values, nothing they believe in, except backstabbing and an honor-less devotion to money. Then you have the daughter wanting the city, and learning her dad is right about how great it is away from all that. It's all ridiculous, but if you want to believe the country is split like that, and that all those stereotypes about people in the city or suburbs are true, then I've got a message for you: we're coming for your women. That's right, your wives, daughters, sisters, cousins, we're coming for them. We've got a pair of True Religion jeans, a closet full of Manolo Blahniks, and a Juicy Couture T with a slit cut down the front from the collar to the cleavage so they can show off those fake boobs we gave them, on top of the collagen we pumped into their lips, and the Botox we injected into their foreheads. You think Paris Hilton is scary? Wait till your daughter comes back from New York with bleach blond hair, an outfit that costs more than your entire gun collection, and a boyfriend with so many ethnic backgrounds you won't be able to guess what he is. You can't stop the inevitable. Oh yeah, and I think Jimmie Johnson just won his fifth championship-- that's right, we don't even like NASCAR, we're just good at it!
Okay, enough of that-- my Northeast Elitism reared it's ugly head I think-- Mr. Kenner mentioned that maybe I should put Eric Roberts in my Hall of Fame. Maybe I should. I wasn't able to tag him in
The Expendables
, because I went over my tag limit. I didn't even know there was such a thing. Anyway, we'll see about the Roberts thing, but as I write this, we're a year out from the next induction ceremony (held at the local Holiday Inn every October!), so a lot can happen between now and then.
I forgot to mention earlier that, according to the film's own plot, none of this should have happened. During the bank heist scene, we see one of the gang back at the base, using all this sophisticated technology to track them, mimic the voice of police dispatchers, and tell them where the cops are. You're going to tell me that a guy with that technical know-how wouldn't go online and read up on what the wilderness in that area was like? Or that they wouldn't by a guide in one of the local shops? Really, they needed to take Austin and his daughter hostage? If a film's own plot suggests that it's own events shouldn't have happened, is the film worth seeing? What do you think?
For more info:
http://www.imdb.com/title/tt1563719/