I could've sworn I'd reviewed this one way back when I first started the DTVC. I know I saw it on Spike, and back then, if I caught a film like this on Spike, I'd just write the review and see if I could Print Screen some images from the trailer. Those were some crazy days back in 2007. It feels like forever ago, huh? And apparently they were more crazy than I thought, because a few months ago I went to the archive to look at my
Bloodfist VII
review, only to discover, it didn't exist. Boy do I have egg on my face.
Bloodfist VII
has our hero
Don "The Dragon" Wilson
back in his reoccurring/non-reoccurring role, this time as a drifter heading to Mexico when he bumps into
Jillian McWhirter
, who pulls the ol' "can we share a hotel room I'll wake up before you in the morning and steal your car and leave the keys to my Beamer" maneuver, which Wilson doesn't take too kindly too. He tracks her to a house in Hollywood, which has been ransacked, and in which he's ambushed by an off-duty cop, whom he kills. After a quick interrogation where he tells police captain Stephen Williams what happened, some other off-duty cops take him to a place to beat info out of him he doesn't have, he escapes, and the
Bloodfist
parts
IV
,
V
, VII, and
VIII
paradigm is on, where it's Wilson against the world, and he can't trust anyone as he tries to put the pieces together and clear his name.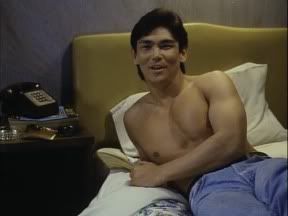 I actually really liked this one. It's 86-minute running time moved very quickly, and didn't have the usual downtime and awkward plot exposition scenes that hamper some of the other films in the series. Wilson was great, especially with the martial arts, and Stephen Williams was too amazing for words (though I'm going to try in a couple paragraphs). Don't get me wrong, this is pure DTV bad action, from the music, to the shimmying stuntmen getting sprayed with Uzi fire, to the Chess King fashions, but it's the kind of pure DTV bad action that works really well, especially in 2011.
This was the kind of movie that got Don "The Dragon" Wilson into the Hall of Fame. I mean, the film starts with Rick Dean at a biker bar acting like a sleazeball, just asking for D The D Dubs to smack him with the butt end of a pool cue. And from there, it's either Wilson fighting, or Wilson running from the cops in some great foot chase scenes. We don't need Wilson to act, we need him to fight, and that's what we got here, great Wilson action.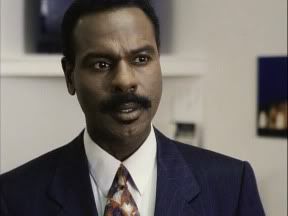 The reason we don't need Wilson to act? That's right, Stephen Williams did all the acting we needed. I swear they wrote the character name "Marvosa" into the script just to hear Williams say it. I mean, the moment he steps on-screen, it's like he's saying "step aside children, Daddy's here", and from that moment, he owns it like it's his-- "this is my house, my lawn, my barbecue, and I'm willing to let you kids hang out, just as long as you know whose shit this all is." What a coup it must have been to get him in this movie, but we're all better for it.
There was a Neo-Geo sighting. There's a pic of it on the image page. I guess it was at the police station. I went with that for this paragraph over the Ian Jacklin sighting and Jillian McWhirter's hair-- which I have no idea what they were thinking with that, "hey, let's give a 30-year-old woman a 50-year-old haircut." I don't really remember the Neo-Geo. They had it at the local arcade, but I don't think I played it. Too much
Mortal Kombat
and
Street Fighter
I guess.
Who's that dude rocking the Chess King/Color Me Badd outfit? It's Stephen Quadros, or as I like to say, The Poor Man's Kevin Bacon. There were some better pictures where he looked more like Kevin Bacon, like one of him wearing a welding mask, but I just loved the clothes here. This is an area where I like the 80s/90s movies better than today's that the modern movie can't really help. This shirt is the Ed Hardy busy T-shirt of 1995, and just because the older one has the charm of age on its side, doesn't mean it's any less egregious a fashion error. Maybe in ten years we'll see a dude in a punchfighting flick with a sleeve of tats and an Affliction T and we'll be like "they don't make clothes like they used to." Maybe we won't.
This is no longer on Netflix, but can be bought new at Amazon for as little as $3. Thing is, that's too expensive when you tack on the additional $3 in shipping. It does mean it could turn up in a bargain bin here or there, so keep an eye out. This is a total fun time.
For more info:
http://www.imdb.com/title/tt0112533/