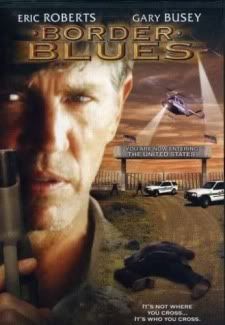 I don't really know what I was thinking about with this one. I was blinded by the great names,
Gary Busey
,
Eric Roberts
, and
Erik Estrada
. Those are nice names to be blinded by though, right? But a film made up of a couple episodes of a Russian TV show, that's a warning sign, and in this business, warning signs should always be heeded.
Border Blues
follows the story of a Moscow detective who emigrates to LA, only to discover he can't get a job with the LAPD and has to work in the kitchen of a Russian restaurant. When his boss sends him to Tijuana to get some tile with a coyote on it, and his broken English gets him mixed up with an actual coyote (the kind who smuggle people across the border, though the animal would've been great), he finds his chance to be a hero when he's put in contact with Eric Roberts, a man who at the time has been given the task of getting a Russian woman and her child across the border, but is instead holding the pair hostage because he's a nutjob. All of this is happening while Roberts is the main suspect back in the US for a series of letter bombs sent to drug companies, which has him in police lieutenant Gary Busey's sights, and Mexican Federale Erik Estrada's sights.
This actually could've been really good, but they mismanaged the whole story with Eric Roberts's character. He was a total weirdo, obsessed with the Russian woman's daughter, insinuating himself into her life and acting like some father figure, to the point that he tied the mom to a chair in the basement so she wouldn't take the child with her when he went to run an errand. With all that psycho weirdness, the film tried to do an about face and make the guy redeemable. It muddled the whole thing and made it much messier than it needed to be. There were some other weird things, like how the Russian detective knows these LAPD detectives for like 20 minutes, and suddenly they're offering to watch his dog for him while he goes to Tijuana. I know us Americans come off as really informal and overly friendly, but it's really a superficial thing. When we ask at the check-out line "How are you doing?", we really don't want the truth; and when we seem nice after talking to you for 20 minutes, that doesn't mean we're interested in watching your dog for you. I feel like a lot of these issues came up in making the TV show into a movie, but maybe I'm wrong about that.
One area that this film really excelled though was in Gary Busey. His character was kind of ambiguous. We couldn't tell if he was sarcastically telling people he saw visions of the future, or if he really believed he could, but that ambiguity helped make the character. The rest was Busey simply being Busey, with great lines, great scenes that almost made no sense, and great facial expressions. Because he was a higher up on the police force, it made sense that he wasn't on-screen much, but when he was there, he was vintage.
Eric Roberts was great too, it was the writing that let him down more than anything. Why they didn't just let him be a weird psycho is beyond me, because that was working; but when they tried to walk him back from the ledge and make him redeemable, it fell apart. Every time he took the child away from her mother, every time he walked in on them and leered at the mom with these creepy eyes, it made my skin crawl. Not only that, but he fired at the Russian detective when the guy tried to rescue the woman and her child. Then the Russian guy is acting like Roberts isn't such a bad guy at the end when Erik Estrada is coming to take him down. Just let him be a nutjob, is that so hard?
I thought this was our first ever Erik Estrada flick at the DTVC, but I am mistaken. He had a special appearance in
King Cobra
(remember that post back in August of 2007?). Unlike Busey, who had a great supporting part, Estrada doesn't show up until near the end, and his part is so scant that it's disappointing. Making that disappointment stronger, was how good Estrada was as the corrupt Federale. Where was this earlier in the film? I even had trouble finding a nice enough pic of him to screencap, because he doesn't have any good closeups. An interesting side note: according to imdb, he doesn't speak Spanish, which I guess explains why he plays a Spanish speaking character who relapses into English.
As an anthropology nerd, I did like the mix of Russian, American, and Mexican cultures, especially with a Russian mother and daughter trying to sneak into the US. It seems like it would be easier to go the other way if you're Russian, though, through Canada. It's a border that's not policed as heavily. Of course, you'd have to get into Canada first. I don't know why I'm talking as if I know anything about any of this stuff, considering the only time I've left the US is to fly to England.
This is available on DVD through Netflix, which is a bonus. If you're a Busey or a Roberts fan, this might have some value, but it's rather minute, and I'd only put it in your queue if you've seen the bulk of their better films first. It's not God awful, but it's not great either, and anything that might have worked about it fell apart with the muddled ending.
For more info:
http://www.imdb.com/title/tt0461471/