I've been trying to get my hands on this one for some time, simply from the standpoint of a
Christopher Lambert
completist. I ended up getting this super-widescreen deal (hence the long, thin images), only to discover tonight as I was looking it up on Amazon that it's available from them new on DVD. Anyway, that's for the final paragraph, I'm getting a little ahead of myself here...
The North Star
takes place in 19th century Alaska, where an evil businessman, played by the legendary James Caan, is usurping all the lucrative land claims, either by illegally voiding them because they were made by foreigners, or by simply murdering the owner then outbidding everyone at auction when the claim is up for sale again. He tries this move with Christopher Lambert, a half-Caucasian/half-Native American who claimed a land containing a sacred cave so his people could retain it. After surviving Caan's men's attack, he comes back for revenge, and kidnaps Caan's girlfriend, played by Catherin McCormack of
Braveheart
fame. Now Caan wants him dead, and he's chasing him through the frozen tundra, while the Nome sheriff has called in the US military to take control of the city back from Caan and his posse.
This was pretty good. I was pleasantly surprised. I don't know if you'd call it a Western in the strictest sense, because it took place in the frozen Northwest, as opposed to the dry, hot Southwest, but it had that feel, with the frontier lawlessness, the evil rich business owner, and the principled hero that might not always do the right thing even if he has the best intentions. Plus you had the saloon and the posse and all that jazz. The 84-minute running time moved very well, and before I knew it we where at the end. Overall, not a bad deal.
It's been a while since we've done a Christopher Lambert film, the last one being when we revisited
Mean Guns
for
Albert Pyun
in November, and then the last one before that was almost a year prior in November of '09 with
Highlander 2: The Renegade Version
. A big reason for only three posts in almost 15 months mostly has to do with the fact that we've covered almost all of Lambert's DTV oeuvre. As far as I know after this, we'll only have
Metamorphosis
, and that'll be it-- but it's hard to tell with Lambert, because he has a lot of foreign films, TV movies, and small-run big theater pictures mixed in in his filmography. This one is one of those, because it feels as much like a TV movie as it does DTV, especially being a Western. I liked it though, and I liked Lambert. His voice is especially great, and you get good doses of it-- it's vintage Lambert, and I think that's all you can ask for when you see his name on the cover.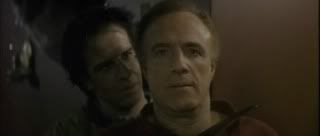 This is our second James Caan movie we've done here, the first being one he had a very small cameo in,
Santa's Slay
. As much as the Lambert was vintage Lambert, the James Caan in
The North Star
was classic James Caan. Sometimes the dialog or story took a left turn into "I don't knows-ville", but he rolled with it and made it notsobad in a very James Caan kind of way. One of the plot twists is when we find out Caan is half-Native American too, and it's so grafted on that it had pretty much zero bearing on the rest of the film, but Caan does great with it, and when the Native American tracker they have with them calls him out on it in private, the guy says: "don't worry, I won't tell anyone", and we see what's coming coming, but Caan still makes it great when he says "I know" and stabs the guy in the gut. Fantastic.
Catherine McCormack plays Caan's woman/Lambert's Stockholm Syndrome ally. I wonder if
Braveheart
is the Best Picture winner with the most connections to DTVC movies, because you not only have McCormack here, but you have Tommy Flanagan from
Hero Wanted
, the late Sean Lawlor from two
Asylum
greats co-starring
Lorenzo Lamas
,
30,000 Leagues Under the Sea
and
Mega Shark Versus Giant Octopus
, and finally Angus McFadyen from the
Peter Weller
flick
Styx
. That's not bad, four actors in five movies. I should also point out
The North Star
also featured Burt Young, who was in
Rocky
with
Sly Stallone
, or as I like to say,
Back to School
with Rodney Dangerfield, which is one of my all time favorite films.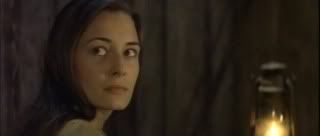 We got a little ice climbing going on in
The North Star
. It's actually really unrealistic ice climbing, with Lambert making his way up a frozen ice wall, using only his enormous hunting knife to dig in, and then finding places for his feet and other hand as he goes. I have to imagine whoever wrote this scene has never been ice climbing before, because I can tell you, without crampons, it's pretty impossible. The strain on the forearms alone would be immeasurable. Then the slickness of the ice, even if it was stepped enough to find footholes like one might do in rockclimbing, would mean that his feet would be more of a liability than they'd be useless. Usually I'd be all about ice climbing making it into a movie, but when it's fake and unrealistic like this, it sucks more than it's awesome.
But that's just me as someone who has been ice climbing picking a nit. For the most part this isn't a bad deal. As I said above, I thought this was a tougher one to get than I thought, but Amazon had it for $5 new, meaning you might find it in a bargain bin somewhere too, and I think that's not a bad deal. $8 after shipping from Amazon might be a bit expensive, but a few bucks in the bargain bin, pull the trigger-- at least I would.
For more info:
http://www.imdb.com/title/tt0114622/