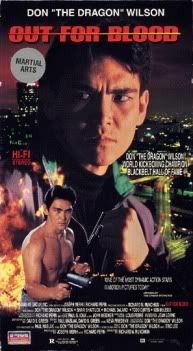 Usually I have a great introductory paragraph, maybe where I tell you how I came across the film, or when I first had a chance to view it. Simply put, this was a
Don "The Dragon" Wilson
PM Entertainment
actioner I hadn't gotten to yet, and now I am. Need I say more? Also of note, our good friend Ty at
Comeuppance Reviews
covered this as well, so you can check out his post and compare us.
Out for Blood
is PM Entertainment and Don "The Dragon" Wilson's answer to
Death Wish
, with Wilson as a lawyer whose wife and kid are killed after they stumble upon a drug deal, and Wilson is severely wounded. Afterwards, he suffers from amnesia and doesn't exactly remember who did it, only that they were drug dealers, and he's going to kill as many of them as he can until he finds the right ones. Throw in the detective from all the
Ring of Fire
flicks, Robert Miano, the villain from
Chain of Command
, and a special appearance from an old friend.
This one does the trick. It's vintage PM Entertainment/Don "The Dragon" Wilson, from the fight scenes that almost come out of everywhere, to the shootouts that seem to go nowhere until a stuntman falls to his death, to the explosions that really make no sense-- except in our action-loving hearts. "Hey, we paid for the fire experts, and we're gonna use 'em. I want two stuntmen ablaze in the next scene." "Hey, we paid for the pneumatic catapult, and by God, we're going to use it, I don't care if the stuntman looks nothing like Mr. Wilson." This is why we love PM Entertainment, and why it seems like they get the best out of Wilson.
I always talk about how the charm in Wilson is his "awe shucks" demeanor, but he sheds it very effectively to don his Bronson persona. This is the kind of Wilson we want though, kicking ass and taking names-- and when he's not kicking ass, he's making great sarcastic comments about kicking ass. Line up the beefy guys with mullets, and let Wilson have at it. Yes, we want that. Five guys on a rooftop getting beat up? Yes! Cruising around on the hood of a car? Give me more. When it's done right, Wilson DTV action is a thing to behold, and when it's done poorly, it hurts. This certainly didn't hurt.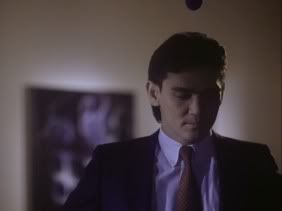 This had some major boom-mic-age. And I'm not talking for a second either. It seems like that at first, because right away we see the thing bob up and out of the shot. But then we go back to Wilson, and it's there again, just chillin' over his head. And then we go back, and it's there again, and this time a little lower, if that's possible. It's one thing when it's for a split second, but this was major, and it was awesome.
One of the best mullets ever was sported by Todd Curtis, who you may remember as the main baddie in
Chain of Command
. He was dressed like a cowboy here too, which I didn't get, but I figured I'd just go with it and not ask any questions. He didn't have a fight with Wilson though, which was unfortunate. They thought a fight with Ken McLeod would be better. Who knows?...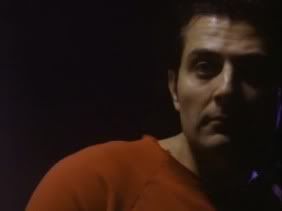 Recognize that face? Yep, that's DTVC favorite Don Niam, from
Undefeatable
. That's the only close-up in the film, and it happens in like one second. According to imdb, it's his first ever role, so not bad. Right after that close-up, he's decked by Wilson and knocked out, and then we see him from a distance lying on the ground, or being dragged out of a van. Gotta love Don Niam.
And you gotta love
Out for Blood
. A vintage PM Entertainment/Don "The Dragon" Wilson collaboration. As far as I know, it's out-of-print on DVD, but can be bought at Amazon, plus they have it on Video-on-Demand; the problem is, when you click on the imdb Amazon link, it's mixed in with a bunch of similarly titled vampire flicks and whatnot. Anyway, if you can spot this cheap, either on VHS or DVD, go for it, because it's worth it.
For more info:
http://www.imdb.com/title/tt0107762/