Our buddy from down under, Sutekh, who runs the great blog
Explosive Action
, sent me a copy of this along with a bunch of others, including the
Deadly Prey
, almost a year ago. Don't ask me why it's taken me so long to get this and the others he sent me reviewed up here, I guess it's always a matter of timing, but we're finally making it happen.
Robowar
is 85 percent
Predator
, 12 percent
Robocop
, and 3 percent Philippines Vietnam War film (which equals 100 percent awesome by my calculations, but we'll get to that in the next paragraph).
Reb Brown
plays the head of a rag tag bunch of ass kicking special forces dudes sent into the jungle after what they think is a band of guerrillas. Not the case, it's actually a cybernetic killer created by the US military that needs to be tested by the best the Army has to offer. Will our boys figure out what they're up against before it's too late? Is it too late anyway?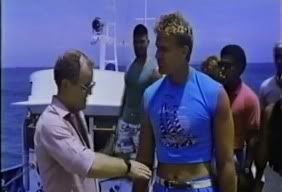 Did I mention this was awesome? Yes, in a
Deadly Prey
or
R.O.T.O.R.
sense, but still awesome just the same. Reb Brown is Reb Brown, and everything else is as simply fantastic as that synopsis above would suggest. I watched it initially about a year ago with a buddy while he was house sitting, and we were in agreement, this belongs up there with some of the best bad movies ever.
Yep, that's Reb Brown in a belly shirt. And yes, Reb Brown screams a lot in this movie. And no, he doesn't wear the belly shirt the whole time, this scene is the last time we see it. And yes, Reb Brown screams a lot. Did you know this is only the second film of his we've done? I think it's just a by-product of the fact that a lot of his movies are in that third or fourth tier-- maybe fifth tier-- and we're still working our way through the first and second tier of the DTV world. As we get more films of Hall of Famers out of the way, and as I finally give up on those new punchfighting movies, I'll make more room for Reb Brown on here, something that's probably been long overdue. Besides, Sutekh also sent me
Strike Commando
, so we'll always have that bad boy.
This is Jim Gaines. He had a significant role in the
Gary Daniels
classic
Final Reprisal
, and he's something of an icon in the Philippine cinema world, though if you look at his imdb bio, he has as many bit parts and cameos as he does big roles like he did here and in the Daniels film. Also of note on his imdb bio: he apparently was in the new The Rock movie
Faster
. I haven't seen it yet, but even if the movie sucks, the fact that he's in it, for however long he's in it, is awesome. Here's to you Jim Gaines, you're one of the good ones.
Another one of the good ones: Catherine Hickland, who plays Virgin. I think it was supposed to be Virginia, but that's what they listed her as in the credits. I guess it's apt, considering the land of Virginia was named after the virgin queen Elizabeth. Anyway, I thought I recognized her as a Soap actress, and I was right,
One Life to Live
, but even better, she was married to The Hoff, as in
David Hasselhoff
, and co-starred in a couple episodes of
Knight Rider
, including one where The Hoff infiltrates a rock band. Now she's married to a dude whose real name is Michael Knight, but I guess she filed for divorce there too.
I wanted to point out this scene, because it hit me, the reason why these movies from the 80s and 90s worked so well, and these newer ones don't so much. You can say what you want about Bruno Mattei, good or bad, or about
Albert Pyun
, or about any other B-movie director, but the one thing they always are is a
movie
director, not a music video director. I mean, would we see a scene like this in a modern DTV flick? Not just the skull rock, but holding on the shot, and holding on it for more than .1 seconds. I think if you're an "avid fart" film maker, you should watch
Robowar
and know that you're not better than this, as much as you'd like to think you are.
Obviously this is a tough find. Sutekh sent me his copy of a Japanese VHS-- it even had the Japanese subtitles. Amazon doesn't have it, but it is on YouTube as of the writing of this post, cut into multiple parts, and with the same Japanese subs. I won't put the link, just because those things change as people add and close accounts, but if you go to YouTube and type in
Robowar
, it'll pop up.
For more info:
http://www.imdb.com/title/tt0096000/