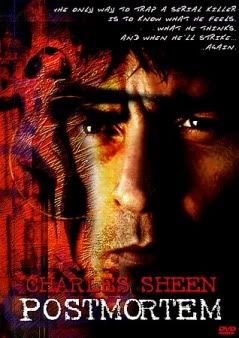 I've had this one in my Instant Queue for awhile now, but it came to my attention when
Albert Pyun
mentioned it in a Facebook post (which, if you have Facebook, "liking" Albert Pyun is the best way to keep up with movie news and other projects he's working on) amid the turmoil surrounding
Charlie Sheen
. He talked about how professional Sheen was, even in the face of the long shooting days and the tight schedule. It made me think that maybe this was a good time to review this film too.
Postmortem
has Sheen (credited as "Charles Sheen") as a former serial killer profiler who solves a grizzly child murderer case, which ruins him inside and causes him to turn to alcohol. The success of a book on the case gives him the financial freedom to runaway to Scotland, where he can bury his torment in alcohol even more. Problem is, a serial killer in Glasgow has targeted Sheen, dropping clues and even one of his victims in Sheen's backyard. Now he's in deep, and may even find redemption in solving another case.
Let's talk about the movie first. This sounds like a gritty serial killer drama, and though it is, it had some interesting differences. One, the killings, instead of being extremely sadistic and gory, are very clean-- like literally. A very cool departure, considering what else was out there in the market at that time, and how much more gruesome the market would get. I also liked the sweeping crane shots, and constantly moving camera angles, which might have been more cinematographer George Mooradian. I usually don't notice technical aspects like that, but this was very apparent, and it served to give us, the viewer, a constantly shifting perspective, almost mimicking the detectives, Sheen and Michael Halsey, and the way they're constantly trying to see things in different ways. For the most part, I don't go in for movies like this-- and I wouldn't have this one either if it wasn't an Albert Pyun flick-- so I'm not sure how to recommend it, but if you like serial killer suspense movies, I think this one works.
It's hard in watching this now to not see similarities to Sheen's character and his life, both then and now. I have to imagine in acting for this part, that he was drawing on his own experiences with addiction, which made the role very compelling. What's happened now, though, in his real life, is that as opposed to the movie, where he could gain redemption by stopping a serial killer and saving a girl's life, to gain redemption for ruining his career through addiction and a hard partying lifestyle, he had to play ball, if that makes sense. He had to do the sitcom, and worse, he had to play the butt of Michael Jordan's jokes in underwear commercials. Can we blame him for wanting to break-out? The problem is, the average person says "why wouldn't you want to play ball? And if you don't, it must mean you've fallen off the wagon again", which isn't always the case. We'll see what happens, but I think judging from how well he was able to play ball for so long, his talent as an actor can't be in question.
This is definitely a departure from what we're used to seeing from Pyun here at the DTVC-- and I probably wouldn't have done it so soon if it wasn't so relevant with current events, considering we have a few others of his, like
Nemesis 4
to get to too-- but I'm glad I got to see it. Like I said above, I generally don't go in for this genre, but with the unique shooting elements, plus the Sheen redemptive aspect, it had a little more than your run-of-the-mill
Kiss the Girls
or
The Bone Collector
.
I really loved Michael Halsey in this, though I also loved him in
Mean Guns
. He plays a Glasgow detective who reluctantly takes Sheen's help, then grows to respect him. This kind of movie needs this kind of character, and often, in the big screen versions, they get an older bigger name who just mails it in. You know Halsey won't mail it in, and by not mailing it in, he plays the part he's supposed to play: the glue that keeps the rest of the film together.
Another great performance was Ivana Miličević, who played a Scottish woman working under Halsey in the police department. Her accent had hints of Bosnia in it, which actually could've been a cool thing if they'd changed her character name to something Slavic, and had her be an immigrant; but the accent aside, she worked really well too. It's an easy move for film makers to throw her into a skimpy outfit-- though her skirts were pretty short here too-- and have her just be window dressing, but to have her be an integral part of the investigation, and to have her pull it off, was really cool.
This is currently available on Watch Instantly, and it might be worth giving a look, both in lieu of what's going on with Sheen right now, but also to see what Pyun does with the genre, and to see Sheen draw on the demons from his past back then to create a very compelling character. Of course, if you're not into this genre, those elements alone might not be enough to keep your attention-- even though they were for me.
For more info:
http://www.imdb.com/title/tt0130192/