I always said that I would save this
Michael Dudkioff
film for last, because it was so outside the norm of what we were used to with him. Well, now we're here, the end of the DTV line with Mr. Dudikoff, and he joins
Dolph
,
Seagal
, and
Van Damme
as the only other Hall of Famers to hold that distinction.
In Her Defense
is a Film Noir in the mold of a
Double Indemnity
, about a lawyer in St. John, NB, Dudikoff, who falls in with a very hot artist, played by Marlee Matlin, who is deaf, and has an abusive husband. Somehow, Dudikoff ends up at her place when the husband comes home, and in the ensuing conflict, Dudikoff shoots him dead. Now Dudikoff needs to cover up this crime, and get Matlin acquitted from her murder charges. But, as in all, Film Noir, things aren't what they seem.
This wasn't too bad for what it was, though it veered quite a bit into Lifetime Movie territory, and the only thing keeping it DTV was the language and Marlee Matlin simulating oral on Dudikoff. Definitely, this kind of thing has been done before, and done better before, but because I dig this kind of thing, I liked it. I'm not so sure if everyone else will, especially considering what we expect out of the usual action fare from Dudikoff.
Dudikoff proves again that he's not a one-note actor, because he's really great in this. In a way it's a more fitting final DTV film for him, because it shows how much he could really do. Don't get me wrong, I prefer Dudikoff kicking ass and taking names, but I like seeing him switch it up, and I like that it works when he does. This isn't the total end for Dudikoff at the DTVC though. He has two films in development according to imdb, plus he has a few major release films like
Uncommon Valor
and
Bachelor Party
that I may cover too.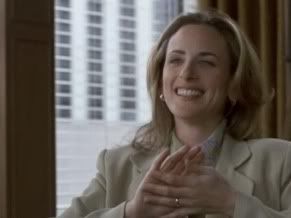 I was trying to see how many Oscar winning actors Michael Dudikoff has worked with. You have Tom Hanks in
Bachelor Party
, and Gene Hackman in
Uncommon Valor
, but I think Matlin is the first winner that he's acted with in a DTV flick-- you have Robert Mitchum in
Midnight Ride
, but he was only nominated. They (Matlin and Dudikoff) actually have a lot of chemistry on-screen, which is really cool to watch. She pulled off the Film Noir leading really well too, which I guess is to be expected considering she's an Oscar winning actress.
I really liked Daniel Pilon, who played Robert St. Laurent, or the Film Noir detective who knows something's fishy, but doesn't know if he can crack the case. He was also in another Dudikoff flick,
Musketeers Forever
. He had a very Edward G. Robinson mixed with northeastern Canada feel that really worked in the role, and just added another layer to the film that it needed.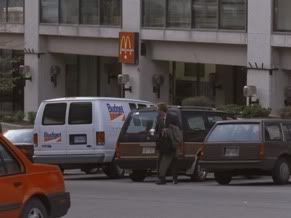 Add St. John to the list of McDonald's sightings. I really do have to start tagging these, but I can't remember them all now. In my life, the only time I've had McDonald's outside of the US was on a school trip to England senior year of high school. There was a 24-hour McDonald's near our hotel in Earl's Court, which I partook in many a night drunk. Coolest thing about that: they still used the Styrofoam containers. I grew up about four or five hours away from St. John, and have never been there, or anywhere else in Canada, which is crazy, considering I grew up so close. It looks like a very nice city, so I'll have to check it out.
You can get this on Watch Instantly right now, which is good. It's up to you and what you're into, but just know going in that this is in no way an action flick, and in fact, it borders on Lifetime Movie. I still kind of liked it, so maybe you will too.
For more info:
http://www.imdb.com/title/tt0158671/