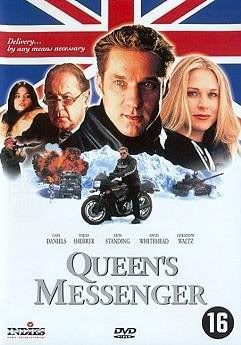 A buddy hooked me up with a copy of his Region 2/PAL version of this, otherwise I'm not sure I would've gotten to it now. It's not really an easy get, because it wasn't released here in the States. We do have another reviewer who has done a post on this,
Cool Target Action Reviews
, which does originate out of the UK. He had an issue with a lot of the cheap, stereotypical Brit catch phrases, which, as an American, was kind of fun to me, but considering this film wasn't released over here, that element wouldn't have mattered so much.
Queen's Messenger
has
Gary Daniels
as an SAS agent who is pressed into service as a Queen's Messenger to take a personal letter from the Prime Minister to the Kazakhstan king, who went to school with the British ambassador in Kazakhstan. The idea is to make an extra special personal envoy in order to get the scoop on the Americans as far as oil contracts go. Of course, things don't go so easily, first with some local Russian mafia thugs, then later, when he and the ambassador are captured by a Muslim rebel group, led by Christoph Waltz (yes,
that
Christoph Waltz). Thing is, those mafia thugs attacked, and those rebels captured, the wrong guy.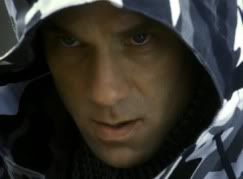 I was good with this movie up to the 75 minute mark or so. Yes, it had a slow-speed dirt bike/Mercedes chase, followed by an even slower-speed tank chase; but there were some great Daniels fights, some decent explosions, and what I thought was a great ending with a white-cammo clad Daniels invading the rebel camp and taking everyone out. But a funny thing happened. I'm looking at the time display as that ending is wrapping up, and I see that I still have 19 minutes left. What? It doesn't end in the hotel room with champagne and Daniels getting the girl? Nope, it has a superfluous, added "the second in command baddie comes back" shoot-out that made zero sense. It's like, you had me at hello, but you just didn't know when to say goodbye. Padding is never a good thing, but it's even worse at the end.
Daniels was great as the hero here though. He was supposed to be a James Bond style hero, but he was more a Gary Daniels style hero, which is plenty fine with me. He has some great fights, especially one early on where two Russian mob dudes have him pinned against the wall, a third one is about to cut off his hand, and he kicks his way out of it. Some of his better work, even if the film itself was ultimately lacking. I think he was more Gary Daniels here and less James Bond, whereas in
Witness to a Kill
, this film's sequel, he had more of the James Bond aura.
How do you not love Christoph Waltz, pre-Oscar? Obviously the material he had to work with here wasn't Tarentino grade, plus he wasn't in it much, but he was still Christoph Waltz playing a Kazakh Muslim terrorist leader, which is a great novelty. I'm trying to think how many Oscar winners we've had on here. More than one would think at first glance...
Supposedly this film featured "Sunny" Muslims. Mispronounced Sunni, but unforgivable considering the same character who says it, also pronounces Almaty with a perfect Kazakh accent earlier on. How do you nail the tough one, but brick the lay-up? On the other hand, this was made before September 11th, and before the US invaded Iraq (with the UK's help), meaning the Sunni/Shi'a split was less understood, so the fact that this movie brought it up at all should be applauded. I'll give a B for effort.
In the post I did for the sequel to this film,
Witness to a Kill
(aka
Diamond Cut Diamond
), I discussed a little of what drew the ire over at Cool Target Action Reviews, when I mentioned that I was a little jealous in that one when Daniels looked at Eva Habermann and said "For Queen and Country", because as an American, I don't get to say cool things like that. It's probably because we have such a varied ethnic past that isn't ours, and geographically we come from such unique places, that we feel the need to take ownership of anything we feel can give us any sense of identity. "Hey, my great-grandparents came from Ireland, so I'm going to drink lots of beer, get into fights, and wear green!", or "Hey, my great-grandparents came from Italy, so I'm going to yell a lot, talk with my hands excessively, and wear gaudy clothing!", while people who live in Ireland or Italy respectively have different ideas about what constitutes their identities, and being obnoxious Americans isn't it-- and being obnoxious Irish or Italian isn't something they'd like to celebrate. So while people from England hear Daniels talk about "tea and crumpets" and cringe, we Americans hear it and go "that's awesome, I want to go to England now!"
It's time my four-eighths French, three-eighths Irish, one-eighth Ukrainian self wrapped this up (though the entire French and two of the three-eighths Irish came by way of Canada, so maybe I'm 3/4 Canadian, one-eighth Irish, one-eighth Ukrainian... or 3/4 British, because Canada wasn't a country then...). It's a very tough get for my American readers, no matter what ethnicity you are, because it's only official releases are in Region 2/PAL format. For people that restriction doesn't apply to, the first 75 minutes aren't so bad, but the tacked on 19 at the end really hurts it for me, so I'm not sure it's worth tracking down unless you're a big Gary Daniels fan.
For more info:
http://www.imdb.com/title/tt0244744/