A
Jeff Wincott
movie always seems like a good idea, right? That was the thinking behind watching this one, the more Wincott, the better. Our friends at
Comeuppance Reviews
and
Explosive Action
have both covered this as well, if you're looking for a second and third opinion.
Fatal Combat
is a forced to fight movie about a professor who teaches the peace first warrior philosophy, Jeff Wincott, but is captured by the villainous Armstrong, a man who runs a prison/death match TV program in the arctic. Now Wincott's peace philosophy is put to the test. Will he bow down to Armstrong, will he fight back, or will he kill him with kindness?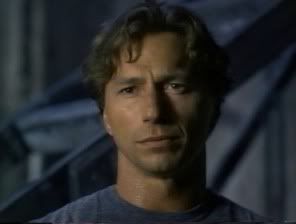 I didn't really care for this one. First off, the forced to fight construct never really works for me, because by nature it makes the hero weaker; and here we get tons of the hero getting beaten up by a loser hatchetman and making idle threats to the villain that we know won't get him anywhere until we hit the 80 minute mark, when he suddenly needs to turn the tables so we can wrap up the film. This is especially disconcerting when we're talking about someone who's as awesome as Jeff Wincott is. I understood the idea of wanting to put Wincott's character in a situation where his philosophy is put to the test, but I think a better way to do that would've been a Most Dangerous Game construct, with a villain way off in a guarded compound and Wincott having to fight his way to him. The Most Dangerous Game construct brings me to problem number two: the lack of action and good fights. More of the film was spent training, prisoners talking about their plight, and Wincott talking to the head baddie about how crazy he is. That Most Dangerous Game construct would've given us a constant stream of fights, keeping the action fresh and preventing the plot from becoming too stale. Finally, this was a little too dark for my liking, and I wouldn't have minded that, if there had been a payoff at the end, but we didn't really get that either. Worst offender: a prison rape of Wincott's friend at the hands of Sven-Ole Thorsen, which wasn't really necessary to enhance the plot, meaning you're talking about a gratuitous prison rape scene-- never a good thing. It was like dark for the sake of being dark.
All of that is a shame, because it wastes Jeff Wincott for the most part. He's great as a professor, he's great beating up dudes to protect his wife, and he's even great talking philosophy and training; but he's not great constantly defeated and getting beat up by much lesser dudes. The main baddie's hatchetman was a total tool. Wincott should be beating that guy down, not getting hit over the head by the guy's nightstick. When we think of Wincott's best stuff:
Last Man Standing
,
Mission of Justice
, and
Martial Law II
, we see a dude who kicks much more ass than has his ass kicked. Sounds like a winning formula to me, right? Give Wincott a cigarette, a scowl, shirt optional-- right ladies?--, and a room full of stuntmen ready to be knocked out.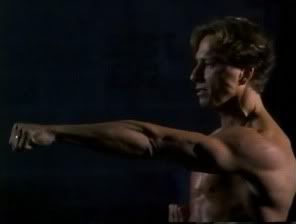 Sven-Ole Thorsen is probably the next biggest name in this-- also had Richard Fitzpatrick as the main baddie, and he wasn't bad. Thorsen played the classic big, evil fighter our hero has to overcome. In the first scene he's in, he has on these sweet ski goggles and a winter hat. Problem is, he's also wearing tight black stretch pants. Ouch! What, were the leopard print ones at the cleaners? Not quite the fanny pack, but I'd say worse than the pants
Sasha Mitchell
had in
Kickboxer 3
.
The music in this was pretty sweet, including "No Exit", the theme/training montage song. Think not quite 80s Hair, but more like 80s Corporate Rock, like a band that would open for Survivor or something. That was pretty sweet though, and I can listen to that crap all day. When it was more background music, it was like Skin-a-max stuff, only with a louder drum track. You know the kind, heavy guitar, solos that might be done by a guy in an over-sized blazer with long, curly hair. I wonder if they thought that too, and added the drums to make it seem more action oriented.
I spent five years as an undergrad pursuing my degree from 1997-2002, and another year doing grad work in 2005, and if I had had Jeff Wincott for a professor, I would've done another five years and racked up even more student loans. How great is that, taking a course with Wincott? Much cooler than
Steven Seagal
as a professor in
Out for a Kill
(though that movie is far superior to this one by virtue of the fact that Seagal decapitates an old man by throwing a samurai sword from a second story window at him). Here's my pitch: Wincott as the next Indiana Jones. I can hear the Nazis shaking at the thought.
This is a no go for me. Not enough action, a plot construct that shows our hero getting his ass kicked more than he's kicking ass, and dark for the sake of being dark all adds up to a pile of blah. As far as I can tell, this is only available on VHS here in the States, and that would be under the
Fatal Combat
name; there is a Region 4 version (and maybe Region 2) on DVD, and that would be under the
No Exit
title. Whatever the name, it's all bad to me.
For more info:
http://www.imdb.com/title/tt0113990/