Our buddy from down under over at
Explosive Action
sent us this, so we thank him for that. You can also read his review of it
here
.
Final Equinox
features
Martin Kove
and
Vincent Klyn
, which on the surface looks sweet, but stars
Joe Lara
, which definitely throws up red flags. Let's see how it went.
Final Equinox
takes place "in the not too distant future" (like next Sunday AD, perhaps?), where double threat David Warner-- astrophysicist and PhD in archaeology-- finds some alien artifact. That's when baddie Martin Kove has it stolen from the government, and now the government wants it back. Somehow Joe Lara is mixed up in all of this, and with his ponytail and leather pants, tries to save the day-- and the planet.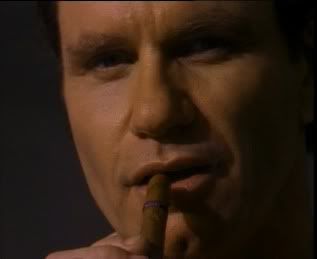 This was a definite pain cave, and believe me, it will bludgeon you. Very little action, and what there is is pretty run-of-the-mill. Not sure why Joe Lara is the star, because he barely uses any martial arts, and is here for his acting prowess [cough cough]. Kove is a great baddie, and Warner is fun as the double threat scientist, but the plot is dull and lifeless, scenes go on longer than they have any right to, and ultimately we're left wondering why this movie was made at all. There were a few interesting ideas this movie could've explored that might have made for a better movie, in particular the idea that life was created by an alien race's Genesis bomb, but it was beyond this film's ken to go deeply into anything, yet the mindless action wasn't there to make the paper thin plot forgivable. As an aside, about ten years ago a buddy and I saw a movie called
Deep Cheeks
on the shelves at the local gentlemen's cinema outlet, and for years we've been calling this or that "Deep Cheeks". With that in mind, for the rest of this post, I'll be referring to this movie as "Final Deep Cheek-uinox".
Martin Kove was an excellent 90s style baddie in Final Deep Cheek-uinox. Bad clothes, cigar, willing to give the order to waste someone at the drop of a hat. We can at least say this was an improvement on
Kiss of the Vampire
, which for one reason or another couldn't recognize Kove for the great main baddie he is, but this had so much bad in it that even Kove couldn't save the day. Too bad.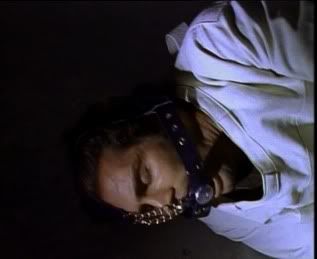 If you're like me, you don't understand the concept of Joe Lara. The hair, the leather pants, the pretty boy eyes, the lack of acting ability, it all adds up to "huh?" But then there's Lara here in a straight jacket with some kind of elaborate harness gag that looks like a watch or something's been shoved in his mouth. This made sense. When I think of Joe Lara, and I wonder why he's cast for this or that part, or wonder why he doesn't cut his hair because it's not doing him any favors, or why he's wearing leather pants because they make him look like a cheeseball, I see now that it all adds up to this. Without all of that, I wouldn't buy him in a straight jacket with an odd looking harness gag in his mouth getting kicked around by a prostitute or thrown out of a moving van. An odd oasis of getting it right in a desert of getting it wrong for Final Deep Cheek-uinox.
As I mentioned above, Final Deep Cheek-uinox broached a really cool idea, that some alien race planted a Genesis bomb here that started life on the planet. I guess the problem is, you'd have to account for eons of time between when an alien race would've dropped the bomb, and then would've come back to marvel at their work; or eons of time that they'd be studying their work. Maybe the better play would be that they forgot about it, or maybe they did it on another planet, and those people came here to see what we were up to. I think from Final Deep Cheek-uinox's standpoint, this is all way too complicated for what they wanted-- but maybe they should've thought of that before they bludgeoned us to death with a boring-ass plot that wasn't any better.
Final Deep Cheek-uinox had some interesting co-stars. There was DTVC favorite Vincent Klyn, who was one of Kove's gang. He's killed by blue electricity to the temples. Then there was a poor man's Sam Jones, which, as you can imagine, is a bad sign for your movie if you can't get the real Sam Jones-- I mean, isn't the poor man's Sam Jones Sam Jones? Finally, there was veteran character actor David Warner. Who knows what he was doing here. Hopefully he thanked his agent after shooting by leaving a flaming paper bag full of dog crap on the guy's front porch.
We've completely spiraled out of control here, talking about flaming bags of dog crap and Final Deep Cheek-unox. I apologize for that, I must have a case of the sillies as I'm writing this review. That's a lot more than I can say for the entertainment value of this movie though. Steer clear of it, I suffer the pain so you don't have to.
For more info:
http://www.imdb.com/title/tt0113065/