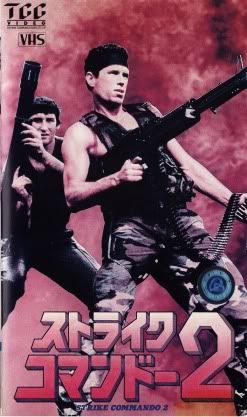 This is the second of two
Strike Commando
films sent to me by our buddy from Down Under over at
Explosive Action
(link to his double feature review of both films), so we thank him again for that. I watched it the first time with a buddy while we were house sitting over a year ago, so that just shows you what my To Watch list looks like when something like this can be lost in the shuffle for so long.
Strike Commando 2
I guess picks up sometime after part 1, only now instead of
Reb Brown
, we have Brent Huff as our hero, Michael Ransom. His old major, Vic Jenkins (played by none other than Richard Harris-- yes,
that
Richard Harris!) is kidnapped, and Ransom has to pay a ransom of $9 million in diamonds. Along the way, he picks up sexy spitfire Rosanna, and both the action and the sexual tension heats up as the two brave the wild Filipino-- err Vietnamese-- jungle and try to bring Richard Harris back safe and sound.
This is a great time. No, it's not the total classic
Strike Commando
is, but it's very serviceable for a Bruno Mattei under the name Vincent Dawn Vietnamese actioner shot in the Philippines. Brent Huff works, even though he's not Reb Brown, the Richard Harris factor never ceases to be puzzling and fantastic-- seriously, what the hell was he doing in this?--, and the silly Romantic Comedy element between Huff and Mary Stavin (Rosanna) is equal parts something to laugh at and something that's actually charming. Then there's all the stuff you want from this, like the rip-off plot-- lots of
Indiana Jones
especially-- the inappropriate music, which sounded like something you'd hear in a kids' fantasy romp scene where something magical and wondrous is happening, mainstays like Vic Diaz, and then all the stuntmen craziness and explosions you can cram into 90 minutes-- Mattei even went the "ninja" route, simply using it as a ploy to double up on stuntmen by obscuring their faces so we can't see that they were just shot two scenes ago.
I'm serious, Richard Harris is in this. What was he doing? My buddy told me a story about how his grandfather, back in the 50s, was drinking with some of his buddies, and one of them got really drunk. Long story short, his grandfather was rich, and he and his friends sent the guy on a plane to Havana, his grandfather footing the bill. I have to imagine that's what happened here, Harris was on a bender, and some of his rich actor friends sent him to Manila. Once he sobered up, he was probably like "fuck it, I might as well make some cash", or maybe Mattei offered to pay his ticket back. I mean, did he really take this gig on his own accord? Did the same agent who booked him
Harry Potter
book him
Strike Commando 2
?
If, in a sequel, you're going to take the lead star a step down, I think Brent Huff is a sold step down from Reb Brown. Maybe not Ted Prior good, but good enough. I had a lot of fun with him here at least. The best was when he'd yell at Mary Stavin when the two were in Romantic Comedy mode, because he was trying to sound exasperated, but it came off more like he had Tourette's syndrome or was hard of hearing or something. There was also an element of the tongue-in-cheek here as well, as if he were really playing the action lead to the hilt, which was great too.
I think it's a movie like this that makes me wonder where the art of the B-action movie is going, because it's hard to find something this fun being made anymore. So many are just these overproduced, MTV-style edited, with a bad soundtrack and an even worse plot that dominates the movie more than some quality, fun action. Mattei has it figured out: throw some famous movie plots into a meat grinder, hire a bunch of local extras, and blow shit up. And the thing is, it really works. DTV movie houses need to go back to their roots and stop thinking they can put lipstick on a pig, when their audience doesn't want them to to do that.
The Romantic Comedy element led to an interesting dynamic as far as the lead female role in this movie went. It wasn't as simple as boy meets girl, boy likes girl, girl gets kidnapped, boy rescues her. Both were pretty much equals, and Mattei pits the two against each other as if they were in their tenth year of marriage. Even the scene here, where Mary finds herself bound and gagged in the back of a truck that Huff is driving-- long story short, the work of ninjas--, it's not played as a damsel in distress, but more like Mattei telling us "sometimes I'd like to do this to
my
wife when she's giving
me
a hard time! But in the end, I still love her." I'd like to see to some degree we in the States get to that level of interplay between male and female in our B-movies, but I think it takes someone with a European sensibility to make that happen.
The version of this that I received was a DVD burn off a Japanese VHS rip, which is probably roughly how you'd have to track this down. For our readers in the States, there is the bonus that we both use the same format; and in getting a Japanese VHS shipped to you, there's less worry about breakage, because they make their tapes much sturdier than we make ours (this sounds like the Japanese vs. American car debate from the past 30 years, huh?). Anyway, I wouldn't spend too much unless you're a heavy duty collector, but if you are, this is one worthy of your collection.
For more info:
http://www.imdb.com/title/tt0098398/